Investing is not easy. Neither is getting the information to perform well. Investing demands knowledge and analysis in a timely manner, while there is a sea of information. You don't want to miss anything, but equally you are tired of reading the same piece of information over and over again on multiple sites.
Some topics get covered by thousands of articles, and you need to filter the noise. Other topics, less popular but important to you, are mentioned rarely so you don't want to miss them.
What you need is a specialised financial news provider that aggregates content from multiple sources (filings, news, Twitter, etc), curates it, structures it, and delivers it to you in ways that help you make better decisions. CityFALCON is this provider.
What is CityFALCON?
Using machine learning, automation, and natural language processing (NLP), CityFALCON helps people make better decisions in the financial markets and business. They structure financial content, generate analytics, extract insights, and deliver data via web, mobile, and API. It is your one-stop-shop for all your financial content and markets needs.
Why CityFALCON? Why not Google News or Expensive Subscription Products?
Free services like Google News offer a form of personalization, but it is usually far too broad for good research. Yahoo Finance is more specifically market-related, but lacks tools like publication filtration or Twitter feeds, while Google and Yahoo watchlists are both very basic. Moreover, Google might point you to a good article, but, alas, you hit a paywall. CityFALCON's Gold plan lets you read select articles from 1000+ publications without any paywalls.
On the other side of the spectrum are expensive subscription services – e.g., a popular Terminal – charging upwards of $2000 per month, and they offer many more analysis tools but are prohibitively expensive. So expensive, in fact, that even many companies share a single license among several employees, which nullifies any personalization effects.
CityFALCON sits between these extremes, with a focus on economical but powerful personalization and extensive content and analytics.
Watchlists and CityFALCON Scores
The bread and butter of CityFALCON is the watchlist. Use the watchlists to track whatever topics you wish
●       stocks of your portfolio, like Tesla
●       cryptos that you are interested in, like Bitcoin
●       events, like dividend cuts
●       products, like ChatGPT
Advanced search supports queries like China AND NOT United States, which can sit on a watchlist as its own entity. Such deep customisation is not available on Google Finance or Yahoo Finance.
CityFALCON's proprietary relevance score helps filter out noise, too, so that you get the most relevant content for your watchlists. On top of that, you may filter by time, sentiment, source, and language, plus modify layouts with several options.
Sentiment
A popular feature, sentiment takes into account the language/wording used in the corresponding context and determines how positive or negative it appears. You can then filter your news.
One way to consume this is at the country level: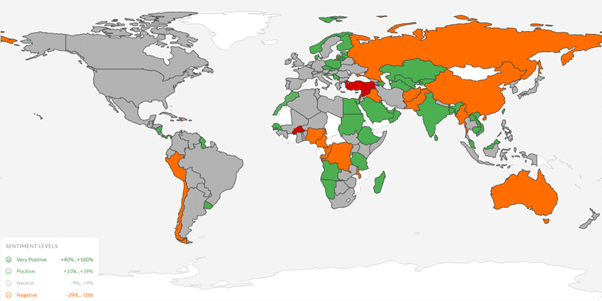 Moreover, every topic, country, sector, and even watchlist has its own sentiment too, which you can track through time on a graph. By pointing the mouse over a point, you get the related news. For example, see the sentiment for Bitcoin on any day and the stories that led to that sentiment score.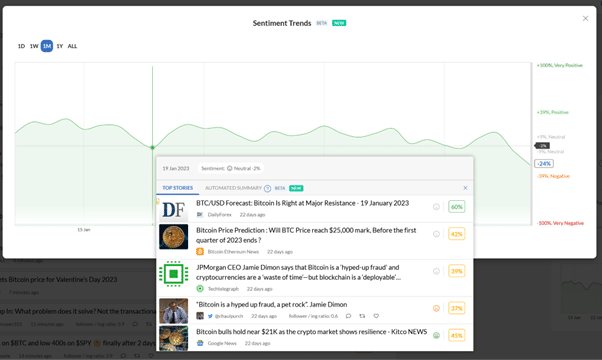 You can do exactly the same news surfacing on a price chart (try it for Bitcoin). These news-on-charts are a powerful way to quickly understand price action based on the perception of the press and a great interactive chronicle to study the past and apply it to the future.
Cryptocurrencies
You can analyse the cryptocurrency of your choice with the tools mentioned above. This table also ranks cryptos by market cap, price, performance, and other characteristics: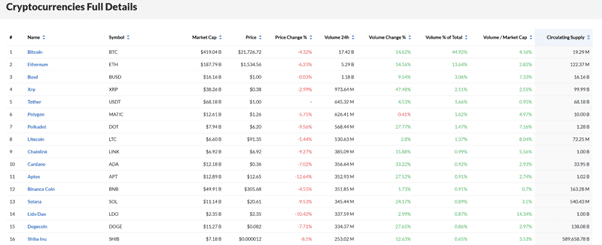 Set up a watchlist of your coins, monitor financial twitter, track prices and news, and be a better crypto investor or trader with CityFALCON's tools.
Stocks
CityFALCON offers exciting tools for this traditional asset class too. Apart from news, you can find the regulatory Filings and Investor Relations documents alongside extracted Insider Transaction information.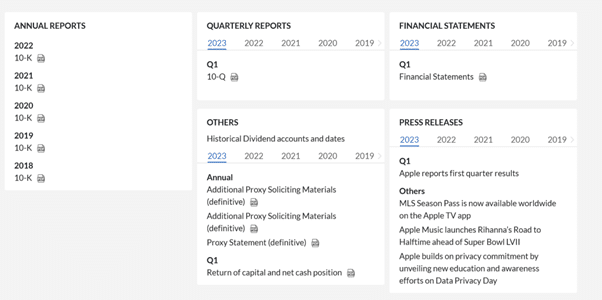 Insider Transactions help you track how company insiders buy/sell stocks and exercise options, visually. Moreover, the transactions are further broken down for each insider (like Elon Musk, Tim Cook, or Steve Ballmer). Read our full, dedicated blog post with case studies and see how insiders have traded Tesla. It shows how the fall of the stock coincided with insider selling (from Elon Musk).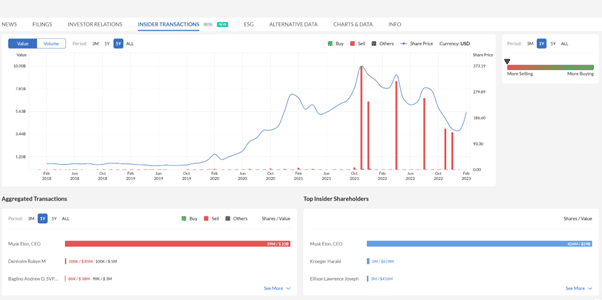 Language Capabilities and New Features
CityFALCON continuously evolves with new features based on user feedback and market demand. One upcoming feature is fundamental and other data for stocks. More of their features are listed here, and if you have requests, contact them.
Language is another strength of the company, and they expect to reach 90 languages soon. Want to track emerging markets? Do it in the local language. Or do it in English, as they'll offer translation, too.
CityFALCON API
APIs are a wonder for anyone that wants to automate information processing, and CityFALCON delivers via this method too.
Some renowned firms, like eToro and Shares.io, trust CityFALCON and have partnered with them to deliver data and analytics to their end users, either via API or a custom widget
For retail users at home, CityFALCON also offers a Personal Starter API plan that starts at just $40 per month ($20 if you're eligible for a discount). With the personal API plan, non-enterprise users can now automate their news and financial content flows.
CityFALCON Blog & Value Investing Club
Looking for some education or investing ideas?
Better informed and educated investors is part of CityFALCON's mission. The London Value Investing Club, runs a monthly event, aiming to connect and educate investors. If you don't live close to London, participate online. Past recordings are on Youtube.
Similarly, CityFALCON blog publishes business updates,news from the markets, and useful and educational articles for investors.