Over 30.44 Million Shiba Inu (SHIB) have been removed from circulation forever in the past 24 hours, 22 Million in a single transaction.
Over the past 24 hours, the Shiba Inu Community-led burn initiatives have sent 30,449,440 (30.44M) SHIB to the "inferno" address via five separate transactions.
In the past 24 hours, there have been a total of 30,449,440 $SHIB tokens burned and 5 transactions. Visit https://t.co/t0eRMnyZel to view the overall total of #SHIB tokens burned, circulating supply, and more. #shibarmy

— Shibburn (@shibburn) March 7, 2023
One transaction alone saw the mysterious wallet remove a massive 22 million SHIB, making it the giant SHIB burner of the day.
According to data from Etherscan.io, the mysterious wallet initially purchased 37,182,538 (37.18M) SHIB from a wallet associated with Binance.US (tagged "Binance US 3") before tossing 22 million SHIB into the dead wallet. After this burn, the wallet now holds 15,182,538 (15.18M) SHIB.

Despite this massive burn, the overall Shiba Inu burn rate had only increased by 22.93% compared to the previous day, when 24,223,415 (24.22M) SHIB was burned through five separate transactions.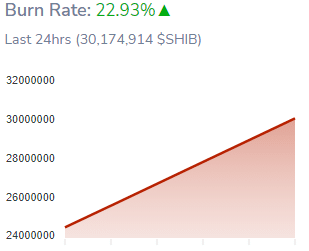 According to a previous report by The Crypto Basic, over the last 7 days, the Shiba Inu Community burned a massive amount of 170,718,939 (170.71M) SHIB across 59 different transactions.
The Shiba Inu ecosystem is seeing an increase in mainstream adoption. Binance.US has recently introduced a new SHIB/USD trading pair, which replaces the KSHIB/USD pair. This move was likely due to the growing popularity of SHIB, which was ranked as the fourth most searched digital currency in the US, according to a recent study by Cryptomeister.
Moreover, Shiba Inu's governance token, BONE, has also gained traction with its recent listing on Gate.io, a global Bitcoin exchange with a long history.