Over 3.80 Billion Shiba Inu (SHIB) burned since the Shibarium Public Beta launch, and 452.95 Million in the past 24 hours.
Since the launch of Shibarium Public Beta, there has been a significant increase in the burn rate of Shiba Inu, with the Community collectively destroying a whopping 3,805,250,524 (3.80B) through seventy-nine transactions.
However, the burn saga began when Shibarium beta was being deployed at the backend. On March 10th, the Shiba Inu contract deployer transferred a record 2,204,313,475 (2.20B) SHIB to the dead wallet in fifty-eight separate transactions. Following the launch announcement on March 11th, the Community burned an additional 489,895,235 (489.89M) SHIB in eight separate transactions. Subsequently, 23.51M, 602.60M, and 31.97M SHIB were burned on March 12th, March 13th, and March 14th, respectively.
KoyoToken has also been instrumental in driving up the burn rate of Shiba Inu. KoyoToken came to life about a week ago. Since then, the token has permanently removed a massive 3,707,028,387 (3.70B) SHIB from circulation through multiple transactions, according to data from Etherscan.io.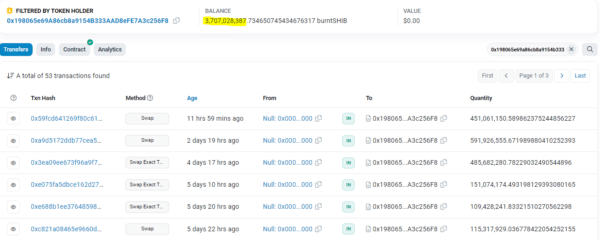 Past 24 Hours Burn
In the latest burn event, KoyoToken has removed a substantial 451,061,150 (451.06M) SHIB from circulation by transferring them to the dead wallet in a single transaction. This significant burn occurred about 12 hours ago from this writing.
🔥🔥 451,061,150 SHIB -> transferred to dead wallet. https://t.co/PGy4F6VV4o

— Shibburn (@shibburn) March 14, 2023
In total, Shiba Inu community has incinerated 452,950,434 (452.95M) SHIB through three separate transactions in the past 24 hours.
In the past 24 hours, there have been a total of 452,950,434 $SHIB tokens burned and 3 transactions. Visit https://t.co/t0eRMnyZel to view the overall total of #SHIB tokens burned, circulating supply, and more. #shibarmy

— Shibburn (@shibburn) March 15, 2023
The significant burn activity has caused Shiba Inu's burn rate to surge by 1318.33% over the last day.