Over 602.60 million Shiba Inu (SHIB) burned in the past 24 hours, 591.92 million in one significant transaction.
The Shiba Inu Community has made an impressive move by collectively sending an astounding 602,601,936 (602.60M) SHIB to a dead wallet through three individual transactions within the past 24 hours.
In the past 24 hours, there have been a total of 602,601,936 $SHIB tokens burned and 3 transactions. Visit https://t.co/t0eRMnzx3T to view the overall total of #SHIB tokens burned, circulating supply, and more. #shibarmy

— Shibburn (@shibburn) March 13, 2023
KoyoToken
Two significant players in the community burned the majority of the SHIB. Firstly, KoyoToken, a newly emerged token, burned a colossal 591,926,555 (591.92M) SHIB in a single transaction executed approximately 19 hours ago.
🔥🔥 591,926,555 SHIB -> transferred to dead wallet. https://t.co/qmKPRBEtmj

— Shibburn (@shibburn) March 12, 2023
KoyoToken came to life about a week ago, and as per data provided by Etherscan.io, the project has now destroyed a staggering 3,255,967,237 (3.25B) SHIB through multiple transactions.

SHIB Super Store
Secondly, the well-known SHIB burn project, SHIB Super Store, executed a significant burn transaction about 12 hours ago, permanently removing 10,582,010 (10.58M) SHIB from circulation.
Burn/ Reward

10.5M Burned
10.3M Rewarded

$220 total

Up by 4.5% from last week, great job everybody! Use https://t.co/d0goxr70o0 for all ways to burn or get rewardedhttps://t.co/UFzIpDvuMV pic.twitter.com/y97T1DRBLe

— SHIB Super Store (@shib_superstore) March 12, 2023
The recent massive burn activity caused Shiba Inu's burn rate to skyrocket by 2452.51% compared to the last day when only 23,511,138 (23.51M) SHIB has been permanently removed from circulation through three separate transactions.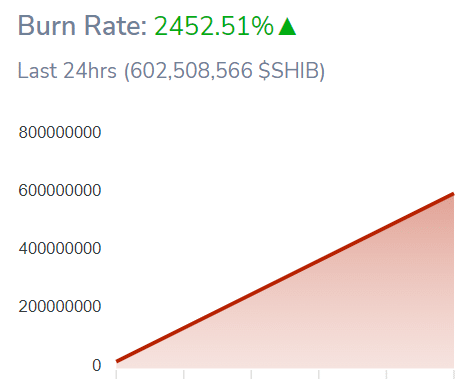 Besides the significant burning activity, the Shiba Inu Ecosystem is also undergoing various advancements. As reported earlier by The Crypto Basic, the Shiba Inu team has finally launched the much-awaited Shibarium Public Beta testnet, creating a lot of excitement within the Shiba Inu Community.
Following this news, a top Ethereum whale named "BlueWhale0073" became active and acquired 215.81 billion SHIB tokens worth $2.20 million in one significant transaction. This whale has accumulated over 674 billion SHIB in the past ten days.
At the same time, Gate Group, the parent company of the well-known cryptocurrency exchange Gate.io, has revealed its intention to launch the Gate Visa debit card in Europe. With this card, customers can pay with Shiba Inu (SHIB) and other cryptocurrencies at any 80 million merchant stores that accept Visa.