The testnet's transaction count and total wallet addresses have seen a massive uptick since the relaunch four days ago.
Puppynet, the beta testnet for Shiba Inu's Shibarium network, is witnessing a remarkable surge in adoption rate following its redeployment. The testnet has now processed over 121,000 transactions since its relaunch, boasting an impressive wallet address count above the 65,000 mark.
Lucie, a prominent Shiba Inu community influencer, drew public attention to the noteworthy increase in the testnet's metrics today. Specifically, at the time of her disclosure, the testnet had processed 109,655 transactions and hosted 57,781 wallet addresses, further emphasizing its impressive growth.
Just two hours after the disclosure, data from Puppyscan, the network's dedicated chain explorer, reveals that the number of wallet addresses has increased by over 13% from 57,781 to the current figure of 65,403 as of press time.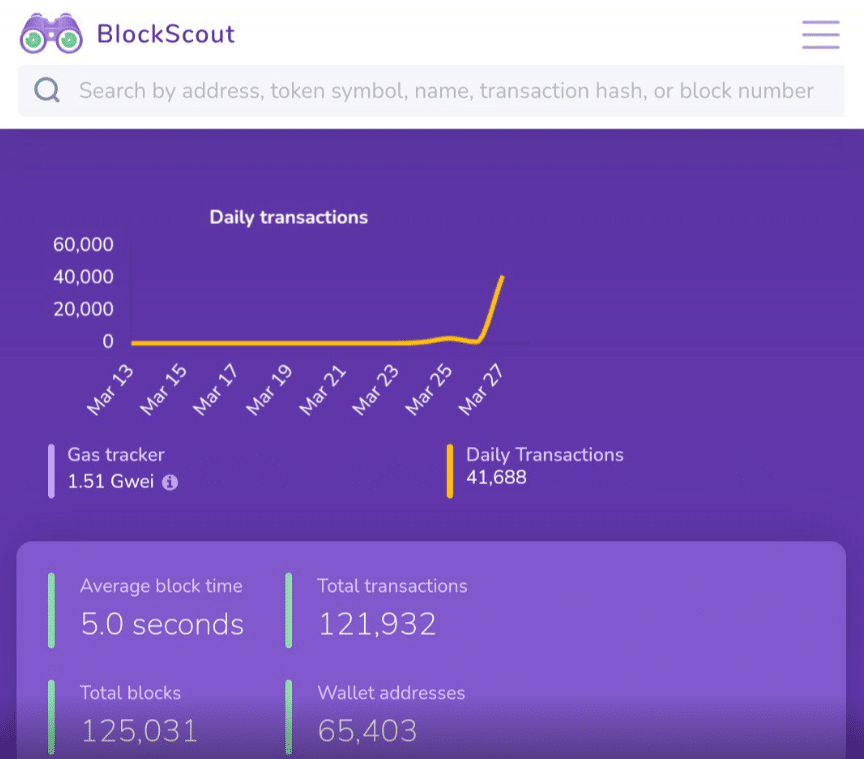 Similarly, the transaction count has witnessed a rapid 11% surge, currently at 121,932. Moreover, daily transactions on the network remain at 41,688, while total blocks have surged to 125,031 at the time of reporting. The average block time remains at an impressive rate of 5 seconds.
Puppynet achieved these milestones four days after being relaunched with a reviewed Chain ID. The testnet was redeployed on March 24, after its Chain ID was changed from 917 to 719 to address the circulating FUD campaign targeted at Shibarium amid speculations that the network is a clone of the Rinia testnet.
Following the redeployment, the network's statistics were reset. However, most of these stats have now surpassed previous highs. Despite Puppynet's growing adoption rate, Shytoshi Kusama, Shiba Inu's project lead, has continually advised investors against spending any real money on the network, which could lead to a loss of funds. The network is purely for testing purposes.
Follow Us on Twitter and Facebook.
Disclaimer: This content is informational and should not be considered financial advice. The views expressed in this article may include the author's personal opinions and do not reflect The Crypto Basic's opinion. Readers are encouraged to do thorough research before making any investment decisions. The Crypto Basic is not responsible for any financial losses.
-Advertisement-