Over 25.6 Million Shiba Inu (SHIB) burned in the past 24 hours, 9.50 Million by a single wallet.
The Shiba Inu Community has made a significant move in reducing the total supply of SHIB tokens. In the past 24 hours, the Community collectively destroyed 25,604,920 (25.6M) SHIB through eight separate transactions.
According to the stats community burned 1.07 billion Shib in the past seven days.
HOURLY SHIB UPDATE$SHIB Price: $0.00001078 (1hr 0.20% ▲ | 24hr -4.98% ▼ )
Market Cap: $6,349,680,802 (-4.91% ▼)

TOKENS BURNT
Past 24Hrs: 25,604,920 (-63.32% ▼)
Past 7 Days: 1,073,775,122 (-45.04% ▼)

— Shibburn (@shibburn) April 3, 2023
The most significant transaction was carried out by the popular Community-led burn project called "SHIB Super Store." During its 52nd weekly burn event, the project sent 9,506,057 (9.50M) SHIB to the dead wallet via the official SHIB Burn Portal in a single transaction executed 10 hours ago from press time.
In addition, the SHIB Super Store project has also rewarded the community by distributing 9.40 million Shiba Inu among its members. This move is expected to help boost the community's morale and encourage more participation in similar events in the future.
Burn/Reward

Just like clockwork, another Sunday burn!

This is my 52nd consecutive burn!

9.5M Burned
9.4M Rewarded

Total of about $201

We keep staying in that range of $200 – $210 every single week, let's see if we can beat that!

All ways to burn here https://t.co/d0goxr6sys pic.twitter.com/Biwfcp3Qps

— SHIB Super Store (@shib_superstore) April 3, 2023
It is worth noting that the SHIB Super Store project has been consistently burning Shiba Inu since November 2021. The individual project has set fire to 3,486,315,765 (3.48B) SHIB through multiple transactions. Additionally, the project has rewarded the Community with 314,014,945 (314.01M) through its Burn and Earn Program.
This move by the Shiba Inu Community comes after they burned a record-breaking 6,782,788,547 (6.78B) SHIB through 540 separate transactions in March 2023.
Despite the massive burn, the overall Shiba Inu's burn rate declined -by 20.03% over the past day.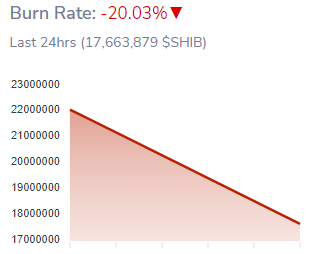 Follow Us on Twitter and Facebook.
Disclaimer: This content is informational and should not be considered financial advice. The views expressed in this article may include the author's personal opinions and do not reflect The Crypto Basic's opinion. Readers are encouraged to do thorough research before making any investment decisions. The Crypto Basic is not responsible for any financial losses.
-Advertisement-