Since launching exclusively onto ShibaSwapDEX on 9th of March 2023, Koyo Token ('Koyo') has left a huge impression within the Shiba Inu community due to large $SHIB burn transactions that has amounted to over 6.1 Billion $SHIB in just March alone.
They have been published in both headlining articles to inspiring reviews on YouTube by (but not limited to) notable Shiba inspired influencers such as: Zach Humphries, Austin Hilton and YourPOP.  This trio has recently become official partners for Koyo Token and leading KoyArmy representatives.
The founder, Kintaro, recently published his First Revelation, which left many with their mouths wide open. This First Revelation provides both the Shiba Inu and Koyo communities, with its plans in building exclusively on Shibarium, a L2 network that Kintaro said, "…expect billions of dollars in volume, expect millions of dollars in rewards and in turn expect $SHIB burns to be in the millions with continuous burns."
The KoyArmy have come out in full force and have made it their mission to become the first billion-dollar market cap project that is exclusively launching onto Shibarium.
Do they think Koyo Token has what it takes in meeting such an ambitious target?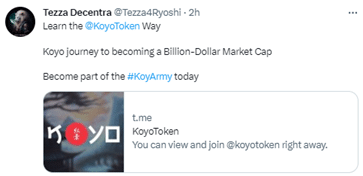 The fast growing and passionate KoyArmy, which features many Shiba OGs, has shown why they are a force to be reckoned with. Since the recent medium release by Kintaro, they are no longer just a community behind a movement — but a community that will offer real utility to the Shiba ecosystem and like minded Shibarium projects.
Koyo trading platform expects to bring billions in volume, incentivized with a substantial $KOY sustainable reward pool set to be in the millions.  This, in theory, would mean millions of dollars in weekly transaction fees, and subsequently 50% of this amount will burn $SHIB.
What is interesting to note is that the Koyo trading platform will support the trading volume for many other Shibarium projects, potentially becoming one of the biggest contributors to emerging Shibarium projects that uphold the Shytoshi guidelines. This would mean a major influx in volume would attract the interest of Tier CEXs for these Shibairum projects. Ultimately, this would bring further volume onto Koyo, Shibarium, and into the Shiba ecosystem — resulting in compounded multi million dollar $SHIB burns.
Kintaro has already highlighted, "we have already received millions of dollars in liquidity pledges and they are those that are wanting to support the shiba ecosystems." This statement substantiates that the Koyo platform will instantly start with solid liquidity, furthering the trading volume, and increasing $SHIB Burns via revenue generated through transaction fees.
We need to add that Koyo will be providing "additional financial services features, covering both the lending & borrowing protocols through the Koyo Venture Capital Fund designed management system, in support of the growth of selected value, and add Shibarium projects which will truly benefit the Shiba ecosystem."  This will be another huge vehicle in supporting the building and growth of Shibarium projects that will generate material traffic onto Koyo platform Shibarium utilising ShibaSwap, Koyo Platform and resulting in exponential $SHIB burns fully benefiting the Shiba ecosystem in its entirety.
So far, Koyo has had minimal resistance, as if destiny has led to this moment. They have continued to prove their way into the market — demonstrating their clear alliance with the Shiba Inu community — from the billions of $SHIB burns to a platform which will deliver immense utility to the Shiba ecosystem and enormous $Shiba burns.
Koyo has indicated "several Level 1 & 2 CEXs that have expressed strong interest to list $KOY." This statement alone can be understood why there has been such interest in the project. It wouldn't be a surprise to see back-to-back Tier 1 exchange listings soon, knowing the Koyo mission and undertakings going forward — backed with a strong financial case, with several Koyo wallets tracking back to large $10m+ Shiba wallets. Even with a wallet which is said to track back to vitalik.eth.
With the Koyo community solidifying its position, KoyArmy leaders from within are stepping up and the Koyo founders have been guiding the KoyArmy into what has been known as a 'no coincidence' plan. This alone has gained the momentum into a real possibility that Koyo may achieve its ambitions in becoming the first billion-dollar market cap project exclusively launching onto Shibarium.
Always perform your own DYOR, but we are excited to keep tabs on Koyo and its ongoing development.
For more information on Koyo Token please visit their website www.koyotoken.com
Follow Us on Twitter and Facebook.
Disclaimer: This content is informational and should not be considered financial advice. The views expressed in this article may include the author's personal opinions and do not reflect The Crypto Basic's opinion. Readers are encouraged to do thorough research before making any investment decisions. The Crypto Basic is not responsible for any financial losses.
-Advertisement-