The claim was part of many widely held beliefs about the XRP Ledger and XRP, later debunked by the CTO.
David Schwartz, Chief Technology Officer (CTO) at Ripple, recently dismissed claims that the XRP Ledger (XRPL) currently handles up to 1,500 transactions per second (TPS). Schwartz's remarks were made in reply to queries raised by a member of the XRP community.
Schwartz recently took to Twitter to dispel ten different beliefs about XRP and the XRP Ledger that are widely held by the community but are, in fact, false. One such claim is that XRPL processes up to 1,500 transactions per second. An anonymous community member had called attention to these claims.
For the uninitiated, transaction per second (TPS) is a metric that measures the number of transactions processed by a blockchain network per second. The TPS of a blockchain network depends on several factors, including the network's consensus algorithm, block size, network latency, and transaction complexity.
According to Schwartz, they have never witnessed up to 1,500 TPS on the live XRP Ledger since it launched in 2012. However, he acknowledged that the blockchain's current configuration could support up to 300 to 500 transactions per second on a live network. For context, Bitcoin processes between 3 and 7 transactions per second.
…
3. We've never seen 1,500 TPS on the live XRPL. I suspect it could, as currently configured, probably sustain about 300-500.
4. While someone could create a basket containing XRP, the only current reason to do so I can think of is as for cryptocurrency index exposure. …

— David "JoelKatz" Schwartz (@JoelKatz) April 13, 2023
One of the XRP community members highlighted an authoritative source on the official Ripple website as the origin of the widely-held claim. Specifically, the page dedicated to XRP on the Ripple website explicitly states that XRPL "consistently handles 1,500 transactions per second, 24×7."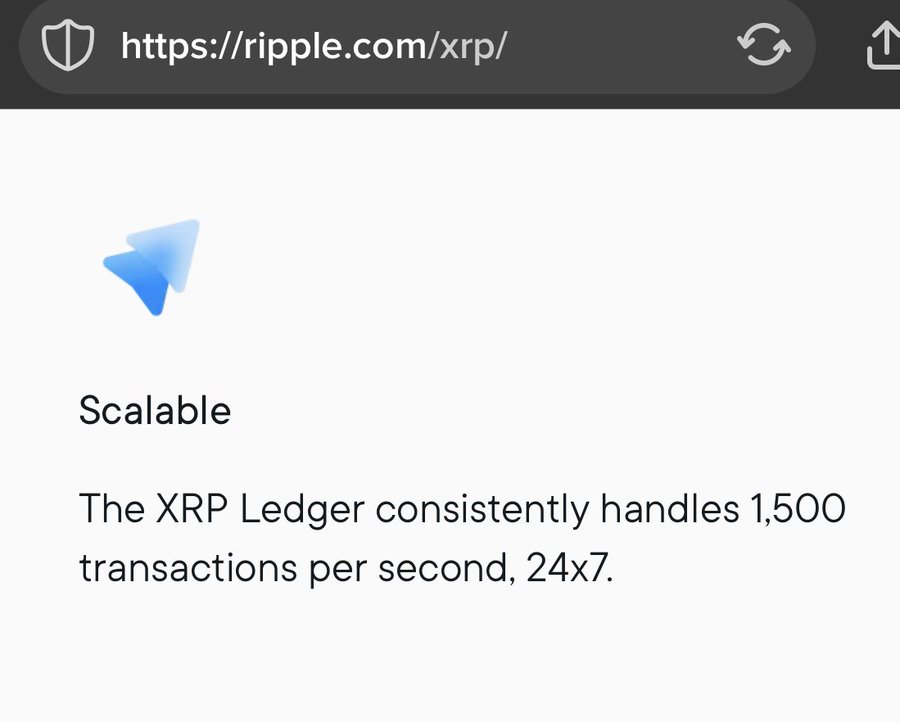 In response, Schwartz clarified that the statement XRPL consistently handles 1,500 TPS 24/7 is not true, as the current operation of the XRPL on the live network is below the 1500 TPS mark.
He acknowledged that the statement was poorly worded and has reported to the appropriate department to have it corrected.
"That is poorly worded, I agree…"
That is poorly worded, I agree. It's trying to say that the XRPL software/technology can consistently handle 15,000 TPS 24×7. I agree that the wording suggests that the live network is actually doing that (something nobody would want).

— David "JoelKatz" Schwartz (@JoelKatz) April 14, 2023
Schwartz Debunks Other Claims
David Schwartz also tackled nine other misconceptions regarding the XRPL that had been recently refuted. Among them, he explained that the XRP Ledger relies on the internet and cannot function offline. He further confirmed that, at present, no Central Bank Digital Currencies (CBDCs) are issued on XRPL.
Sure.
1. XRPL certainly needs the Internet for now and the foreseeable future.
2. No CBDCs on XRPL right now. …

— David "JoelKatz" Schwartz (@JoelKatz) April 13, 2023
Furthermore, Schwartz noted that RippleNet, Ripple's global payment network consisting of banks and financial institutions, does not use liquidity from the On-Demand Liquidity (ODL) solution.
Follow Us on Twitter and Facebook.
Disclaimer: This content is informational and should not be considered financial advice. The views expressed in this article may include the author's personal opinions and do not reflect The Crypto Basic's opinion. Readers are encouraged to do thorough research before making any investment decisions. The Crypto Basic is not responsible for any financial losses.
-Advertisement-