Several analysts have forecasted an imminent breakout for XRP, but the asset has faced occasional hurdles firmly stationed at breakout points.
XRP has been caught in an extensive range since the crash induced by the Terra collapse in May 2022. The asset has continued to trade between a low of $0.28 and a high of $0.55 for the one year, facing fierce resistance each time it seeks to break out from the region.
CryptoBull, a pseudonymous crypto analyst, recently called attention to this range while sharing an XRP chart on a weekly time frame on Twitter.
#XRP has been ranging between $0.28 and and $0.55 for one year now! pic.twitter.com/uGefsKeD7g

— CryptoBull (@CryptoBull2020) May 4, 2023
The analyst only pointed out that XRP has been caught in this range for over a year, declining to set any target time for a breakout. However, barely six days ago, he highlighted a fierce resistance that XRP would face at $0.85, noting that the asset could surge above $1 on its next run once it breaks this resistance.
Notably, XRP's current-ranging situation began in the second week of May 2022 amid the implosion of the Terra ecosystem. XRP plummeted by a massive 20.86% that week, dropping to a low of $0.3361. XRP continued to decline in subsequent weeks until it found support at $0.2872 in mid-June.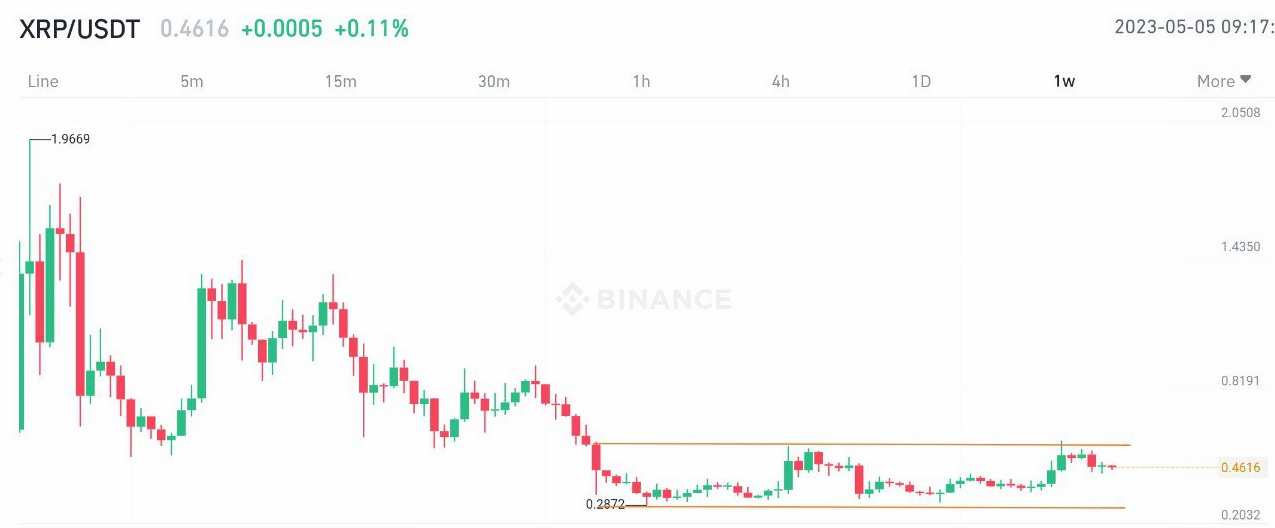 Despite a series of comeback campaigns triggered by broader market-wide rallies and positive developments in the Ripple vs. SEC lawsuit, XRP has been continually resisted by the bears each time it seeks to sit comfortably above $0.55. On the other hand, XRP has continued to leverage $0.28 as support against further declines.
As the chart shows, XRP's biggest move above this range occurred during its latest solo rally triggered by an increase in demand, particularly in South Korean markets. The asset surged to a high of $0.5850 on March 29 but faced stern resistance, bringing it back below $0.55 three days later.
Wen Breakout?
While the general consensus among analysts is that XRP will eventually break out of this range, the target time for such a breakout remains unclear. Notably, as reported by The Crypto Basic, prominent analyst Egrag recently opined that XRP could skyrocket by as much as 300% to 30,000% when its 100MA crosses the 200MA and the 300MA on the 2-day timeframe.
Egrag said this event could begin the XRP's next breakout phase. Others have opined that XRP could rally when the regulatory pressure from the SEC case is lifted.
Follow Us on Twitter and Facebook.
Disclaimer: This content is informational and should not be considered financial advice. The views expressed in this article may include the author's personal opinions and do not reflect The Crypto Basic's opinion. Readers are encouraged to do thorough research before making any investment decisions. The Crypto Basic is not responsible for any financial losses.
-Advertisement-