Crypto buyers and investors are constantly searching for the hottest and newest with high potential. These past weeks have witnessed an unprecedented frenzy, as token presales skyrocket and the market capitalization of several irresistible meme coins explodes into the stratosphere.
But amidst this frenzy, there's one coin that shines brighter than the rest: ApeMax, the new star of the crypto universe. Prepare for a mind-bending adventure as we unravel the secrets of this extraordinary coin that's capturing the imagination of crypto enthusiasts worldwide. ApeMax isn't just another run-of-the-mill coin, it's a game-changer with a boost-to-earn staking tokenomics system that'll have you earning like never before
Today, we'll look into the essence of ApeMax and uncover why it's the new crypto coin you can't afford to miss.
ApeMax: Stake on things you like, Earn Like Never Before!
Picture this: a fearless astronaut ape named Max, soaring through the cosmos on a rocket as the charismatic face of ApeMax. With its audacious and edgy branding, ApeMax has swiftly become the talk of the town, captivating a younger generation hungry for excitement. But what truly sets ApeMax apart is its groundbreaking tokenomics, an innovation that allows for earning opportunities like never before.
ApeMax empowers you to stake your claim on what you love. Imagine earning rewards by staking on your favorite influencers, rallying behind inspiring Web3 projects that leave you breathless, or even supporting the creators who ignite your passion. With ApeMax staking, you can do just that and earn. And here's the best part: staking has never been easier! ApeMax eliminates the technical complexities, making it a breeze for anyone to jump into the action and start earning.
ApeMax: Unleash Your Earnings and Power Up Instantly!
But hold on tight because the excitement doesn't stop there! ApeMax unleashes its superpower right from the get-go. As soon as you acquire those ApeMax coins, you're immediately thrust into the world of boosting and reaping incredible rewards. ApeMax is all about community empowerment, allowing you to propel your favorite entities to new heights. Fuel the dreams of creators, amplify the impact of mind-blowing Web3 projects, and let your support for influencers skyrocket.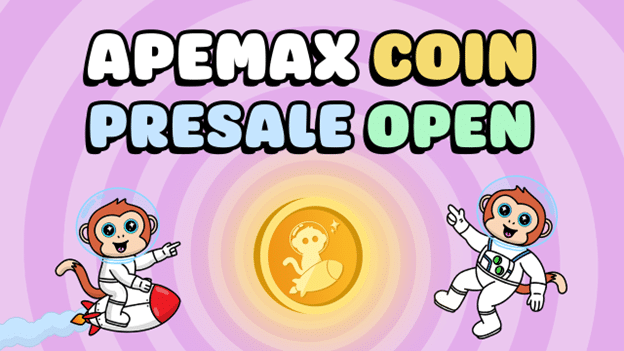 Seize the ApeMax Advantage: Unlock Unbeatable Pre-Sale Prices Today!
But act swiftly, my friends. The early birds are in for a treat. ApeMax rewards those who seize the opportunity with preferential prices during the presale extravaganza. The value of ApeMax is going up every 24 hours during the presale, so don't hesitate, grab those ApeMax coins today to secure the lowest price available during the presale.
And guess what? Convenience is ApeMax's middle name. Purchasing ApeMax coins is a breeze. Whether you choose to use crypto such as Ethereum or even a credit card, ApeMax ensures seamless access to its exhilarating universe, putting the power in your hands.
ApeMax: The Must-Have Meme Coin You've Been Yearning For! Get Yours Now!
So, don't let this extraordinary opportunity slip through your fingers. Join the ranks of the early birds, revel in unbeatable presale prices, and embark on a thrilling journey with ApeMax as your guide. The clock is ticking, my friends, so leap into action and embrace the future of meme coins with ApeMax leading the charge.
Prepare to have your wildest crypto dreams come true. ApeMax is here, and it's ready to take the world by storm. Say goodbye to ordinary meme coins and welcome the extraordinary. With real utility, groundbreaking tokenomics, and untapped earning potential, ApeMax is set to rewrite the rules of the game. While Doge, Shiba Inu, and Pepe have made their mark, ApeMax is poised to become the new sensation, captivating crypto enthusiasts far and wide.
Follow Us on Twitter and Facebook.
Disclaimer: This content is informational and should not be considered financial advice. The views expressed in this article may include the author's personal opinions and do not reflect The Crypto Basic's opinion. Readers are encouraged to do thorough research before making any investment decisions. The Crypto Basic is not responsible for any financial losses.
-Advertisement-