XRP has secured a position among the top gainers today, surging by over 5% on the back of the latest rulings from Judge Torres on the Ripple vs. SEC case.
At a time when the majority of the top assets, including Bitcoin (BTC), Ethereum (ETH), and Binance Coin BNB, are suffering losses, XRP has embarked on a rally that has seen it gain by over 5% in the past 24 hours. The asset's surge comes on the back of the latest rulings from Judge Torres on the Ripple vs. SEC case.
XRP Top Gainer
XRP's biggest intraday gain since last month occurred yesterday, as reports emerged that Judge Analisa Torres had made a slew of decisions regarding motions filed by Ripple and the US SEC. XRP closed the day with a 3.56% increase.
XRP is now seeking to build on this favorable close, staging a rally to a high of $0.4616 for the first time in over a week. Although XRP faced stern resistance at this point, it has retained the gains picked up yesterday, securing a position among the biggest gainers in the past day.
With a 5.19% increase in the past 24 hours, XRP is now the third biggest gainer among the top 100 assets, per data from CoinMarketCap. XRP is trading for $0.4442 as of press time, with a 4% increase in the past week.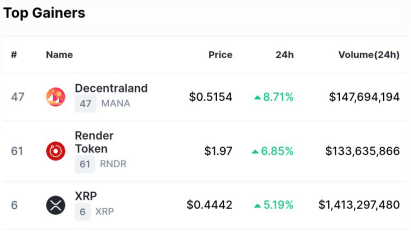 XRP's 24-hour trade volume has also seen an impressive surge. With a volume of $1.4 billion, XRP is third in terms of trading volume of non-stablecoin assets, only behind BTC and ETH. This metric suggests an increase in investors' interest.
Reason Behind the Rally
As reported by The Crypto Basic, Judge Torres recently made a significant ruling on the motions filed by Ripple and the SEC. The ruling was the judge's decision to deny SEC's motion to conceal the infamous Hinman documents. Judge Torres ruled that the documents should be made public.
Following the ruling, Brad Garlinghouse, the CEO of Ripple, revealed today that the lawyers are moving the legal process toward releasing the documents to the public. The verdict has rekindled optimism among investors, as Ripple has continued to emphasize the significance of the documents.
With the case a step closer to an end, investors are looking to procure XRP before an eventual run, increasing demand. Recall that XRP's previous solo run was driven by demand pumped into the asset by investors on the back of speculations that the case is ending.
Follow Us on Twitter and Facebook.
Disclaimer: This content is informational and should not be considered financial advice. The views expressed in this article may include the author's personal opinions and do not reflect The Crypto Basic's opinion. Readers are encouraged to do thorough research before making any investment decisions. The Crypto Basic is not responsible for any financial losses.
-Advertisement-