Shiba Inu looks to recover the losses incurred in recent times, as a 15% drop this month currently leaves over 1 million holders in loss.
Shiba Inu (SHIB) has not escaped the impact of the prevalent market-wide turmoil. The asset has dropped by over 15% this month, breaking below the potent $0.00001 support. As this crash puts over 1 million SHIB holders at loss, the asset is now looking to stage a recovery back to the $0.00001 territory.
Data from the on-chain data intelligence provider IntoTheBlock suggests that, at the asset's current price, up to 81% of Shiba Inu investors are facing losses on their investments. Etherscan data confirms that SHIB currently boasts an estimate of 1.3 million holders. This leaves 1,053,000 addresses at loss. 
Moreover, IntoTheBlock reveals that only 16% of holders, translating to 200K+ addresses, are witnessing a profit. In addition, about 39,000 addresses are at a break-even point. This indicates that these holders are neither seeing profits nor losses on their investments.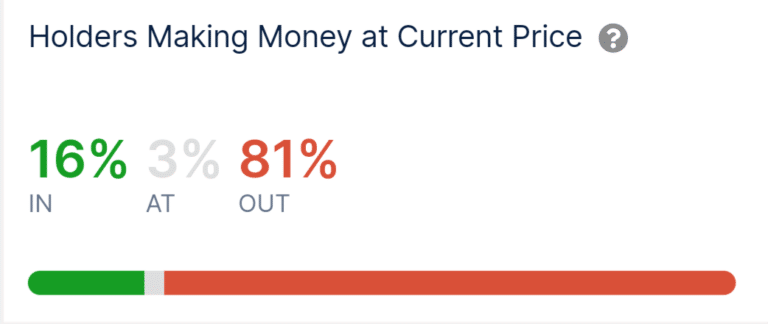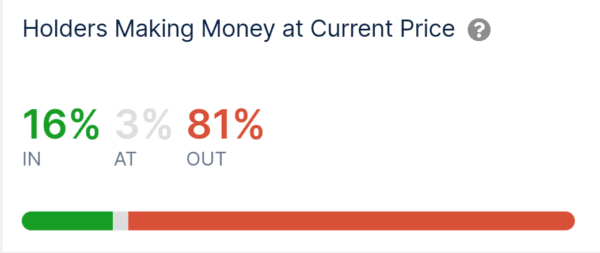 This bearish reality is as a result of the ongoing market-wide bloodbath that has battered SHIB below the $0.00001 threshold. According to IntoTheBlock, the majority of Shiba Inu holders procured their tokens when the asset was trading between $0.000009 and $0.000026. SHIB is currently trading for $0.00000852, down 1.96% in the past week.
Shiba Inu Eyes Recovery Amid Accumulation Spike
Shiba Inu began the month at a price of $0.00001008, as the bearish trend that began mid-April spilled over. The asset closed May 1 below the $0.00001 territory, but quickly reclaimed it the next day. SHIB continued to defend the $0.00001 support until May 6 when it plummeted by 5.14%.
Subsequent declines resulted in a free fall to the lows at $0.000008. The bulls have been unable to mount a comeback, leaving the asset to consolidate between $0.00000832 and $0.000009. At its current value, SHIB is down 15.81% this month.
Developments surrounding the ecosystem have done little to avail the bulls with support. However, the asset is looking to recover on the back of an increase in whale accumulation. An IntoTheBlock chart indicates that investors have amassed over 2.8 trillion SHIB in the past week.
In addition, data from the behavior analytics platform Santiment suggests that whale addresses holding 10 billion to 100 billion Shiba Inu have procured over 1.9 trillion SHIB since late March. A steady accumulation trend is also observed among other addresses.


This accumulation indicates a renewal of interest triggered by optimism. Shiba Inu is looking to leverage the ensuing demand to embark on a recovery campaign. The asset would need to break above the major resistance between $0.000009 and $0.00001 as a result of the massive sell wall at this territory.
Follow Us on Twitter and Facebook.
Disclaimer: This content is informational and should not be considered financial advice. The views expressed in this article may include the author's personal opinions and do not reflect The Crypto Basic's opinion. Readers are encouraged to do thorough research before making any investment decisions. The Crypto Basic is not responsible for any financial losses.
-Advertisement-