Shiba Inu (SHIB) addresses with at least $1 million worth of the asset now total over 1,200 in number, amid the recent market downturn.
Shiba Inu (SHIB) is now changing hands underneath the $0.000008 territory, having dropped below the price threshold for four consecutive days for the first time this year. This downturn has dramatically depreciated the value of SHIB held by investors, leaving only 1,207 addresses with a bag worth at least $1 million.
Data from IntoTheBlock, a leading on-chain analytics resource, suggests that addresses holding Shiba Inu worth between $1 million and $10 million have dropped to 1.15K as of press time, with the number of addresses holding SHIB worth $10 million or more currently standing at 57. These addresses make up only 0.1% of the total SHIB wallets.
The recent decline in addresses worth at least $1 million can be attributed to the drop in SHIB's price and the latest distribution campaign that has seen several whale addresses sell off their assets in response to the prevalent selling pressure in the market.
Notably, Shiba Inu's drop from the high of $0.00001031 on April 30 to its current price of $0.00000792 marked a 23% decline in value. Consequently, an address holding 97 billion SHIB was worth $1 million in April. These 97 billion SHIB tokens are now valued at $768,186. 
In addition to SHIB's devaluation, whale addresses are distributing or selling off their assets. The Shiba Inu Large Holders Netflow metric, which indicates whether whales are amassing more tokens or selling off their holdings, has declined by 1,700% in the past seven days.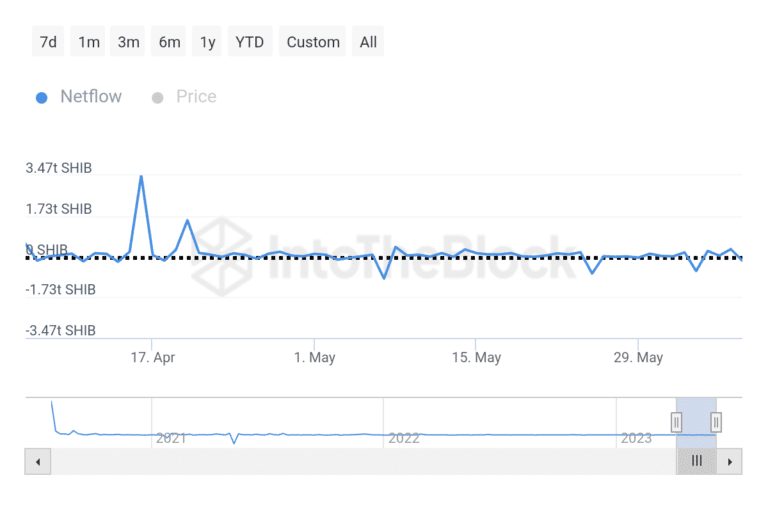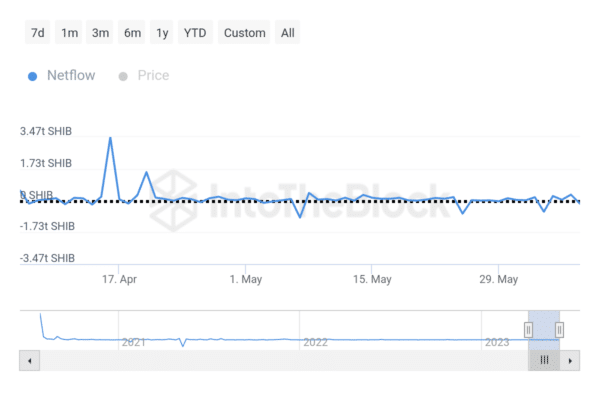 This distribution trend further contributes to the decline in addresses holding at least $1 million worth of SHIB, as large holders who previously held $1 million continue to take out their assets.
Small Shiba Inu Holders Accumulating 
In contrast to the pattern observed with whales, small Shiba Inu addresses have accumulated more tokens despite the market turbulence. IntoTheBlock data reveals that addresses holding up to $1,000 worth of SHIB have increased their balances by 4.12% in the past 30 days. These wallets make up 79% of the total Shiba Inu addresses.
Meanwhile, SHIB seeks to defend against further declines, which could see it lose the $0.000007 price territory. The asset has traded flat in the past 24 hours, changing hands at $0.00000792. With a 7-day decline of 6.12%, Shiba Inu would need to recover the losses in the past week to reclaim the $0.0000085 zone.
Follow Us on Twitter and Facebook.
Disclaimer: This content is informational and should not be considered financial advice. The views expressed in this article may include the author's personal opinions and do not reflect The Crypto Basic's opinion. Readers are encouraged to do thorough research before making any investment decisions. The Crypto Basic is not responsible for any financial losses.
-Advertisement-