A recent disclosure mentioned that Ripple Chairman Larson has not sold his XRP holdings since 2013, but court documents might tell a different story.
The official Twitter account of 24HrsCrypto, a prominent XRP-focused YouTube channel, recently mentioned that Chris Larson, co-founder and Executive Chairman of Ripple, has not sold any of his XRP holdings since 2013. This was an attempt to dispel claims that Ripple founders have been dumping their XRP holdings.
To all the people who say "Ripple executives are dumping #XRP," Chris Larson is sitting on 2.5 billion XRP (2.5 billion XRP that we can confirm is his, there might be more wallets not named), and nothing has been touched since 2013… let that sink in 🍿 #XRPCommunity #XRPHolders pic.twitter.com/cOC6ZAK4Ye

— 𝟸𝟺𝙷𝚁𝚂𝙲𝚁𝚈𝙿𝚃𝙾 (@24hrscrypto1) June 14, 2023
The 24HrsCrypto host shared a snapshot detailing transactions that involved Larson's wallet. According to him, Larson currently holds his 2.5 billion XRP, having touched nothing since 2013.
However, an anonymous XRP community member came up to debunk these claims. The individual shared a court document filed by Michael K. Kellogg, a lawyer representing Ripple in the SEC lawsuit, wherein he shared 106 exhibits in an attempt to support Ripple's motion for summary judgment.
Notably, the document points to Exhibits 81 and 82, which detail the amount of XRP sold by Chris Larson and Ripple's CEO Brad Garlinghouse. Both exhibits are hosted on Court Listener, a prominent legal-based research platform.
Exhibit 81 suggests that Larson had sold off over $453.69 million worth of his XRP holdings as of December 2020, when the SEC filed the charges against Ripple. Data from the document shows that Larson sold XRP worth $395.2 million using foreign exchanges such as Binance, Bithumb, and Huobi. The largest volume came from Bithumb.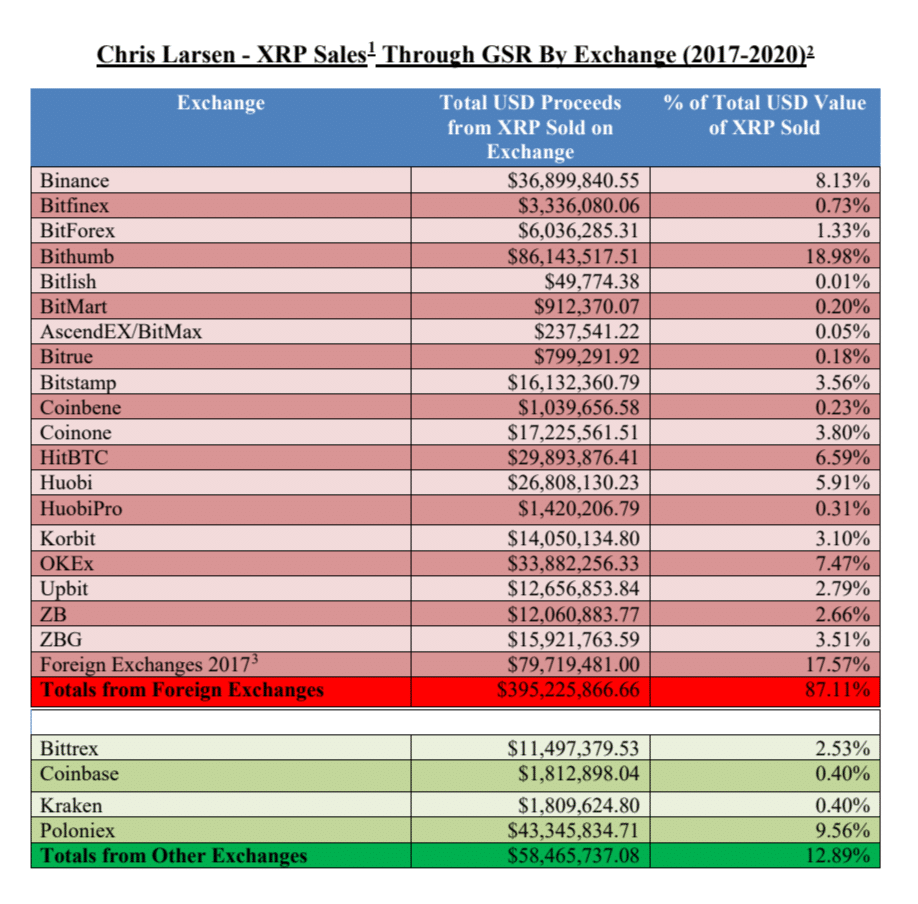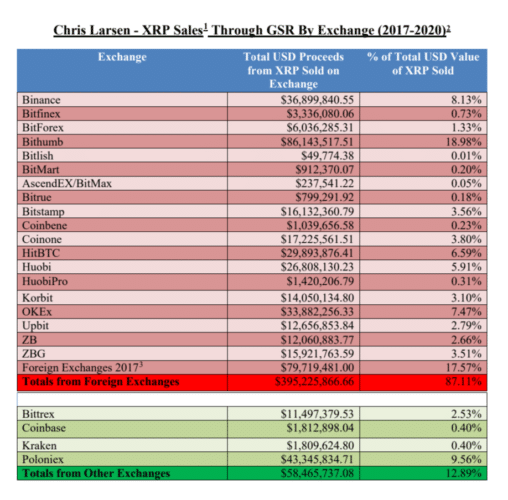 In addition, the document reveals that the Ripple co-founder sold $58.47 million worth of XRP on US-based exchanges, including Coinbase, Kraken, and Poloniex, from 2017. Poloniex saw the largest volume, facilitating $43.3 million in XRP sales.
Meanwhile, Exhibit 82 reveals that Garlinghouse had sold off $164.26 million worth of his XRP holdings as of December 2020. Of this figure, Garlinghouse sold XRP worth $155.81 million on foreign exchanges and $8.44 million on American exchanges. Some investors have emphasized that there is nothing wrong with these sales from Larson and Garlinghouse.
Claims of Ripple Founders' XRP Selloff
Notably, amid Ripple co-founder and former CTO Jed McCaleb's selloff campaign, claims that other Ripple co-founders have been selling off their holdings emerged. At the initial stage of Ripple (then OpenCoin), the three founders – McCaleb, Larson, and Arthur Britto – received a share of 20 billion XRP.
McCaleb took to selling off his holdings after leaving Ripple in 2013. The distribution persisted over the years to mitigate risks of a market impact, with McCaleb selling off the last million XRP in his bag last July. As The Crypto Basic reported, Garlinghouse jokingly made reference to the distribution campaign shortly after McCaleb sold everything off.
It bears mentioning that, despite being a co-founder and having received a share of the 20 billion XRP, McCaleb was not targeted by the SEC in the lawsuit against Ripple and its executives. In July 2022, attorney John Deaton noted that the SEC's decision to leave out McCaleb in the lawsuit suggests that its claims are inconsistent and illegitimate.
Follow Us on Twitter and Facebook.
Disclaimer: This content is informational and should not be considered financial advice. The views expressed in this article may include the author's personal opinions and do not reflect The Crypto Basic's opinion. Readers are encouraged to do thorough research before making any investment decisions. The Crypto Basic is not responsible for any financial losses.
-Advertisement-