Ripple CTO David Schwartz has responded to allegations from released court documents claiming that Ripple paid six exchanges $1-5M to list XRP.
Recently-released court documents in the Ripple vs. SEC case allege that Ripple paid six exchanges $1 million to $5 million to have the platforms list XRP. David Schwartz, Ripple's CTO, has responded to these claims, seeking to provide clarification on the matter.
Allegations of Payment
Schwartz's clarification came on the back of a thread from Scam Detective, an anonymous self-acclaimed sleuth. Recall that The Crypto Basic highlighted Exhibit 220 in the recently-released court documents claiming that there are reasonable grounds to conclude that XRP does not pass the Howey test.
Several proponents concluded that it would be "game over" for the SEC if this came from the agency itself. However, a former SEC attorney, Marc Fagel, confirmed that the agency did not write the document. In his recent tweets, Scam Detective also noted this. However, he further asserted that a law firm wrote the document for Grayscale Investments. 
There is a lot of misinformation going around the #XRPcommunity claiming that the SEC said #XRP is not a security. This is FALSE. This statement is based on Exhibit 220 in the Hinman Doc drop. This Exhibit was written by a law firm to Grayscale regarding its XRP Investment Trust.

— 𝕾𝖈𝖆𝖒𝖘 𝖆𝖗𝖊 𝖇𝖆𝖉 🗝 91.22% (@ScamDetective5) June 13, 2023
Scam Detective mentioned that one of the grounds used by the law firm to determine that XRP is not a security is that Ripple did not arrange for XRP trading in the secondary market. However, new discoveries claimed that Ripple paid six exchanges between $1 million and $5 million in 2017 to have them list XRP.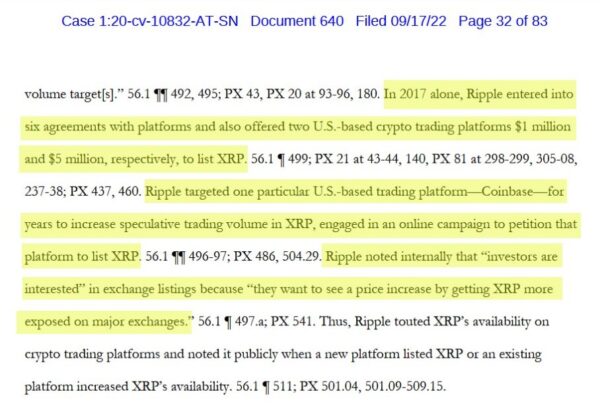 Scam Detective concluded that these allegations led to the dissolution of the Grayscale XRP Investment Trust in January 2021. The allegations also claim that Ripple targeted Coinbase for years to list XRP.
Ripple CTO Responds
In response, Schwartz shed light on the complexity of the situation. He emphasized that the presented claims are mere allegations and that the actual facts are complicated.
Let me give you a completely made up hypothetical. It's not based on actual facts, but it's just to give you the idea.

Say there was an exchange that contacted Ripple and demanded $1 million to list XRP. We explain that they have their own business reasons, they refuse.

Then, a…

— David "JoelKatz" Schwartz (@JoelKatz) June 14, 2023
Using a hypothetical scenario, Schwartz explained the possible dynamics behind such allegations. He explained that an exchange might demand a substantial fee to list XRP, which Ripple may choose not to pay initially.
However, if Ripple later identifies an opportunity to establish a valuable payment integration with that exchange, the company could make a payment for the integration costs, allowing them to use the exchange for ODL purposes and necessitating XRP's listing on the platform.
However, this payment would be intended to facilitate Ripple's broader goal of expanding its On-Demand Liquidity (ODL) service rather than solely to list XRP.
Schwartz clarified that this is only a hypothetical situation. He emphasized that litigating parties tend to present allegations in the worst possible light without contradicting the facts. He cautioned against treating these allegations as facts and stressed the need for a fair evaluation.
Recall that the allegations that Ripple paid exchanges such as Coinbase to list XRP had surfaced in the past. Notably, Scam Detective asked Schwartz last month how much Ripple paid Coinbase to list XRP, reigniting age-old allegations that sprang up in a Bloomberg article in 2018.
"The story of Coinbase listing XRP is the only story I most wish I could tell that I can't," Schwartz replied at the time.
Follow Us on Twitter and Facebook.
Disclaimer: This content is informational and should not be considered financial advice. The views expressed in this article may include the author's personal opinions and do not reflect The Crypto Basic's opinion. Readers are encouraged to do thorough research before making any investment decisions. The Crypto Basic is not responsible for any financial losses.
-Advertisement-