Shiba Inu is a long way from its All-Time High (ATH) of $0.00008845, but how long would an investor need to become a millionaire should SHIB reclaim this value?
Despite the market-wide turmoil, Shiba Inu has garnered the attention of the broader crypto community, attracting a wave of investors. However, how much would an investor need to put into the asset to become a millionaire when it reclaims its all-time high value?
Shiba Inu is Down 91% from ATH
Shiba Inu attained its all-time high value of $0.00008845 in October 2021. This price point resulted from an elongated rally that gained stream at the start of 2021. However, nearly two years later, SHIB is currently 91.89% down from the ATH value, per CoinMarketCap data.
The Shiba Inu community has championed several initiatives aimed at facilitating a price recovery for the asset. Though a goal of $0.0001 is set, the asset would need to reclaim its ATH value before it can have a chance at hitting this target.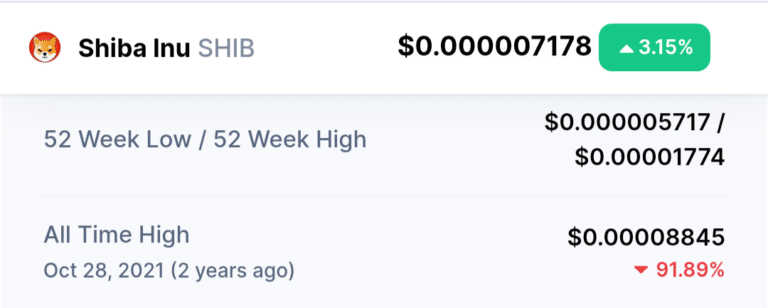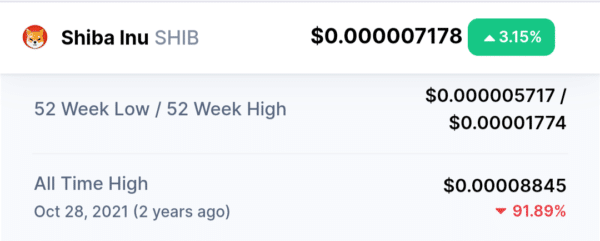 Despite the recent modest rally, Shiba Inu is still down 17.38% in the past 30 days. While this decline can compound investor angst, some market participants see it as an opportunity to amass more tokens at a discount. This allows investors to procure more Shiba Inu for less.
How Much Needed to Become a Millionaire at SHIB's ATH
At its all-time high value of $0.00008845, an investor would need approximately 11.31 trillion Shiba Inu tokens to become a millionaire. However, market participants would need less money to procure 11.31 trillion SHIB due to its price decline.
Shiba Inu is currently changing hands at $0.00000718 as of press time. To purchase 11.31 trillion SHIB at its current price, you must invest an estimated $81,180 in SHIB.
If these 11.31 trillion tokens are held through the market turmoil until Shiba Inu reclaims its all-time high value, Shiba Inu would be worth $1 million. This would mark a return of up to $918,000 and an appreciation rate of 1,131%.
However, the important question is, can Shiba Inu reclaim its all-time high? The answer remains uncertain, as the direction of the market remains unpredictable. As a result, it is advisable to conduct proper research before making any investment decisions.
Meanwhile, Shiba Inu has finally reclaimed the $0.000007 zone following an impressive surge observed over the weekend. SHIB has gained 7.49% over the past week, with up to four consecutive days of persistent gains. The Crypto Basic noted last week that on-chain data suggests the asset might be gearing for a price recovery.
Follow Us on Twitter and Facebook.
Disclaimer: This content is informational and should not be considered financial advice. The views expressed in this article may include the author's personal opinions and do not reflect The Crypto Basic's opinion. Readers are encouraged to do thorough research before making any investment decisions. The Crypto Basic is not responsible for any financial losses.
-Advertisement-