Shiba Inu has plummeted to shocking levels amid the ongoing market collapse, but on-chain data suggests a price recovery might be on the horizon.
Shiba Inu (SHIB) has faced a severe storm amid the prevailing market turbulence. The asset has dropped below four psychological support levels in less than two months. However, recent on-chain data suggests the bottom might have priced in, and a recovery may be imminent.
Shiba Inu's woes began in March following the impressive run observed in February. SHIB closed March with a 9.90% decline, but retained a value above the $0.000010 psychological support. However, Shiba Inu lost 21.72% of its value in the two months that followed, eventually dropping below $0.000010.
With a 19.44% decline this month so far, SHIB has now plummeted below the psychological support levels at $0.000009, $0.000008, and $0.000007. Amid this bearish situation, data indicates that Shiba Inu might be gearing up to stage a recovery.
Shiba Inu Weighted Sentiments
Data from behavior analytical resource Santiment shows that sentiments surrounding Shiba Inu have continued to improve. The Weighted Sentiment metric, which measures investors' sentiment toward an asset, has increased over the past week.


However, at a current value of -1.395, Shiba Inu's Weighted Sentiment remains negative. Despite this, the chart shows that sentiment had improved since June 9, when it dropped to -1.543. If this gradual increase persists, the metric could slip into positive territories.
The improvement in investor sentiment continues despite the SEC-induced market collapse. Following the charges against Binance and Coinbase, Shiba Inu's market sentiment dropped to a shocking low. However, investors' confidence is increasing.
An uptick in Weighted Sentiment following a massive dip indicates a renewal of interest among investors. This trend typically suggests increased demand as market participants re-enter the scene. When it coincides with a market collapse, this pattern could suggest a bottom and a looming price recovery.
SHIB's Bid-Ask Volume 
IntoTheBlock data further confirms a renewal of confidence among investors. Notably, the Shiba Inu Bid-Ask Volume on exchanges has increased by 5.21%, indicating a bullish trend.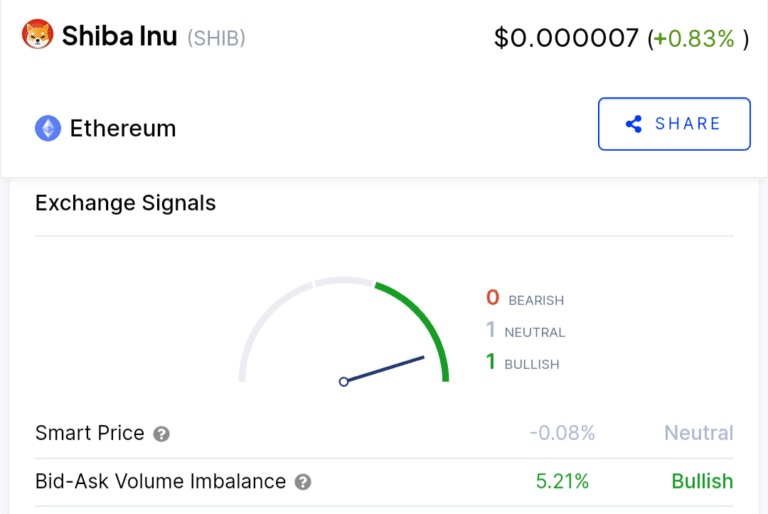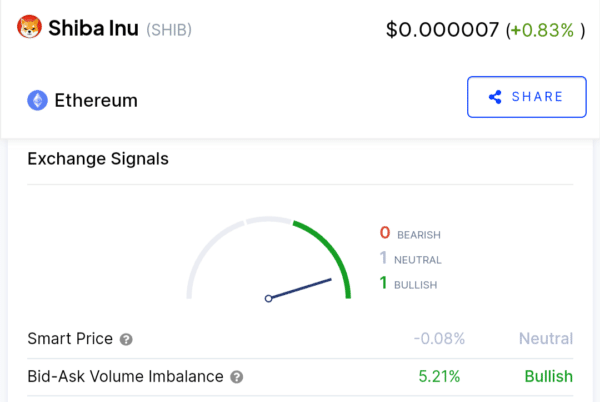 A positive Bid-Ask Volume indicates more buying interest (bids) than selling interest (asks) in the market. This implies that investors are actively looking to purchase SHIB tokens and are willing to place higher bids than the current asking prices.
This trend is usually triggered by an uptick in bullish sentiments and a surge in buying pressure. During a downturn, it could indicate an imminent price reversal. 
Meanwhile, Shiba Inu is up 1.62% in the last 24 hours. Currently changing hands at $0.0000069, SHIB is looking to reclaim the $0.000007 territory. If the asset conquers this zone, it could flip it into support and leverage it to have a go at the $0.000008 point.
Follow Us on Twitter and Facebook.
Disclaimer: This content is informational and should not be considered financial advice. The views expressed in this article may include the author's personal opinions and do not reflect The Crypto Basic's opinion. Readers are encouraged to do thorough research before making any investment decisions. The Crypto Basic is not responsible for any financial losses.
-Advertisement-