The Shiba Inu dedicated scam alert page has issued a warning about a new scam scheme promoting fake Shibarium testnet rewards to investors.
Shibarmy Scam Alerts, the community-driven page dedicated to calling out scam schemes targeting the Shiba Inu ecosystem, has issued a warning regarding a new scheme promoting fake Shibarium testnet rewards to the community.
In a recent tweet, the account confirmed that there are no testnet rewards for Shibarium, advising the Shiba Inu community to disregard circulating claims of the existence of any. The page further urged investors not to fall prey to the scheme.
🚨SHIBARMY WARNING:🚨

There are no shibarium testnet rewards to be collected, please don't fall for these traps.

report these accounts to twitter

Keep safe world , Shibarmy strong pic.twitter.com/XfgcGQxfHs

— Shibarmy Scam Alerts (@susbarium) June 28, 2023
Details of the Scheme
Notably, a close look at the scheme shows that the scam campaign is an elaborate one involving multiple Twitter accounts. These accounts are possibly bot accounts explicitly created for this scheme. The proliferation of numerous accounts aims to give the scam a sense of authenticity.
An investigation by The Crypto Basic found that two primary Twitter accounts are orchestrating this scheme. The first is a so-called Michele Fratus account promising "Shibarium launch rewards" to SHIB, BONE, and LEASH holders.
Unfortunately, the initial tweet from this account has commanded up to 224,000 views, suggesting that it has reached a large audience, with over 11,000 interactions so far. Despite these high figures, investors should note that the account is malicious.
The second primary account in this scheme is an impersonation of Shytoshi Kusama, the community-appointed Shiba Inu project lead. The account replicates the lead developer's details. However, it carefully replaces "h" with "k" in the name "Shytoshi" to avoid easy detection.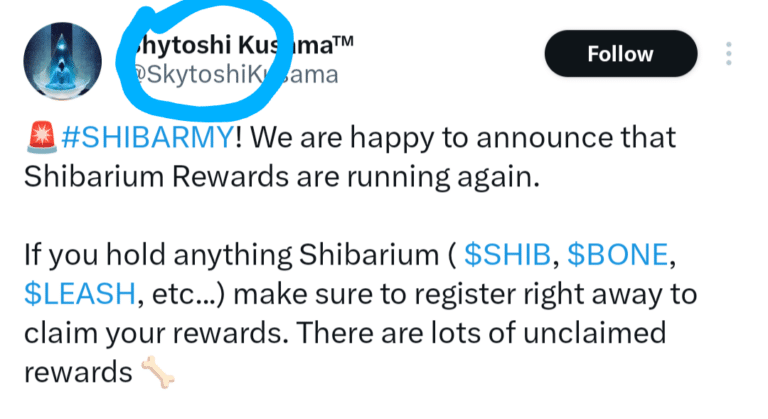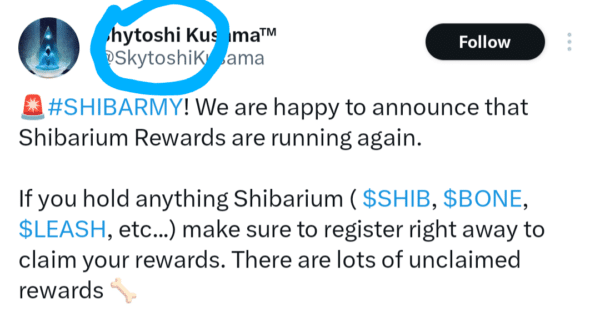 No Shortage of Scams
Like traditional finance, the crypto scene has become a hotbed for scam schemes. However, the crypto industry is more attractive to these bad actors due to the higher level of privacy blockchain boasts. As a result, scam schemes have proliferated the scene.
Considering this, investors should remain cautious and not click on unknown links, even for curiosity's sake. The perfect response to these scam schemes is simple: report and block. 
Barely two weeks ago, Kusama confirmed that the development team had not yet released the upcoming Shiba Inu ecosystem tokens SHI and TREAT. He cautioned investors to be watchful and not fall victim to scams.
Earlier this month, Lucie, a Shiba Inu marketing specialist, called attention to a scam targeting exchanges. Information suggested that some malicious actors are approaching exchanges, claiming to be part of the Shiba Inu team. 
Follow Us on Twitter and Facebook.
Disclaimer: This content is informational and should not be considered financial advice. The views expressed in this article may include the author's personal opinions and do not reflect The Crypto Basic's opinion. Readers are encouraged to do thorough research before making any investment decisions. The Crypto Basic is not responsible for any financial losses.
-Advertisement-