A Shiba Inu whale dormant for over 157 days has resumed activity, distributing over 4 trillion SHIB across different wallets within 24 hours.
Concerns have emerged among SHIB proponents as an inactive Shiba Inu whale recently resumed actions, per a Thursday update. Data shows this early Shiba Inu investor's wallet has been dormant for over 157 days.
SpotOnChain, a leading blockchain analytic platform, shared this latest development, revealing that the whale has moved over 4 trillion SHIB tokens to several addresses within 24 hours of reawakening.
🚨🚨 Massive $SHIB whale 0x140 woke up after 157 days of dormancy to distribute 4T $SHIB ($30M) to 8 fresh wallets around 16 and 2 hours ago.

Notably, this whale once used 37.81 $ETH ($12.5K) to buy 103T $SHIB in 2020, worth up to $8.16B at peak.

⚠️ Watch out for its next move! pic.twitter.com/vCMTV5JcTe

— Spot On Chain (@spotonchain) July 13, 2023
Data from the Etherscan confirms this claim. Etherscan shows that the wealthy Shiba Inu whale distributed exactly 4,000,000,000,107 (4T) SHIB worth over $30 million across nine new wallets.
In his first transaction, executed at 8:40 AM (UTC) on Jul. 12, the unknown whale moved a small volume of 107 SHIB to a specific address. After that, he transferred 500,000,000,000 Shiba Inu tokens each to eight separate addresses at short intervals.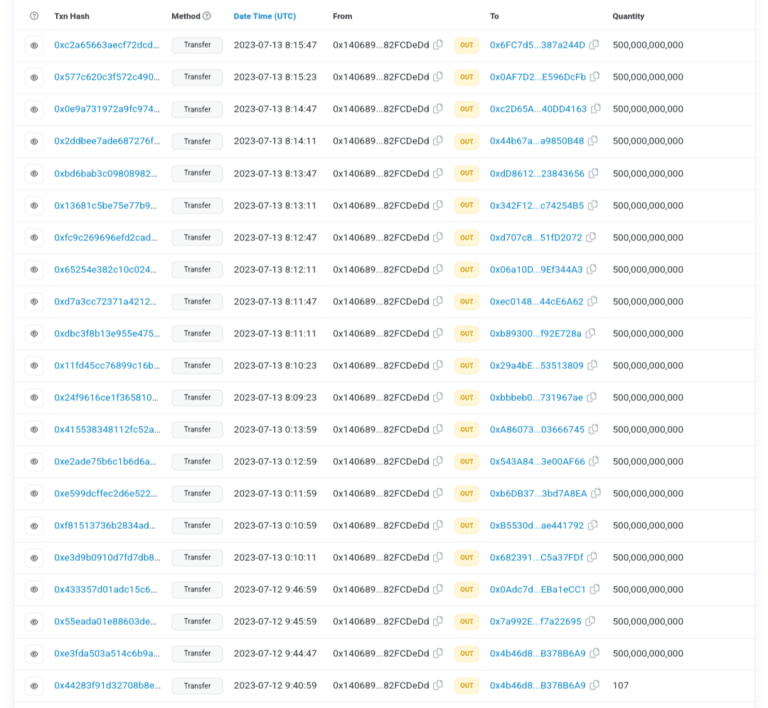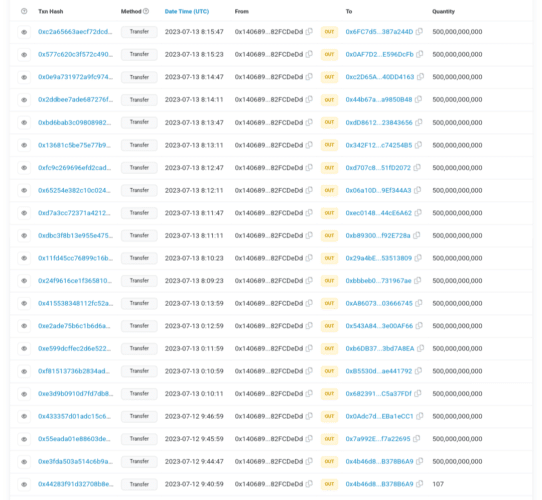 Notably, the first four transactions were completed on Jul. 12, while the remaining five SHIB token transfers were executed today.
The whale wallet still boasts about 6.2 trillion SHIB following these heavy transfers. Spotonchain noted that the deep-pocketed investor holds over 100 trillion SHIB across several wallets.
Past Whale Transactions
As mentioned, the last Shiba Inu transaction carried out on this whale address occurred on Feb. 5, when he received roughly 7,050 Shiba Inu tokens from a Coinbase address.
Before this transaction, the whale had shifted 229,287 SHIB to the top exchange. Meanwhile, he shifted 20 trillion SHIB on Nov. 9 in two equal transactions per data on Etherscan.
It bears noting that this whale is among the earliest investors in SHIB. In 2020, he used 37.81 ETH worth $12,500 to accumulate a whopping 103 trillion SHIB tokens.
During the SHIB price pump in 2021, the whale seized an estimated profit of $18.49 million. As revealed by Spotonchain, the whale swapped about 1.9T SHIB on different exchanges, including Binance, Coinbase, and MEXC, at an average price of $0.00000969 in July 2021.
Another top analytic platform Lookonchain revealed that the whale sold 603B SHIB for 2,411 ETH in 2021 while also depositing 1.25T SHIB worth $8.77M on Coinbase the same year.
The whale bought 103.33T $SHIB with 38 $ETH($14K) very early.

Then sold 603B $SHIB for 2,411 $ETH($9.6M) and deposited 1.25T $SHIB($8.77M) to #Coinbase in 2021.

Currently, the whale still holds 101.47T $SHIB ($756B), which is distributed in 23 wallets. pic.twitter.com/U2lfaXlUj1

— Lookonchain (@lookonchain) July 13, 2023
Impact on Shiba Inu Price
Market participants speculate that the whale may dump these 4 trillion SHIB recently moved into the market. However, these tokens are still stationed in the whale's wallets at the time of writing. In a case where they are sold, an adverse impact on SHIB's price could be expected.
At press time, SHIB is trading at $0.000007497 and still showing momentum in the past hour. However, SHIB has slightly declined in the past 24 hours and seven days by over 1.26% each.
But in the past 30 days, the asset's price has appreciated by over 12%, indicating growing investor interest.
More so, SHIB's Relative Strength Index (RSI) stood at 48 on the daily press timeframe, implying a balance between buying and selling pressures. Other looming developments, such as the Shibarium mainnet launch, could further increase the bullish sentiments around the asset.
Follow Us on Twitter and Facebook.
Disclaimer: This content is informational and should not be considered financial advice. The views expressed in this article may include the author's personal opinions and do not reflect The Crypto Basic's opinion. Readers are encouraged to do thorough research before making any investment decisions. The Crypto Basic is not responsible for any financial losses.
-Advertisement-