Shiba Inu (SHIB) community members present a projection of five trillion SHIB tokens burned with the help of the upcoming layer-2 solution Shibarium.
Shiba Inu's (SHIB) dream of embarking on astronomical price rallies heavily relies on several factors. One such factor is the burn rate. As a result, Shibarium, the upcoming L2 solution, aims to contribute to these burns. Factoring in its capabilities, some proponents forecast a 5 trillion monthly burn rate.
SHIB Bezos, a prominent Shiba Inu community influencer, highlighted this projection in a recent tweet. Bezos called attention to the fact that some enthusiasts envision a burn rate of 5 trillion SHIB per month with the help of Shiba Inu.
$SHIB BREAKING NEWS

5 Trillion Monthly Burns Projected as Shiba Inu Team Unveils How Shibarium Will Increase SHIB Burns#Shibarium 🟰 $SHIB Millionaires

2023 Will Be The Start of $SHIB Epic Bull Run‼️

Retweet If U Think #Shibarium Will Push $SHIB To $1~$10‼️#SHIBARMYSTRONG pic.twitter.com/z0Xd9cvnc2

— SHIB Bezos (@BezosCrypto) July 17, 2023
Bezos asserted that this year will mark the beginning of Shiba Inu's massive bull run. Other community members share this sentiment, as they expect the unveiling of Shibarium at the Blockchain Futurist Event in August.
A massive price rally for SHIB would require a significant increase in burn rate. At Shiba Inu's current circulating supply of 579.1 trillion tokens, it would take around five years to incinerate half of the asset's supply if Shibarium burns 5 trillion tokens a month.
While most community members believe this is an impressive milestone, some remain unexcited due to the amount of time it would take to burn a significant portion of the asset's circulating supply.
5 Trillion Shiba Inu Burns a Month: How Possible?
As of press time, Shiba Inu's burn rate is 91.67 million tokens daily, increasing by 7,329% over the past 24 hours. If sustained, this current burn rate translates to 2.75 billion tokens a month and 33 billion a year.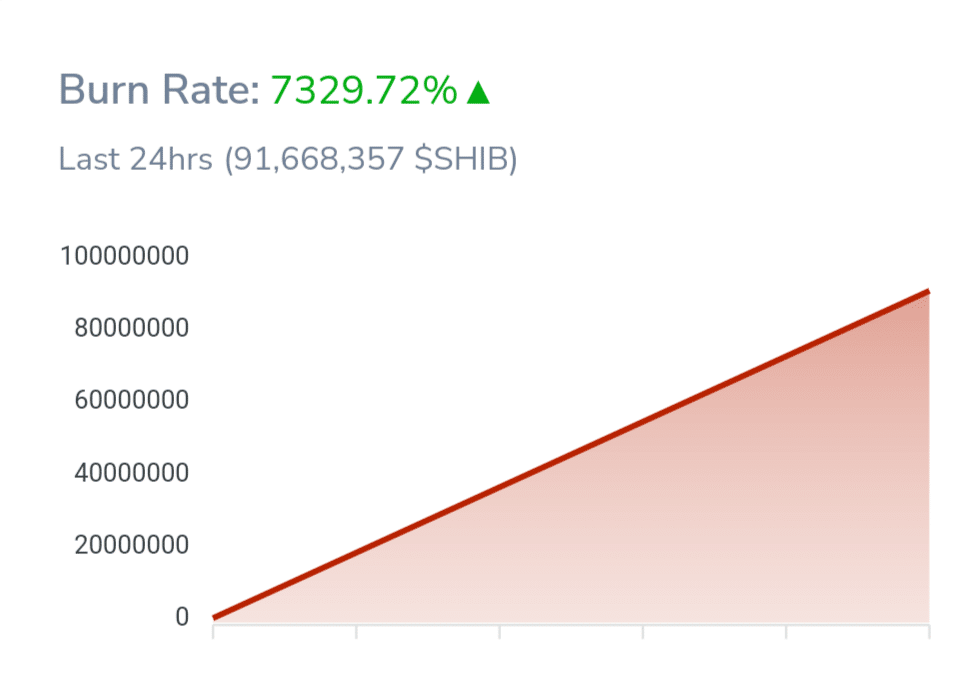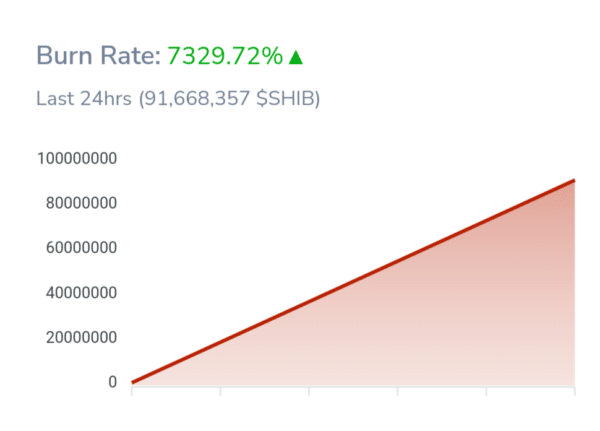 From the current figure, SHIB's burn rate would need to increase by 212,665% to reach 5 trillion monthly tokens. While the consensus is that Shibarium can help expedite burns, it remains to be seen if the extent of its contribution will hit this mark.
The upcoming layer-2 solution will incinerate Shiba Inu tokens with 70% of its base transaction fee. The significance of its contribution to the burn campaign will largely depend on the adoption rate. In addition, the number of projects building on the network can also determine how much SHIB it burns.
The community got a sneak peek of the Shibarium burn interface two months ago. Despite its prospects, some proponents remain doubtful of a 5 trillion monthly token burn, dismissing it as wishful thinking. It is highly unlikely to see Shibarium burn 5 trillion tokens a month. However, the possibility cannot be entirely dismissed.
Recall that Shiba Inu lead developer Shytoshi Kusama previously emphasized that burns alone cannot significantly impact SHIB's price. Consequently, the anonymous developer stressed the need for utility. Shibarium also seeks to introduce this.
Follow Us on Twitter and Facebook.
Disclaimer: This content is informational and should not be considered financial advice. The views expressed in this article may include the author's personal opinions and do not reflect The Crypto Basic's opinion. Readers are encouraged to do thorough research before making any investment decisions. The Crypto Basic is not responsible for any financial losses.
-Advertisement-