XRP traders remain bullish on the asset's prospects despite the recent unfavorable performance, as evidenced by the dominance of long traders on Huobi.
XRP traders demonstrate strong confidence in the asset despite the latest price drop. Notably, XRP is down 29% from the high of $0.9380 on July 13, but more futures traders continue to initiate long positions on XRP. This trend suggests the sustenance of bullish sentiments.
A recent disclosure from Huobi reveals that more accounts on the platform are initiating long positions, with XRP securing a spot among the top five assets, with most accounts holding long positions on the platform's futures market.
#Huobi Top Trader Long Positions:

🔹 $SUI 77%
🔹 $HT 76%
🔹 $XRP 59%
🔹 $BTC 54%
🔹 $ETH 46%

Like this if you are long on $BTC!

— Huobi Futures (@HuobiFutures_) August 4, 2023
A Dominance of Long Traders
Per the revelation, 59% of the accounts trading XRP on Huobi hold long positions. This figure places XRP third on the list of assets boasting a predominance of long traders. XRP sits above Bitcoin (BTC) and Ethereum (ETH) on the list despite both assets outperforming XRP over the past seven days.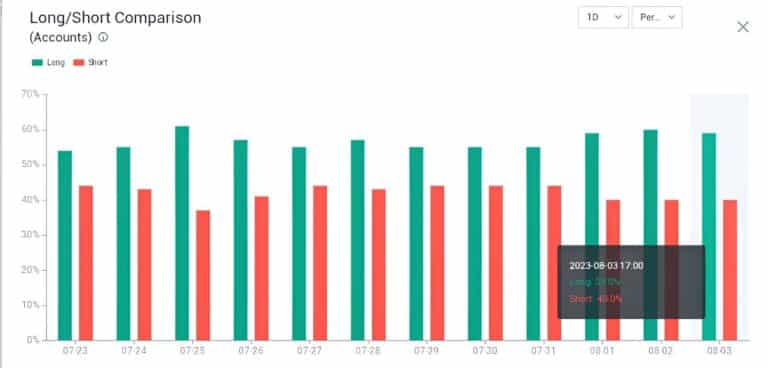 While XRP is down 7.45% in the last week, BTC is trading flat within the same timeframe, and ETH is facing a meager loss of 1.30%. However, only 54% of BTC traders on Huobi are going long. In addition, ETH is facing more short traders, with long traders representing a discouraging 46% of trades.
The fact that XRP has a higher rate of long traders than BTC and ETH implies that investors are more optimistic and bullish about the future price of XRP compared to BTC and ETH. A predominance of traders holding long positions indicates that investors expect the asset's value to rise.
It is important to note that this metric represents the rate of traders (or accounts) holding long positions and not the rate of long positions themselves. When it comes to a comparison of long and short positions themselves, XRP's futures trades are 47.6% long. However, XRP still beats BTC (46.6%) and ETH (44.3%) in this metric.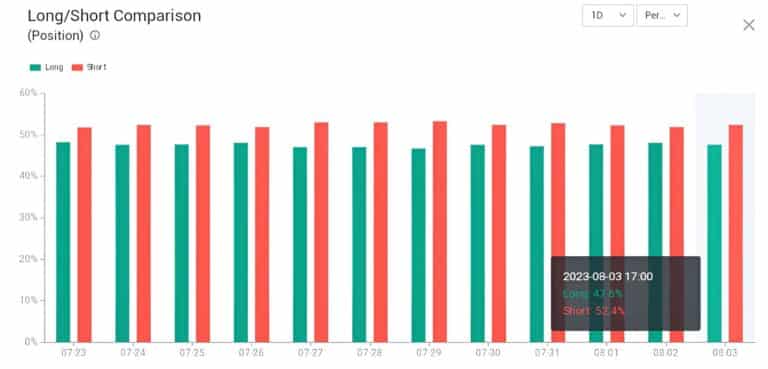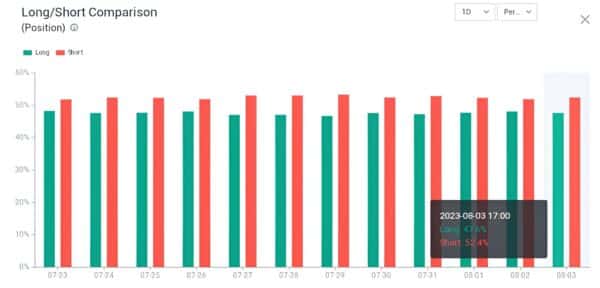 XRP Price Outlook
Meanwhile, XRP remains bearish, down 2.06% over the past 24 hours as it changes hands at $0.6573. Several analysts have forecasted further dips, but these forecasts remain uncertain projections of the asset's trajectory and should not be considered investment advice.
The Crypto Basic recently reported one of these predictions, where a prominent analyst on TradingView asserted that XRP could plummet to $0.58 over the next five months. However, he stressed that the asset would stage a recovery from this dip.
Follow Us on Twitter and Facebook.
Disclaimer: This content is informational and should not be considered financial advice. The views expressed in this article may include the author's personal opinions and do not reflect The Crypto Basic's opinion. Readers are encouraged to do thorough research before making any investment decisions. The Crypto Basic is not responsible for any financial losses.
-Advertisement-