A top analyst on TradingView highlights crucial resistance and support levels to watch for XRP as the asset drops amid declining post-ruling thrill.
In the wake of Judge Analisa Torres' ruling that XRP is not a security in the SEC vs. Ripple case, the excitement surrounding XRP has significantly declined, with the asset down 29% from its yearly high of $0.9380 on July 13.
Amidst this declining post-ruling excitement, TradingView analyst Juicyho has provided an in-depth analysis of the XRP price movements and identified crucial support and resistance levels.
Crucial XRP Levels
Juicyho's analysis suggests that XRP may not experience an immediate rally from its current position as some people expect, pointing out that it is unlikely to happen until the XRP touches the $0.58 territory. According to the analyst, the crucial resistance levels to watch are $0.769, $0.785, and $0.981.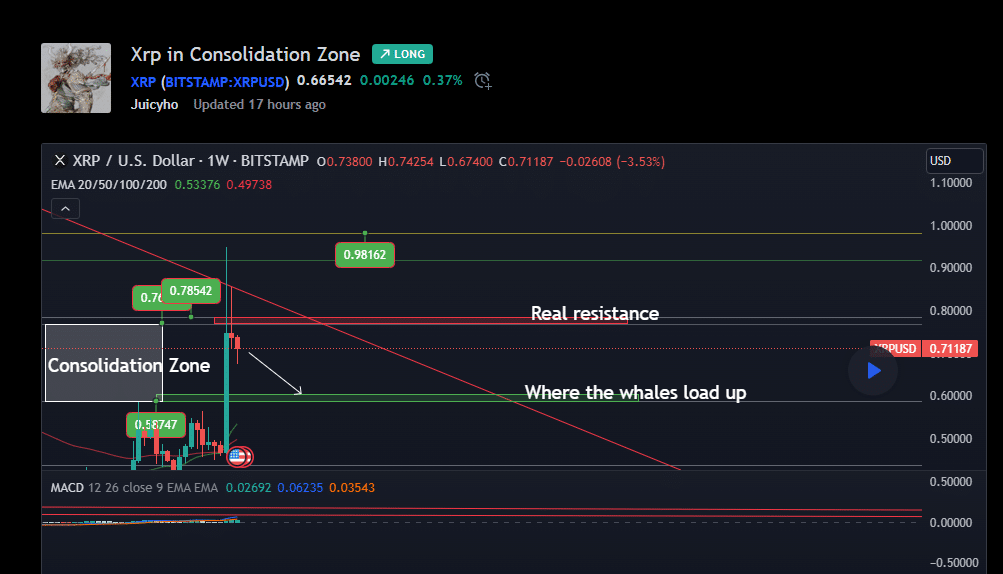 Juicyho emphasizes that $0.785 is particularly significant of these resistance levels, referencing the yearly time frame where XRP merely consolidated last year. However, the analyst said the XRP broke the inside bar this year, indicating a potentially different price trajectory.
Looking ahead, Juicyho predicts a possible scenario where XRP would plummet to $0.58 within the next five months, then surge back up to the range of $0.769 to $0.785, and hover in that area before eventually breaking above $0.981. 
The analyst underscores the importance of XRP sitting above $0.981 and having the yearly candle close at that level to drive prices higher potentially. He further asserted that XRP is currently in a consolidation zone between $0.58 and $0.76.
Per Juicyho, the consolidation point at $0.58 is a pivotal point where significant market players, including whales, might add to their holdings. He emphasizes that while some traders may panic and sell during large drops, these big players would seize the opportunity to accumulate more XRP.
Juicyho advises patience and recommends waiting for a better buying opportunity in light of these potential price movements. The outlined steps include testing $0.58, breaking through the $0.769 – $0.785 resistance range, using $0.785 as a support level, and ultimately aiming for a breakthrough above $0.981.
A Cautionary Outlook
The analyst reveals he has been a long-time XRP investor since 2018 or 2019. He noted that he acquired the token at a meager price of $0.03, indicating an experienced perspective on the market's behavior.
Moreover, it is essential to note that Juicyho emphasizes the limited impact of news, good or bad, on cryptocurrencies unless the report is truly significant. This perspective aligns with the general sentiment in the crypto space.
As XRP's price experiences fluctuations, Juicyho's analysis may serve as a valuable resource to understand potential support and resistance levels in the coming months. However, market conditions can change rapidly, and investors should conduct their research and due diligence before making investment decisions.
Notably, prominent crypto trader Johnny disclosed a similar pattern but with a more discouraging retracement. As reported by The Crypto Basic, Johnny opined that XRP could drop below $0.50, plummeting to the levels witnessed before the ruling. However, he maintained that the asset would recover to hit $1.
XRP is changing hands at $0.6645 as of reporting time, down 2.20% over the past 24 hours. At its current value, XRP has dropped 29.1% from the $0.9380 high on July 13. If these forecasts materialize, the market could witness further dips.
Follow Us on Twitter and Facebook.
Disclaimer: This content is informational and should not be considered financial advice. The views expressed in this article may include the author's personal opinions and do not reflect The Crypto Basic's opinion. Readers are encouraged to do thorough research before making any investment decisions. The Crypto Basic is not responsible for any financial losses.
-Advertisement-