XRP temporarily traded at a massive premium on American exchange Gemini, soaring to a shocking $50 in what appears to be a glitch shortly after the listing.
In a surprising turn of events, XRP briefly traded at a premium on US-based crypto exchange Gemini. The asset surged to $50 and then to $1.1 on the platform a few hours after they finally listed it, leading to speculations among XRP proponents.
The development was called to attention by XRP investors, who rushed to Gemini to trade the asset shortly after they announced the listing. 
As recently reported by The Crypto Basic, recall that Gemini disclosed that they had listed XRP for the first time yesterday, nearly a month after the ruling in the Ripple vs. SEC case cleared the asset.
XRP at $50 and $1.10
As investors trooped to Gemini to make deposits and trade XRP, they faced a surprising twist. Apparently, the asset surged to a massive $50 per token on the exchange. A Chicago-based private equity investor reported the development to X (fka Twitter).
@Gemini charging $50 per XRP….. wgat are they buying it for? I've got a few I'll let go of for $50 per 😅😅😅😅😅 @BlackberryXRP @digitalassetbuy @cryptolewlew @AlexCobb_ @thebearablebull @egragcrypto pic.twitter.com/DO2luRqBMD

— Bawdric Chukkar (@Cbukur1) August 10, 2023
The accompanying snapshot on the post detailed the quote the investor received on Gemini. The order contained 9.45 XRP valued at $475.36. This roughly translates to $50 per XRP token. 
In addition, the transaction fee stood at $7.19, while the platform fee was $17.45. In total, Gemini presented a quote of $500 for the purchase of 9.45 XRP. For context, this amount of XRP would cost approximately $6 on other platforms.
To add some weight to the disclosure, the investor also shared snapshots of Gemini's order book and the market page showing XRP at a price of $50. This represented a 7,836% increase from XRP's price at the time.
Yassin Mobarak, an XRP community figure and founder of Dizer Capital, also highlighted the shocking development of X. The post from Mobarak contained a snapshot showing XRP for $1.10 on Gemini.
A look at Gemini shows that these claims were accurate. While XRP's price on Gemini has stabilized as of press time, the charts show the asset actually did surge to $50 yesterday around 6 PM (UTC). Gemini also shows an ATH of $50.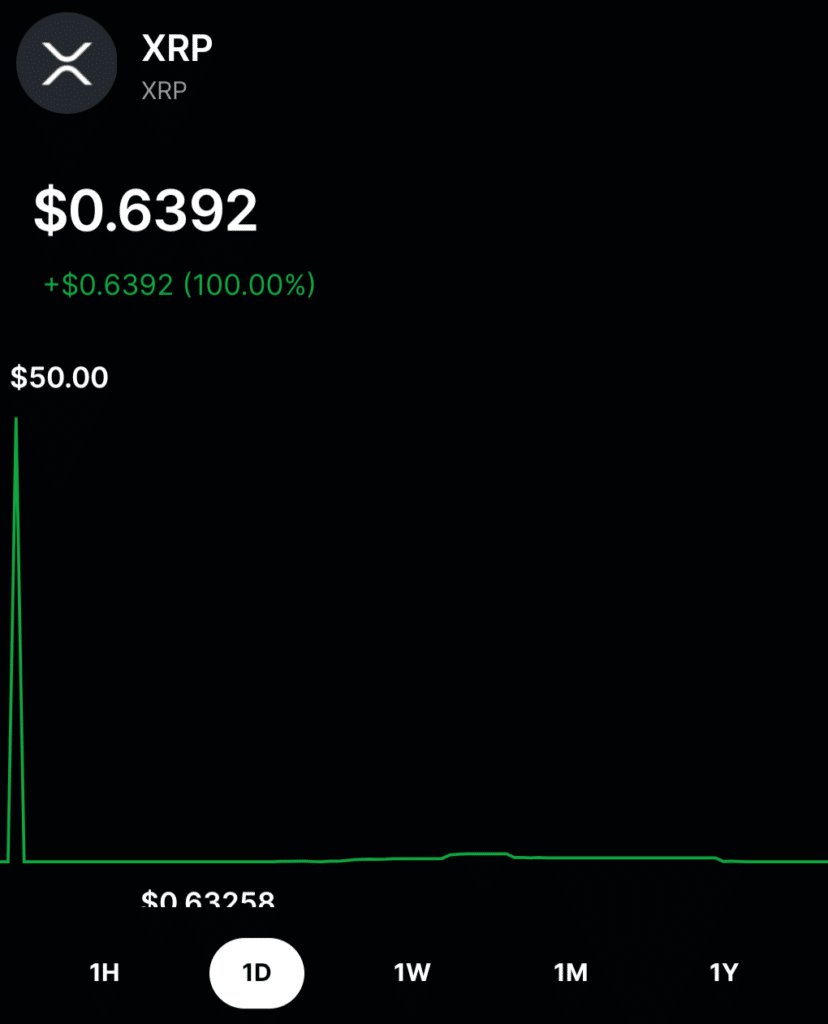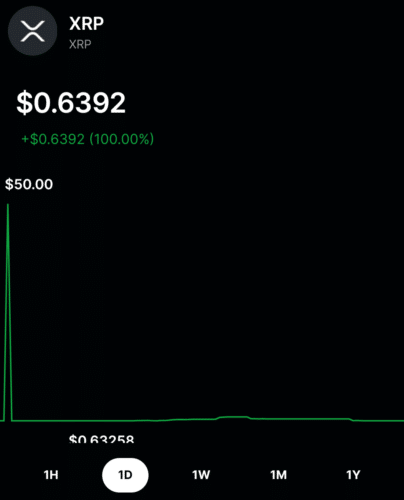 What Happened?
Some community members attribute the surprising development to a glitch associated with Gemini. However, one XRP proponent detailed the possible cause, with his insights stemming from observing the XRP order book on Gemini.
the order book is very thin, i have been watching all day, at one point there was nothing for sale, someone put a lot to sell at $50.00 and someone must have fat fingered a market order and then they were the proud owner of $50 XRP, this was from a few hours ago pic.twitter.com/W5AoG2eV0r

— John S (@lifebythedrop63) August 11, 2023
He pointed out that Gemini had very few XRP orders on its order book. This was likely due to its late entry to the XRP listing party, leading to US investors focusing on other exchanges such as Coinbase and Kraken.
As a result, at some point, the XRP order book on Coinbase had no sell order. An individual placed a large sell order at $50 per XRP. 
Now, while this in itself would not trigger an issue, it appears another trader unintentionally placed a market order to buy at the best available price instead of a limit order to buy at a fixed price. The order must have been automatically filled because $50 was the best available price.
Some investors sought to leverage the opportunity to carry out arbitrage trades. However, Gemini experienced a downtime shortly after the development, essentially limiting anyone from placing orders. The platform is back up at the time of reporting.
Follow Us on Twitter and Facebook.
Disclaimer: This content is informational and should not be considered financial advice. The views expressed in this article may include the author's personal opinions and do not reflect The Crypto Basic's opinion. Readers are encouraged to do thorough research before making any investment decisions. The Crypto Basic is not responsible for any financial losses.
-Advertisement-