Analyst platform projects Shiba Inu to trade at $0.054 and $1.06 in coming years as the asset posts decent gains, with an impressive 15% surge over the past seven days.
Shiba Inu has finally cancelled one zero from its price for the first time in three months. As a result of the prevailing rally, SHIB now trades at $0.00001087 with a seven-day sustained growth of over 15%.
Additionally, the asset has seen its market cap grow by more than $2 billion in the past month. This remarkable growth now puts Shiba Inu just a spot behind the top ten cryptocurrencies by market cap.
Moreover, data shows that early Shiba Inu investors have seen over 12,000,000% increase since the coin's lowest point. Given that the SHIB has maintained a sustained upward trajectory in recent times, projections have appeared, arguing how high could the most sensational crypto get. 
How High Can Shiba Inu Get?
Telegaon, a Web3 portal focused on price forecast, recently shared price projections for Shiba Inu over the coming decades. The firm stated its long-term Shiba Inu forecasts were based on the coin's present price performance coupled with in-depth technical analysis. 
Before giving a specific price outlook, the analysis platform highlighted Shiba Inu's resounding success within the market. It mentioned Shiba Inu's unmatched growth, popularity, and widespread support across all major crypto trading platforms. Telegaon concluded that Shiba Inu is no longer a meme coin but a digital asset with utilities. 
Shiba Inu Prediction 2030, 2040, 2050
Telegaon projected Shiba Inu to average $0.0000467 next year, with a max price of $0.0000571. 
Five years from now, the analysis platform projected Shiba Inu canceling another leading zero to trade at $0.000207. While the coin is expected to maintain the trend until 2030, Telegaon sees a much stronger long-term uptrend.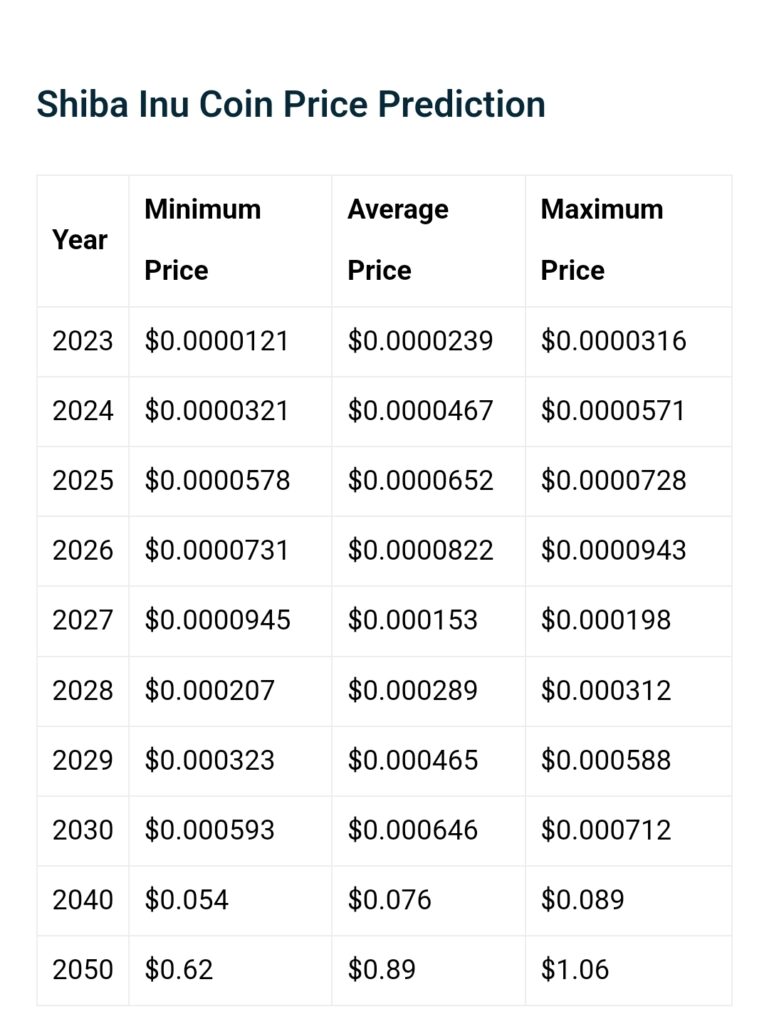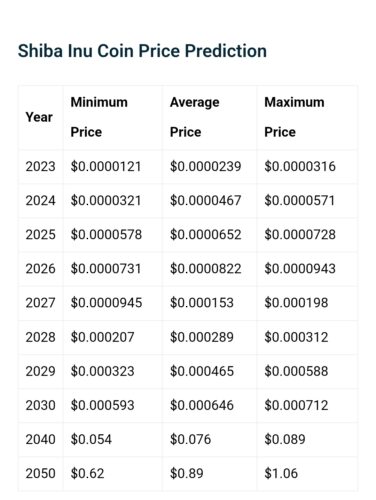 Telegaon's technical analysis suggested Shiba Inu will trade at $0.054 by 2040 with an average price of $0.076 and a maximum of $1.06 by 2050. It is worth noting that Shiba Inu will have to grow 100,000% to trade above $1.
Follow Us on Twitter and Facebook.
Disclaimer: This content is informational and should not be considered financial advice. The views expressed in this article may include the author's personal opinions and do not reflect The Crypto Basic's opinion. Readers are encouraged to do thorough research before making any investment decisions. The Crypto Basic is not responsible for any financial losses.
-Advertisement-