Shiba Inu has witnessed an incredible surge over three years, defying expectations and creating millionaires in the crypto market.
According to data from the well-known market tracking portal, CoinMarketCap, Shiba Inu has seen a jaw-dropping surge from its all-time low (ATL), defying expectations.
In particular, the data indicated that Shiba Inu has skyrocketed by over 12,000,000% from its rock-bottom valuation, making many millionaires. 
Moreover, current Shiba Inu investors have reasons to cheer as the coin's market capitalization has surged to a formidable $5.94 billion. This figure represents an impressive climb of 17.17% within the last 24 hours. 
The significant surge in trading volume further underscores Shiba Inu's broad appeal in the crypto market. In the last 24 hours, crypto traders bought and sold over $843 million SHIB, reflecting a remarkable spike of 256.74% compared to the previous day. 
Consequently, the price per Shiba Inu token has also swelled to $0.00001007, exhibiting a 16.87% increase.
Shiba Inu Surges 12,341,609% in 3 Years
Meanwhile, Shiba Inu has experienced an 88.61% plunge from its all-time high of $0.00008845 since October 2021. The token hit its lowest point of $0.00000000008165 in September 2020. 'With Shiba Inu now trading at $0.00001007, its three years growth implies a jaw-dropping  12,341,609.28% surge. It also implies that Shiba Inu has canceled six leading zeros from its value through the same period. 
Shiba Inu Investors at ATH and ATL
Furthermore, data from IntoTheBlock, a renowned market intelligence firm, reveals fascinating insights into Shiba Inu's investor landscape through its lows and highs.
Approximately 4.37% of Shiba Inu addresses, totaling 56,140, leaped into action around its all-time high (ATH) price, showcasing unwavering confidence even during its zenith.
Meanwhile, a resilient 3.44% of SHIB addresses, amounting to 44,260, displayed remarkable foresight by entering the market when Shiba Inu was trading near its historic low.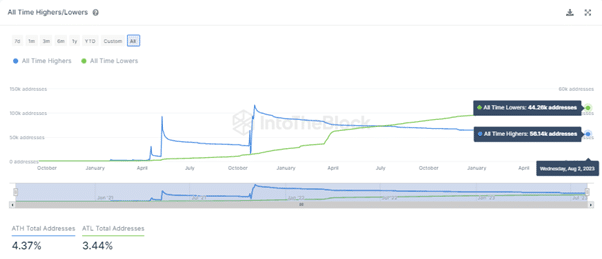 Notably, the phenomenal rise of Shiba Inu exemplifies the inherent unpredictability and excitement within the crypto realm. Moreover, The Crypto Basic recently reported a Shiba Inu investor who realized an unbelievable $5 billion from an $8k investment in Shiba Inu.
Follow Us on Twitter and Facebook.
Disclaimer: This content is informational and should not be considered financial advice. The views expressed in this article may include the author's personal opinions and do not reflect The Crypto Basic's opinion. Readers are encouraged to do thorough research before making any investment decisions. The Crypto Basic is not responsible for any financial losses.
-Advertisement-