Reacting to Coinbase's stake acquisition in Circle, pro-XRP attorney John Deaton claims the SEC's lawsuit against Ripple cost the firm and XRP years of adoption.
Cryptocurrency litigation expert and XRP supporter John Deaton has aimed at the U.S. Securities and Exchange Commission (SEC), asserting that its actions have cost XRP years of potential adoption.
You could NEVER underestimate the damage the SEC's lawsuit has caused – NOT ONLY AGAINST RIPPLE – BUT #XRP. THREE YEARS OF ADOPTION – that's what it's caused.

Just how long is 3 yrs – in crypto years?

People seem to forget how much Coinbase promoted #XRP before the lawsuit.… https://t.co/1fZ3r8WCSd pic.twitter.com/GLu4kFUU38

— John E Deaton (@JohnEDeaton1) August 22, 2023
While drawing attention to the recent integration of USDC into the Coinbase financial ecosystem, the lawyer highlights Coinbase pro-actively engaged SEC attorneys in January 2019 before listing XRP in February of that year. 
In a post today, John Deaton gives the impression that Coinbase would have probably acquired a stake in Ripple instead of Circle if XRP did not face legal challenges resulting from the lawsuit from the SEC.
The point here is this: What could have happened regarding adoption of #XRP during the last 3 years, if the lawsuit was never filed? 🤷‍♂️

Would Coinbase today be announcing it acquired a stake in Ripple, instead of @circle? 🤷‍♂️

But I do know, despite Ripple's continued and… https://t.co/pGzOaWsGZX

— John E Deaton (@JohnEDeaton1) August 22, 2023
Coinbase listed XRP and Circle's USDC around the same time in 2018 and 2019, with transaction speeds of 3-5 seconds and 10-12 seconds, respectively. 
John Deaton highlighted his criticism against the SEC in light of today's Coinbase acquisition of a stake in Circle, in a partnership that will see Circle's USDC stablecoin launch on six new blockchains.
While the press release did not mention the actual six blockchains or the value of the stake, a previous circular by Circle hinted at the adoption of Polkadot, Cosmos, Near, and Optimism by the end of 2023.
Deaton further highlighted the fact that MoneyGram started using XRP after six months of Coinbase listing.
Coinbase wasn't the only Company – not named Ripple – to jump on the #XRP cross border payments utility bandwagon. Less than 6 months after Coinbase listed #XRP, @MoneyGram started using #XRP in its cross border payments business. 👇https://t.co/lCFKBTqcsD

— John E Deaton (@JohnEDeaton1) August 22, 2023
Coinbase Due Diligence in 2019 before Listing XRP
To remain on the safe side of regulations, the exchange sought a meeting with SEC where they walked through reasons why XRP was a digital asset and not a security.
In the meeting, Coinbase clarified that it would list XRP as long as the commission was okay with it.
According to Deaton, Coinbase fulfilled its responsibility as a diligent company since it was committed to avoiding any conflicts with the SEC, considering its preparations for an upcoming IPO.
Notably, SEC lawyers did not object to XRP during their discussions with Coinbase Exchange.
Deaton underlines that the "SEC not discouraging Coinbase was reasonable given that 6 months earlier, the commission had analyzed XRP against all factors of the Howey test and concluded XRP was not a security."
It bears mentioning that had XRP not satisfied all requirements of the Howey Test; the SEC would have recommended a cease or desist. Coinbase listed XRP a month later, on February 25, 2019, without any hindrance.
In the following months, Deaton says Coinbase ardently promoted both XRP and a stablecoin it had listed in the previous year, USDC.
According to the litigation expert, the exchange introduced both digital assets as game-changing solutions at a time when bank transfers took days to process. 
In a surprising turn of events and despite SEC's prior stance that XRP was not a security, former SEC chairman Jay Clayton filed a lawsuit against Ripple, in a filing that claimed XRP tokens constituted illegal securities. 
This was despite the commission giving MoneyGram International Inc the green light to utilize XRP in its cross-border payments system 18 months before the lawsuit. See below: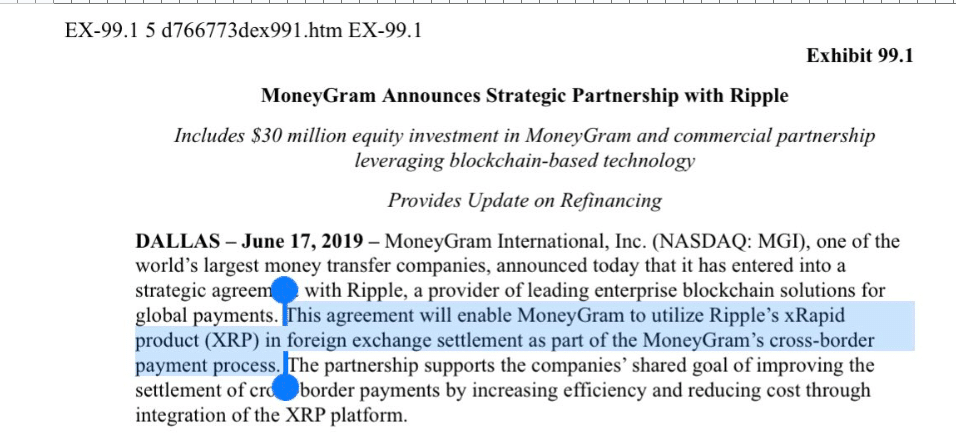 According to Deaton, "the potential advantages that would have materialized had XRP not faced legal challenges cannot be underestimated."
Follow Us on Twitter and Facebook.
Disclaimer: This content is informational and should not be considered financial advice. The views expressed in this article may include the author's personal opinions and do not reflect The Crypto Basic's opinion. Readers are encouraged to do thorough research before making any investment decisions. The Crypto Basic is not responsible for any financial losses.
-Advertisement-