XRP recently retested the $0.50 psychological support amid mixed signals observed among on-chain metrics in a generally bearish market condition.
The broader crypto market has remained bearish since August 15, with Bitcoin's (BTC) collapse reverberating across the entire market. XRP has not escaped the recent onslaught, recently retesting the $0.50 psychological support.
Amid this bearish reality, market participants have looked to on-chain metrics for bearings that could rejuvenate their confidence. However, a mixture of bearish and bullish signals has left the market vaguely uncertain.
Notably, XRP saw a sharper decline yesterday amid the uncertain conditions in the broader market. While BTC saw a meager 0.24% drop, XRP collapsed by 2.58%, shedding off some of the gains picked up in the 6.27% increase witnessed on August 19 and 20.
Yesterday, the bears battered the asset to $0.5030, bringing the psychological support at $0.50 into play. However, the support proved potent, hedging against any drop to the $0.49 level. XRP closed the day at $0.5245.
XRP Sees Mixed Signals
Nonetheless, a bearish start to the morning has seen XRP lose an additional 0.88% of its value today. XRP remains in a critical position, as it trades way below the 50-day EMA, currently at $0.6018 on the daily timeframe.
XRP is also trading slightly below the 200-day EMA at $0.5250. XRP's price action underneath both the 50-day EMA and 200-day EMA suggests bearish sentiments in the short and long terms.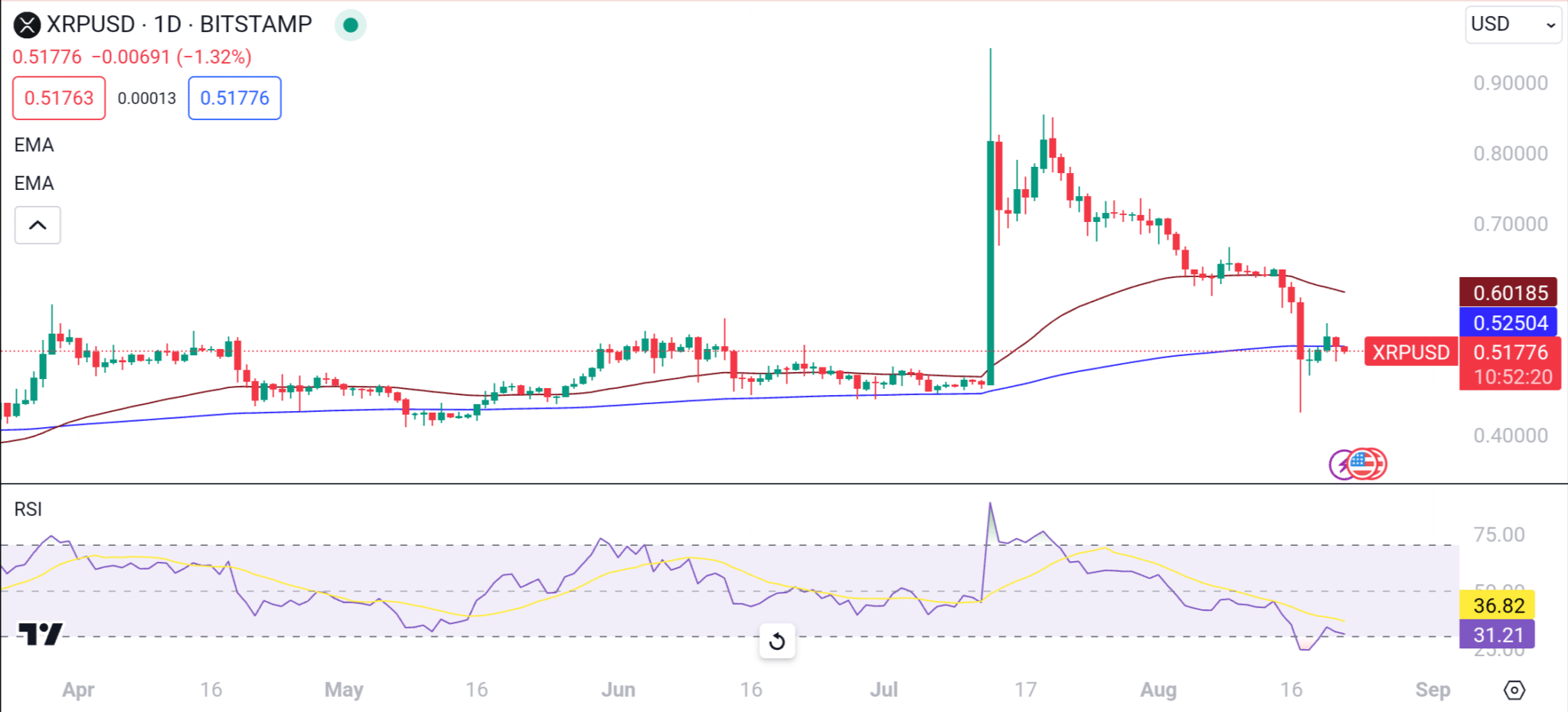 Amid this bearishness, the Relative Strength Index (RSI) has continued to drop since the peak of 68.92 on July 26. A surge was observed in the RSI indicator following the ruling on July 13 that declared XRP a non-security, but this surge lost momentum on July 26.
Following the ensuing drop, the RSI currently stands at 38.56. While this figure suggests a dominance of bearish sentiments, it indicates that XRP is slipping into oversold territories.
A drop below 30 would confirm XRP is oversold, signaling an imminent trend reversal.
Investors Remain Uncertain
However, an oversold signal does not necessarily translate to a looming price rebound. As a result, market participants have remained uncertain, according to the latest insights from market intelligence resource Santiment.
In a report today, Santiment highlighted that sentiments surrounding a "buy the dip" trend have generally waned recently. As BTC retests $26,000 and altcoins like XRP consolidate at critical positions, "buy the dip," mentions have dropped across social platforms.
Nonetheless, the Santiment report stressed that this drop in "buy the dip" mentions could be healthy for the market. Interestingly, it would signify pessimism among market participants, leaving more resolute whales to scoop up tokens from shaky hands.
Meanwhile, $0.50 is psychological support for XRP. The asset's next support stands at $0.4920, which, if compromised, would bring $0.4780 into play. XRP is currently trading for $0.5177 at the time of reporting.
Follow Us on Twitter and Facebook.
Disclaimer: This content is informational and should not be considered financial advice. The views expressed in this article may include the author's personal opinions and do not reflect The Crypto Basic's opinion. Readers are encouraged to do thorough research before making any investment decisions. The Crypto Basic is not responsible for any financial losses.
-Advertisement-