The number of addresses holding Shiba Inu's governance token BONE has increased significantly following the mainnet launch of the L2 blockchain Shibarium. 
The number of addresses holding Shiba Inu's governance token, Bone ShibaSwap (BONE), has skyrocketed tremendously. 
BONE Holders Surpasses 90K 
Data from leading cryptocurrency aggregator Etherscan shows that there are now more than 90,000 (90K) BONE holders.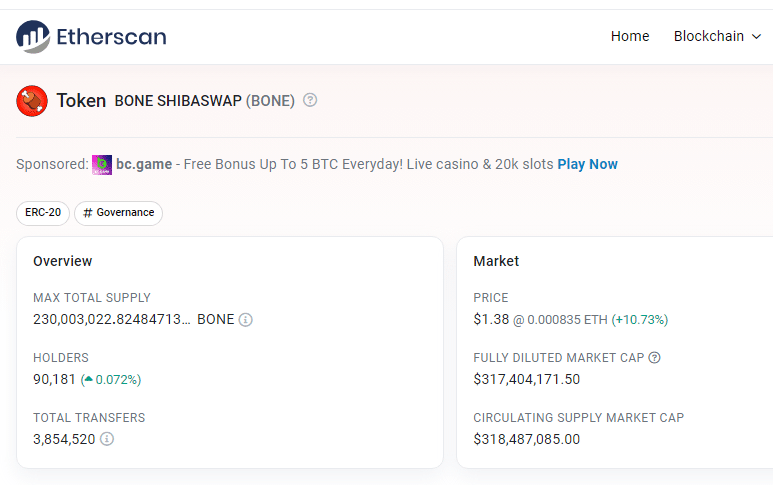 At the time of writing, the number of addresses holding BONE tokens now stands at 90,151. Notably, this figure has surged 0.026% over the past 24 hours.
68% Addresses Holding BONE in Profit
Interestingly, data from leading crypto analytics platform IntoTheBlock (ITB) provides a deep insight into BONE token holders.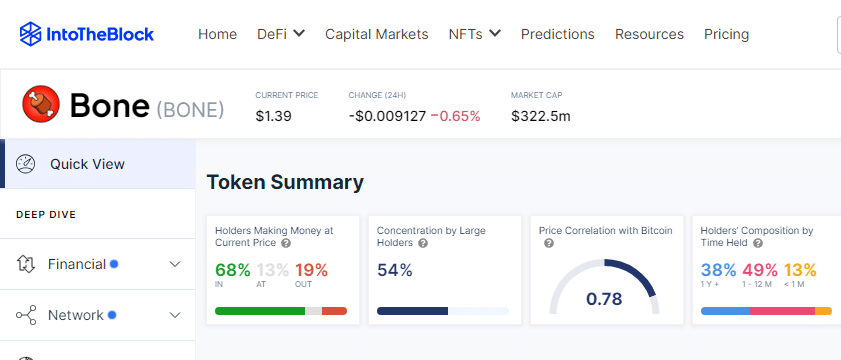 According to ITB data, 38% of BONE holders have held the token for over a year. Similarly, 49% of users have held the token between 1 – 12 months.
Additionally, 13% of BONE holders have been holding the Shiba Inu's governance token for less than a month.
It is worth noting that the BONE price has continued to spike despite the bearish trend in the market. Yesterday, the cryptocurrency surged 17% in 24 hours.
At press time, BONE is currently trading at $1.41, up 11.41% over the past 24 hours, data from CoinMarketCap shows. At the current price of $1.41, 68% of BONE holders are in profit, while 19% of investors are currently in loss.
Similarly, 13% of BONE holders are at breakeven- indicating that addresses are not in profit or loss.
Shibarium Responsible for BONE Adoption
Notably, the massive surge of BONE holders can be attributed to the launch of Shiba Inu's L2 blockchain, Shibarium. It bears mentioning that BONE is Shibarium's official gas token.
It is common knowledge that the L2 blockchain launched last week after months of development. Shibarium received widespread adoption immediately after it went live, which resulted in the blockchain experiencing technical issues.
The blockchain, which encountered technical issues a few days ago, has resumed block production. Shibarium users are seen executing different types of transactions, ranging from token swaps to contract calls. Interestingly, most of these transactions involve BONE tokens.
Follow Us on Twitter and Facebook.
Disclaimer: This content is informational and should not be considered financial advice. The views expressed in this article may include the author's personal opinions and do not reflect The Crypto Basic's opinion. Readers are encouraged to do thorough research before making any investment decisions. The Crypto Basic is not responsible for any financial losses.
-Advertisement-