As XRP continues to trade below the $0.60 threshold, some analysts are forecasting an imminent dip to lows last seen over two years ago.
XRP has been a subject of analysis and speculation. The latest analyses of the asset's price actions have taken a bearish turn. Notably, some market watchers forecast dips to the two-year low of $0.10. 
One such individual is NukeCapital, a renowned crypto trader. NukeCapital took to X to advise a cautious outlook, stating that a significant dip for XRP might be on the horizon. 
$XRP | Weekly | As clean as it gets. Eventually 10 cents is where i will be buying. Range high back down to range low..in a few months ill bring this chart back up at .27 cents.. pic.twitter.com/yYJne8Ehen

— NukeCapital (@NukeCapital) August 24, 2023
Citing data from a weekly chart, his analysis hints at a potential revisit to the $0.27 price territory. Furthermore, he forecasts an extended drop from this point to $0.10. This zone is the entry point of interest for the analyst.
XRP would need to plummet 80% from its current position to touch the $0.10 mark. The last time XRP saw this price point was in March 2020, when it collapsed from $0.3468 to a low of $0.1012. XRP has remained above the $0.10 territory ever since it recovered.
A follow-up post from NukeCapital reaffirms his conviction. Despite widespread optimism, the analyst stressed the volatile nature of the market, implying that one more downturn is likely.
Prevailing Bearish Outlook
Further insight comes from Trader Joker, whose analysis aligns with NukeCapital's projections. Trader Joker's scenario centers around XRP's performance below the $0.60 threshold.
$XRP we longed the SEC news from $0.42 and sold at $0.77

Now, as long as #xrp stays below $0.6 I have these 2 scenarios:

– Retest & hold trendline around $0.4 🟩
– Break below trendline and target ~ $0.10-0.17 🟥#xrpusdt #xrpusd #ripple #XRPCommunity #XRPArmy #trading pic.twitter.com/7whNfdb8OC

— Trading Joker (@TradingJoker) August 24, 2023
If XRP continues to trade below $0.60, the analysis posits that it could retest the trendline at $0.40 and hold above it. This would mark a bullish outcome, as the analyst forecasts a rebound above $0.60 should this occur.
However, he notes the possibility of another scenario. According to him, this second scenario would see XRP drop to the $0.10 – $0.17 zone. This would occur if XRP breaks below the $0.40 trendline instead of defending it.
XRP Price Actions
Key indicators underscore the current challenges facing XRP. Notably, at a current price of $0.5160, XRP is trading below the 50-day EMA ($0.5931) and the 200-day EMA ($0.5253).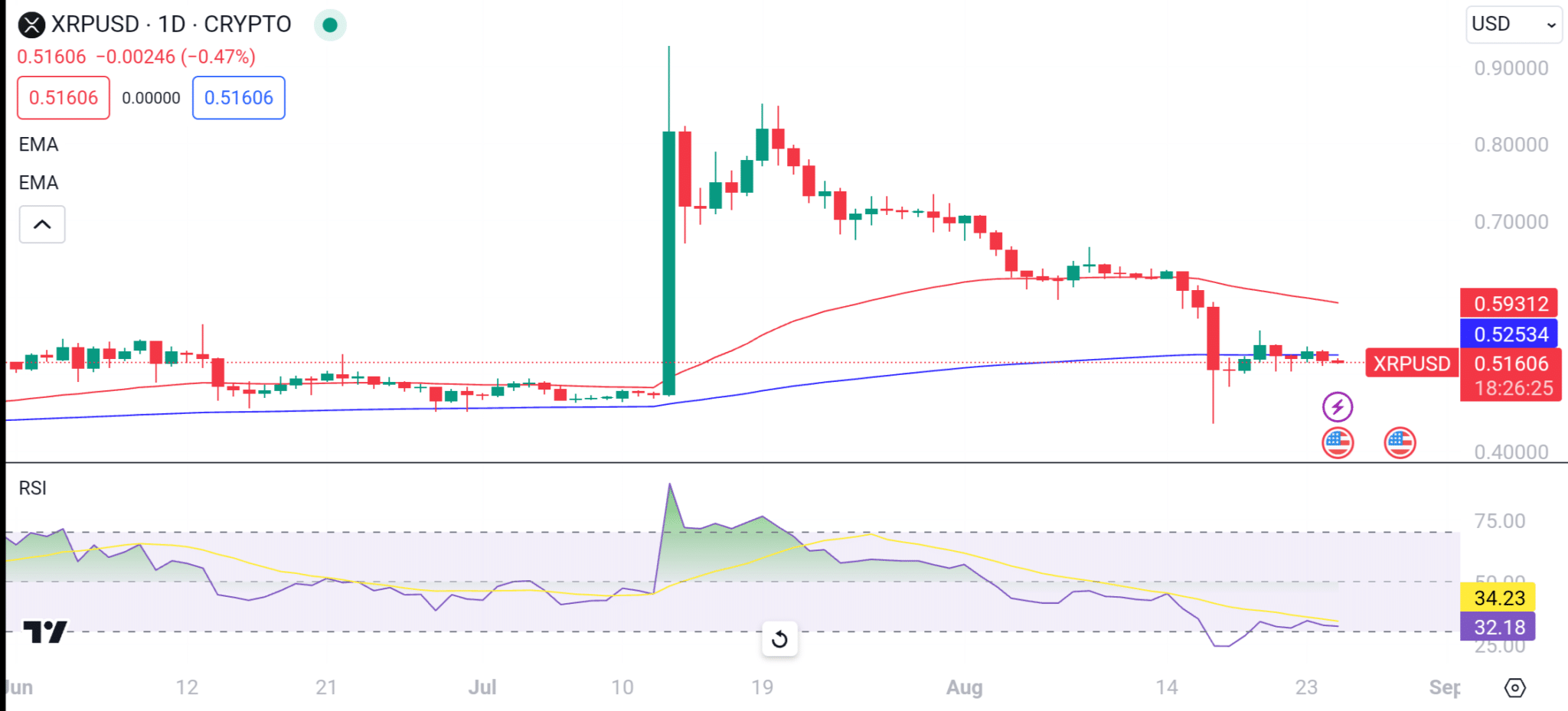 The daily Relative Strength Index (RSI), a measure of momentum, sits at 34.23 amid a downward trend that has persisted since July 26. These metrics collectively signal a bearish sentiment for XRP.
Despite these challenges, some analysts remain bullish on XRP's long-term prospects. Egrag, a notable chartist, recently projected a 24,577% surge, as The Crypto Basic disclosed. This could skyrocket XRP to the $128 territory.
However, predicting XRP's future movement is challenging. The crypto market is known for its volatility. Both bullish and bearish scenarios remain plausible and equally implausible. As a result, these projections should not serve as investment advice.
Follow Us on Twitter and Facebook.
Disclaimer: This content is informational and should not be considered financial advice. The views expressed in this article may include the author's personal opinions and do not reflect The Crypto Basic's opinion. Readers are encouraged to do thorough research before making any investment decisions. The Crypto Basic is not responsible for any financial losses.
-Advertisement-