A top analyst releases an XRP roadmap, projecting an ambitious 75,371% price rally for XRP that could result in a massive $400 price.
Amid XRP's recovery attempt, Egrag, a top analyst, has laid a roadmap that could lead XRP to an astonishing 75,371% rally, with a target price of $400. Egrag draws insights from historical trends.
"XRP Bull Market Line! Factor 60X Unveiled."
#XRP Bull Market Line! Factor 60X Unveiled! 🚀📈

The magnificent #Bull Market Line – 1 rang the clarion call for an epic #Bull Run, setting the stage for an exhilarating ride. 📊

Could lightning strike twice? Upon entering the stage #Bull Market Line – 2 & if should it echo the… pic.twitter.com/Lx4p0BrOPz

— EGRAG CRYPTO (@egragcrypto) August 27, 2023
The analyst's observations stem from the Bull Market Line, a key indicator he developed to predict XRP's trajectory. In the past, Bull Market Line 1 was pivotal for the confirmation of a remarkable bull run. 
Egrag stationed the first bull market line at $0.02. XRP breached this price point in early 2017, compounding the existing market rally. As a result, the asset surged to the first target of $0.43 in May 2017.
Afterward, it skyrocketed to an all-time high of $3.35 in January 2018. Egrag's analysis highlighted the significance of XRP breaking the Bull Market Line 1, and now, he anticipates a potential sequel.
XRP to Rally 75,371%
The analyst has now spotlighted the Bull Market Line 2, setting it up $1.2. If XRP conquers this second bull market line at $1.2, Egrag envisions another massive XRP rally with price targets of $40 and $400.
In adherence to the rhythmic patterns of market cycles, Egrag anticipates a 60X factor, as indicated by the ratio of $1.2 to $0.02. This projection serves as the foundation for Egrag's ambitious targets.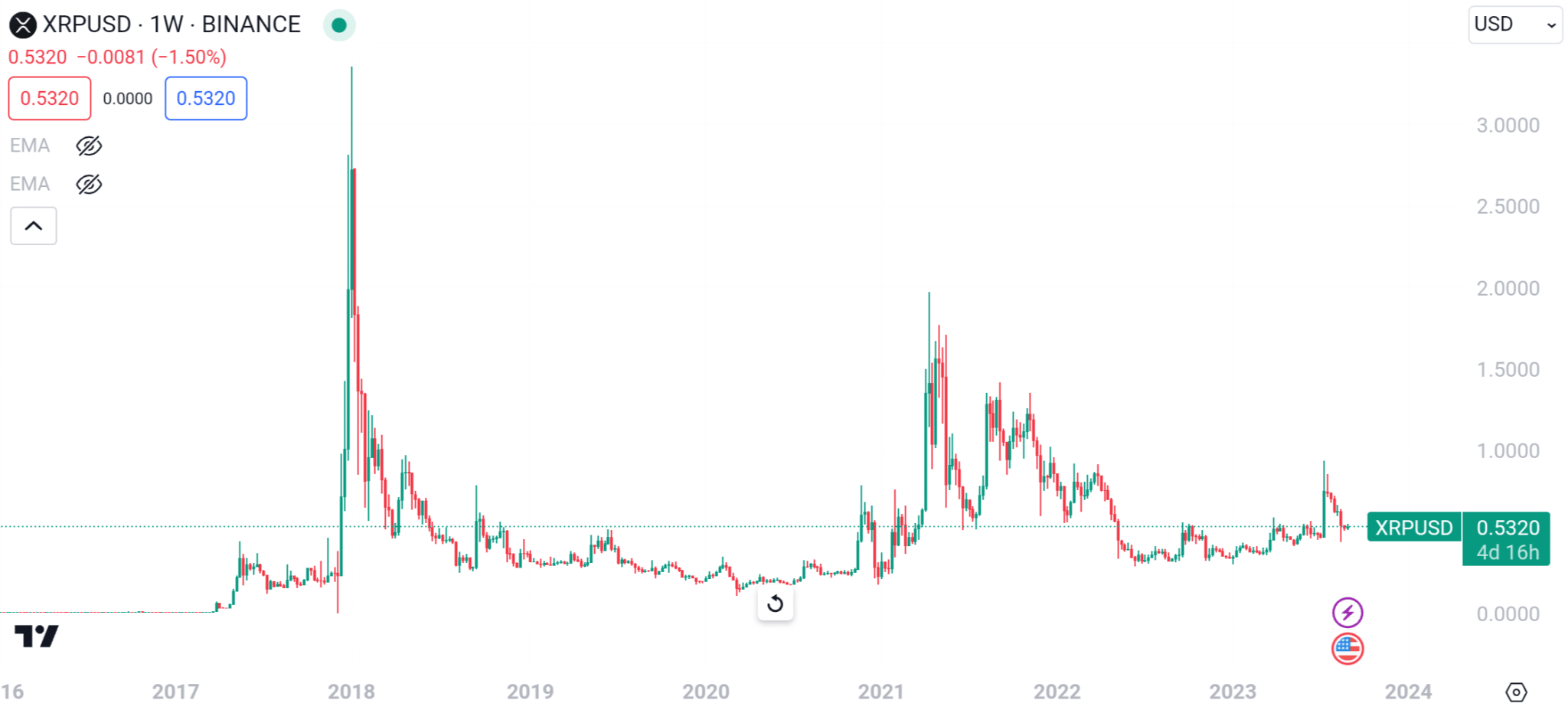 The first ambitious target stands at $40. At its current price of $0.5320, XRP would need a massive 7,447% rally to hit $40. Following this price, Egrag sets a second target of $400, which would require an astounding 75,371% increase.
Egrag's predictions, while ambitious, are not without historical precedent. Egrag believes that if the rhythmic dance of repetition holds, XRP stands poised to make an indelible mark on the crypto scene.
XRP is currently trading at $0.5320, showing a 2.74% increase over the past week. The asset's journey to reclaim the $0.55 price point might serve as an initial stepping stone toward the lofty targets set forth by Egrag.
Follow Us on Twitter and Facebook.
Disclaimer: This content is informational and should not be considered financial advice. The views expressed in this article may include the author's personal opinions and do not reflect The Crypto Basic's opinion. Readers are encouraged to do thorough research before making any investment decisions. The Crypto Basic is not responsible for any financial losses.
-Advertisement-