Ripple moved 31 million (31,000,000) XRP to an unknown wallet, while another whale moved 27.6 million XRP to Bitstamp in the last 24 hours.
In the last 24 hours, crypto payments solution Ripple moved a significant amount of XRP. The well-known automated tracker of major crypto movement, Whale Alert, highlighted the transaction in a tweet.
Specifically, Whale Alert notified the crypto community that Ripple had moved 31,000,000 (31 million) XRP to an unknown wallet. The funds had a market value of $16,530,182 ($16.5 million) at the time of the movement. 
🚨 31,000,000 #XRP (16,530,182 USD) transferred from #Ripple to unknown wallethttps://t.co/TAStNyDnyr

— Whale Alert (@whale_alert) August 30, 2023
This significant XRP transfer has got the crypto community wondering about its motive. "Is this the normal end of month transfers for Ripple?" a concerned crypto enthusiast asked. 
Notably, the transaction is not part of Ripple's monthly XRP unlock, as the firm typically unlocks XRP from escrow on the first day of each month. Whale Alert often specifically states if a significant XRP movement was an unlock from Ripple's escrow account.
Ripple Transfer to Unknown Wallet
While Whale Alert noted that the recipient is an unnamed wallet, an XRP enthusiast suggested the transfer was to another Ripple-controlled wallet. The commenter added that the receiving address also has a recent XRP transaction to Coinbase. 
A quick overview of the unknown wallet's transaction history suggested its affinity with Ripple. According to the explorer, the unknown wallet received a large volume of XRP at about the same time every month. 
Its last 30 transactions show it received 20 to 60 million XRP from Ripple between the 27th and 30th day of the last eight months. 
XRP Transfer to
Bitstamp
Meanwhile, Whale Alert captured a similarly significant XRP movement from an unknown wallet to a crypto exchange. In particular, a whale moved 27,600,000 (27.6 million) XRP to Bitstamp. The moved digital asset is worth $14,860,623.
Notably, this recent XRP transfer to Bitstamp represents the third whale movement to the exchange in the past three days. In sum, Bitstamp has received 85,200,000 XRP from unknown wallets between August 27 and 29.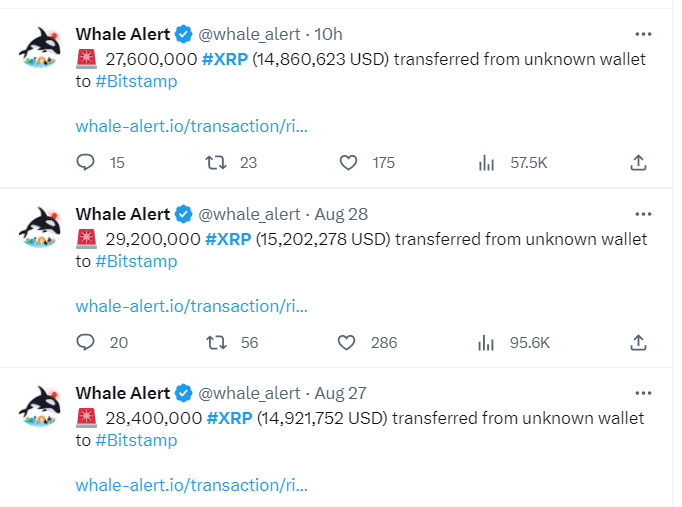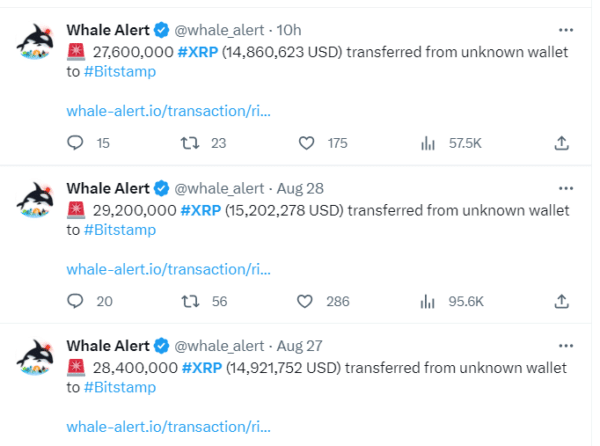 Until these XRP movements around Ripple and Bitstamp, The Crypto Basic disclosed whales moved 1.7 billion XRP in August. The new 116.2 million XRP transfer has brought the total to 1.85 billion XRP.
In the last 24 hours, XRP has grown slightly by 3%, putting its price at $0.5309. Its 24-hour trading volume grew significantly by 104.16% to $1.56 billion. This growth comes amid a significant court decision impacting the price of Bitcoin, as The Crypto Basic reported.
Follow Us on Twitter and Facebook.
Disclaimer: This content is informational and should not be considered financial advice. The views expressed in this article may include the author's personal opinions and do not reflect The Crypto Basic's opinion. Readers are encouraged to do thorough research before making any investment decisions. The Crypto Basic is not responsible for any financial losses.
-Advertisement-