Defillama data shows Shibarium's TVL reached $1.36 million, indicating rising interest in the Shiba Inu ecosystem.
Following the public re-launch of Shibarium, crypto industry participants rallied to stake more of their assets on the blockchain. Data from prominent DeFi aggregator Defillama indicates a positive upward trajectory of the fund staked to Shibarium.
In particular, Shibarium's TVL now sits at $1.36 million. This figure represents a significant milestone as it shows the growing interest in the Shiba Inu ecosystem.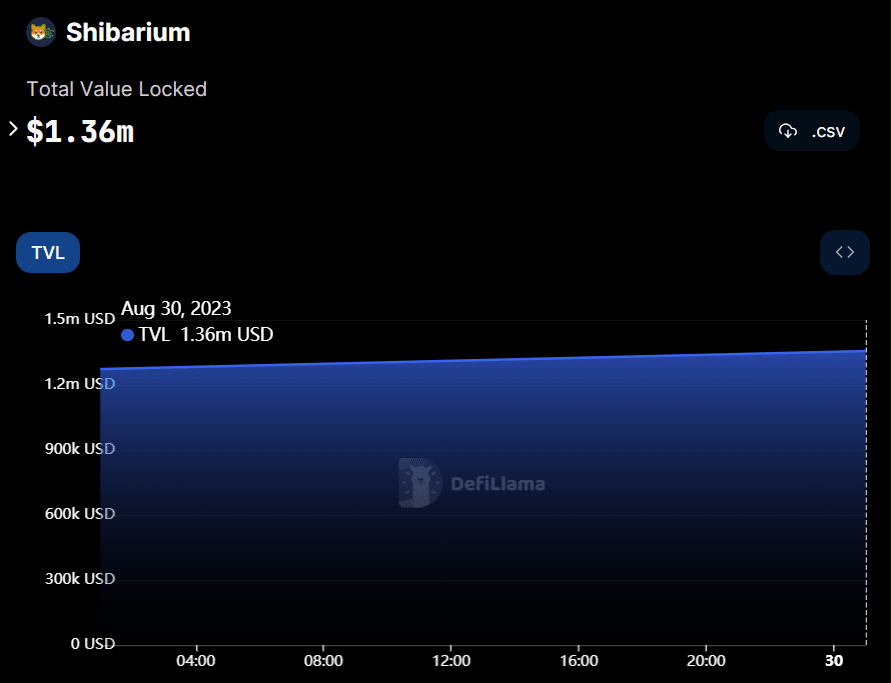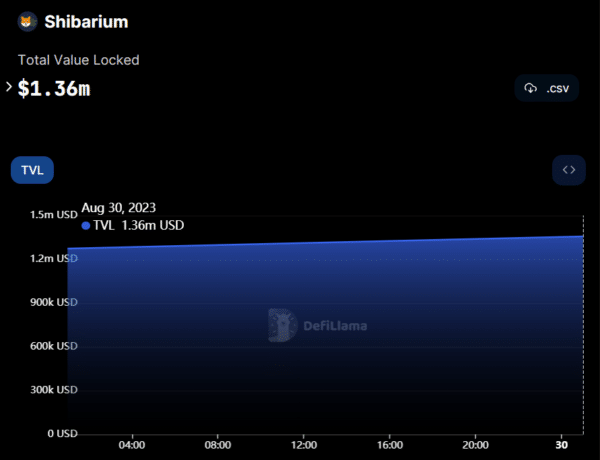 For context, TVL measures the amount of cryptocurrency deposited in smart contracts on a blockchain. When users stake their crypto assets, they lock them up in decentralized platforms for rewards. 
Shibarium TVL on DEXs
According to Defillama data, five decentralized exchanges (DEXs) and one decentralized protocol facilitate the TVL on Shibarium. It includes DogSwap, MARSWAP, WoofSwap, Shibex, LeetSwap, and ChocoInu.
Among the six, DogSwap commanded the largest share of the TVL on Shibarium. The DEX has $737,952 staked to Shibarium, representing a 12.36% growth in the last 24 hours. Meanwhile, ChocoInu saw nearly 100% negative growth in staked funds. It currently has just $142.44, down by 86.58% in the past day.
Shibarium TVL only 0.003496% of Global TVL
Meanwhile, the total value locked to Shibarium represents less than 1% of the global TVL on all DeFi protocols. Defillama data shows the combined TVL of all DeFi platforms stands at $38.903 billion.
With Shibarium TVL at $1.36 million, the figure is merely 0.003496% of the over $38 billion TVL total. However, this shows a healthy growth rate for the network. Among all the protocols, the Ethereum blockchain expectedly maintains the largest share.
While Ethereum currently has a TVL of over $22 billion, funds staked to the network have significantly reduced within the last two years. Ethereum TVL reached a peak of over $105 billion in November 2021. Notably, that period was the height of the last bull season.
Nonetheless, it remains to be seen how Shibarium will compete against the blockchains of Ethereum, Tron, and BNB Chain in the coming years.
Follow Us on Twitter and Facebook.
Disclaimer: This content is informational and should not be considered financial advice. The views expressed in this article may include the author's personal opinions and do not reflect The Crypto Basic's opinion. Readers are encouraged to do thorough research before making any investment decisions. The Crypto Basic is not responsible for any financial losses.
-Advertisement-