Robinhood is now one of the Largest Holders of Shiba Inu with 34 Trillion Tokens.
Arkham Intelligence has crowned Robinhood as a crypto juggernaut. The trading platform sits on a mountain of 34 trillion Shiba Inu (SHIB) tokens.
Robinhood also clinches the fifth-largest Ethereum (ETH) custodian title. And if that's not enough, Robinhood also owns 122.412K Bitcoin worth nearly $3.2 billion.
Robinhood's holdings in Shiba Inu have increased rapidly. Just 20 days ago, the firm held around 20 trillion SHIB tokens, valued at approximately $197.4 million. In a few days, Robinhood has added 14.086 trillion SHIB tokens, taking its total holdings to about $279.85 million. This 70.4% increase in holdings coincides with the public reopening of Shibarium, Shiba Inu's layer-2 scalability solution.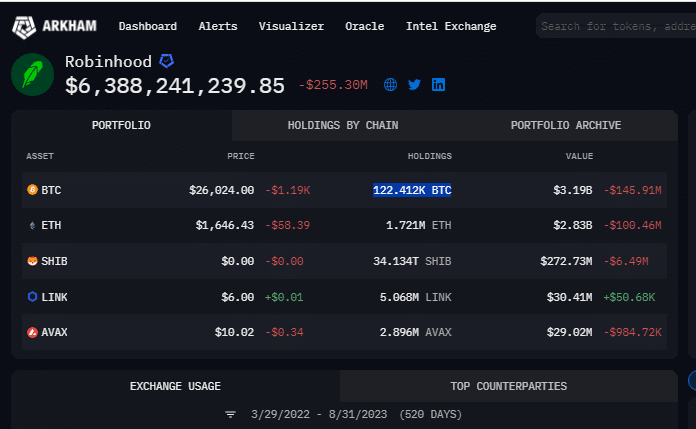 Further dive into Robinhood wallets shows that the exchange holds 34T Shiba Inu in three wallets.
20,000,001,000,000 (20T) SHIb in 0x40B38765696e3d5d8d9d834D8AaD4bB6e418E489.
7,440,350,857,090 (7.44T) SHIB in 0x73AF3bcf944a6559933396c1577B257e2054D935 and,
6,592,415,828,070 (6.59T) SHIB in 0x2eFB50e952580f4ff32D8d2122853432bbF2E204.
Surprisingly, the reopening of Shibarium seems to have repercussions for the Shiba Ecosystem. The platform increased wallet addresses by 564% and transactions by 71.3%, totaling 634,617 wallet addresses and about 700,000 transactions. This might suggest that Robinhood's increase in SHIB is a planned decision to leverage the token's expanding ecosystem.

While Shiba Inu has received much attention, Robinhood's Ethereum holdings should also be considered. The exchange is the fifth-largest Ethereum holder, bolstering its standing in the crypto industry. According to Arkham Intelligence, Robinhood holds 1.721M ETH worth $2.81 billion.
Binance and Shiba Inu
Earlier, The Crypto Basic reported that Binance had shown interest in the SHIB. This is after Binance announced adding Shiba Inu to its proof of reserve system.
Binance has a net balance of 84.4 trillion SHIB tokens, worth about $1.06 billion, with a reserve ratio of 102.4% for Shiba Inu balances held by its users. This degree of openness has become critical in the aftermath of the FTX scandal, which showed that the exchange did not keep client assets at a 1:1 ratio.
Despite the excitement around Robinhood, the SHIB token is trading in a bearish sentiment. The token's price has dropped by 2.27% in the past 24 hours to $0.000007975. It peaked at $0.000008223 and dropped to $0.000007905.
Follow Us on Twitter and Facebook.
Disclaimer: This content is informational and should not be considered financial advice. The views expressed in this article may include the author's personal opinions and do not reflect The Crypto Basic's opinion. Readers are encouraged to do thorough research before making any investment decisions. The Crypto Basic is not responsible for any financial losses.
-Advertisement-