Shibarium burning 100 trillion SHIB yearly would break its supply to a few trillion in five years. 
Following the unveiling of the Shibarium network, Shiba Inu fans are enthusiastic about the blockchain's SHIB burn potential. They largely anticipate Shibarium would catalyze Shiba Inu to psychological milestones like $0.001 or $0.0001.
Expect Shibarium Burn Impact in 8 Months
Notably, a Shiba Inu representative recently elaborated on the place of Shibarium in SHIB burns. In a tweet, Shiba Inu content marketer Lucie reaffirmed that part of Shibarium's goal is burning SHIB tokens. 
Specifically, Lucie noted that the development team deliberately left transaction fees low to cut the entry barrier. The aim is to allow the community to participate en masse to burn off a huge chuck of Shiba Inu's over 579 trillion tokens.
STAY INFORMED

Just wanted to give you a friendly heads up about some influencers making big promises about $SHIB burns.

There are no keys to the $SHIB supply. Completely decentralized.

Whatever gets burned is simply a result of people buying and using #Shibarium.… pic.twitter.com/X35w1lPkPq

— 𝐋𝐔𝐂𝐈𝐄 | Summer of Shibarium (@LucieSHIB) August 30, 2023
Additionally, the team clarified that Shibarium burning SHIB is a long-term pursuit. In particular, Lucie said the community can expect the impact of the Shibarium of Shiba within the next eight to twelve months.
Can Shibarium Burn 100 Trillion SHIB?
Meanwhile, the question arises about Shibarium burning 100 trillion SHIB tokens annually. The Crypto Basic has reported that the launch of Shibarium took SHIB burns over 5 billion in August. 
If the community maintained the streak, that would amount to over 60 billion burnt in 12 months.
Previously, a prominent Shiba Inu enthusiast known as Queenie devised a hypothetical scenario to estimate potential token burns in the Shiba Inu ecosystem. She envisioned that approximately 111 trillion SHIB tokens could be burned annually.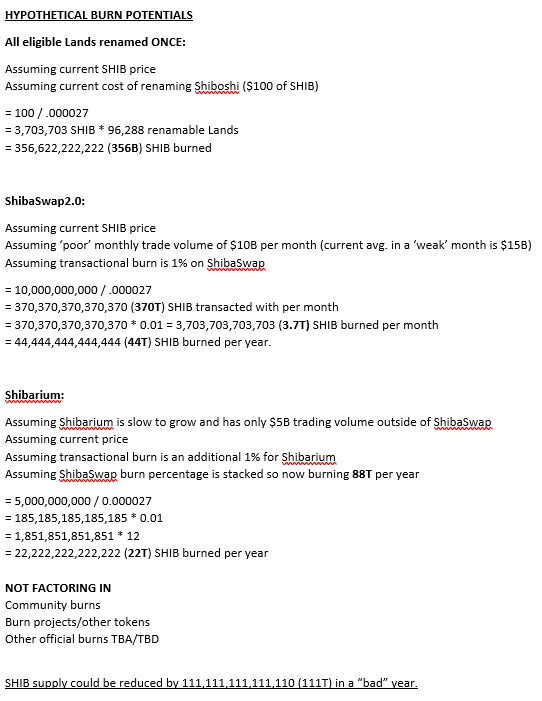 Notably, her hypothetical estimation did not consider community burns outside of Shibarium. Yet, Queenie theorized that even a modest 1% transaction fee for SHIB burns in Shibarium and ShibaSwap 2.0 could incinerate 22 trillion SHIB per year.
So, When $0.001 or $0.0001?
It may be challenging to say how long it will take for SHIB to hit $0.001 or $0.0001, even if Shibarium burns 100 trillion SHIB annually. It is worth mentioning that such a massive burn would have Shiba Inu's supply drop below 80 trillion in five years. 
Moreover, Shiba Inu growing $0.001 or $0.0001 would imply a substantial 12,602% and 1,174% growth. Interestingly, these percentage growths are not inconceivable. If SHIB starts falling trillions per year, it may take SHIB only a few years to reach $0.001 or $0.0001.
The Crypto Basic recently reported that SHIB has grown over 12,000,000% since its all-time low.
Follow Us on Twitter and Facebook.
Disclaimer: This content is informational and should not be considered financial advice. The views expressed in this article may include the author's personal opinions and do not reflect The Crypto Basic's opinion. Readers are encouraged to do thorough research before making any investment decisions. The Crypto Basic is not responsible for any financial losses.
-Advertisement-