XRP has plummeted by over 46% from the $0.9380 yearly high attained in July, but a Kaiko report highlights the reason behind this prolonged downturn.
XRP has lost nearly half its value since reaching $0.9380 in July. A fresh report from Kaiko, a leading crypto market data provider, reveals that the recent storm could be attributed to selloffs on Upbit, OKX, and Binance.
In its report, Kaiko highlighted that XRP surged in July following the pivotal ruling, which deemed the token a non-security. However, the euphoria was fleeting, as XRP tumbled by over 25% shortly after.
XRP Underperformed in August
August was challenging for XRP, particularly compared to other top altcoins. Kaiko data suggests that, in August, XRP performed worst among the top five altcoins by market cap, excluding Ethereum.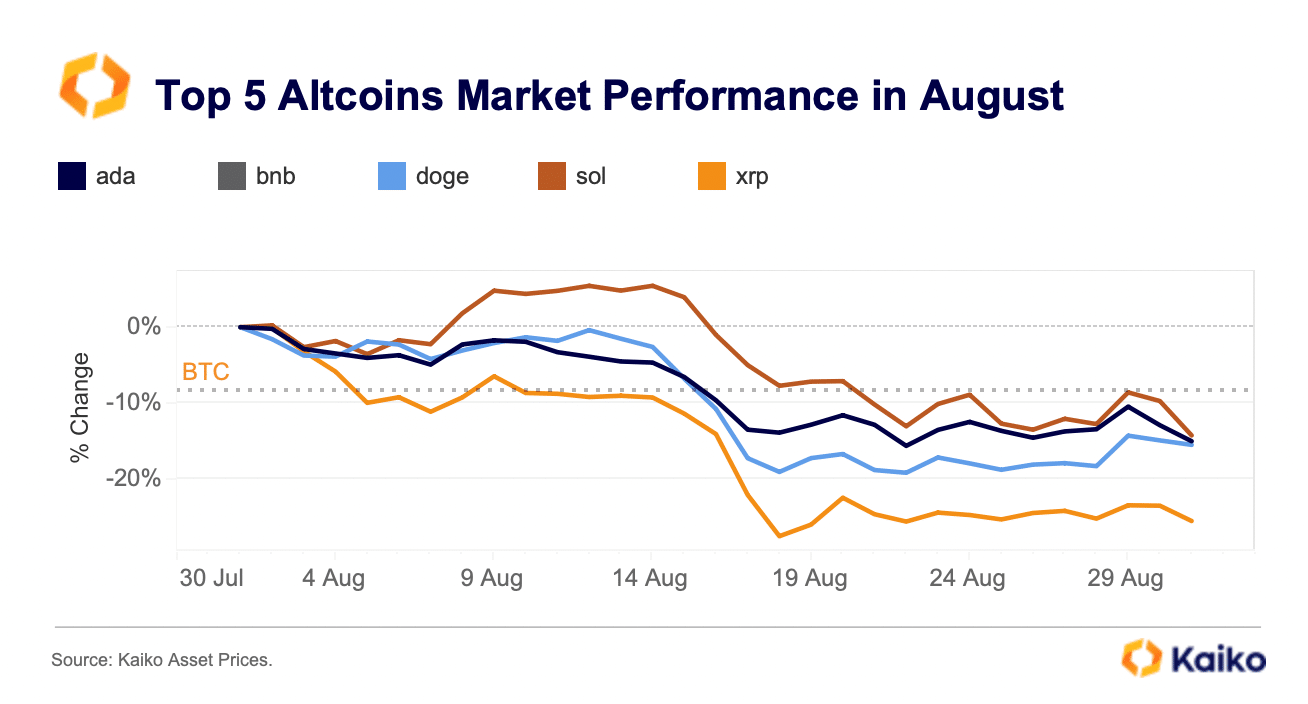 Notably, XRP saw a substantial 17% decline against Bitcoin in August after the remarkable 54% gain in July. This bearish turn of events prompted traders to lock in profits and reevaluate their positions.
XRP is trading at $0.5027 as of press time, representing a significant setback from its recent peak. This sharp decline of 46.4% from its July high underscores the formidable hurdles XRP has encountered.
Reason Behind Recent Collapse
To ascertain the reason behind the challenges, Kaiko analyzed several metrics, including XRP's average share of sell volume across several exchanges. 
The analysis reveals a prevalence of selling pressure on the largest Korean exchange, Upbit, and OKX. Interestingly, Upbit saw a 55% dominance of XRP sell orders in August, the highest for any mainstream exchange.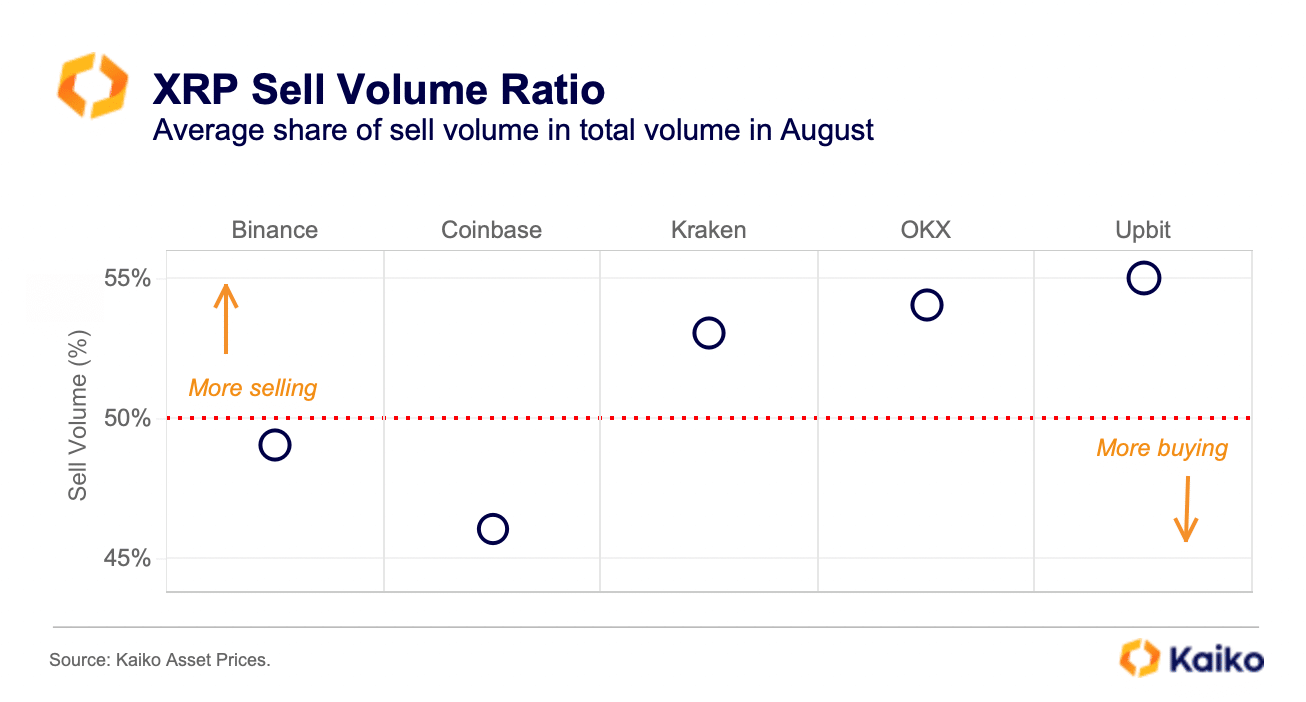 This is especially significant because Upbit commands one of the largest XRP volumes globally. In addition to Upbit and OKX, XRP saw high sell orders on Binance, the world's largest exchange. However, Binance saw more XRP buy orders. Kraken saw more sell orders than buy orders. 
In contrast, Coinbase witnessed a surge in buying activity during the same period. Nonetheless, Coinbase commands a much lower XRP volume than Binance and Upbit. 
Notably, XRP's average trade size on Coinbase surpassed all other top ten altcoins, signaling that large traders within the United States drove significant buying demand. 
Per Kaiko, this heightened interest in purchasing XRP coincided with investors regaining access to the asset following the pivotal July court ruling.
XRP Maintains Robust Trading Activity
Amid the downturn, XRP maintained robust trading activity compared to other altcoins. With an average trade volume of $462.8 million in the past month, it outperformed other major altcoins in terms of volume.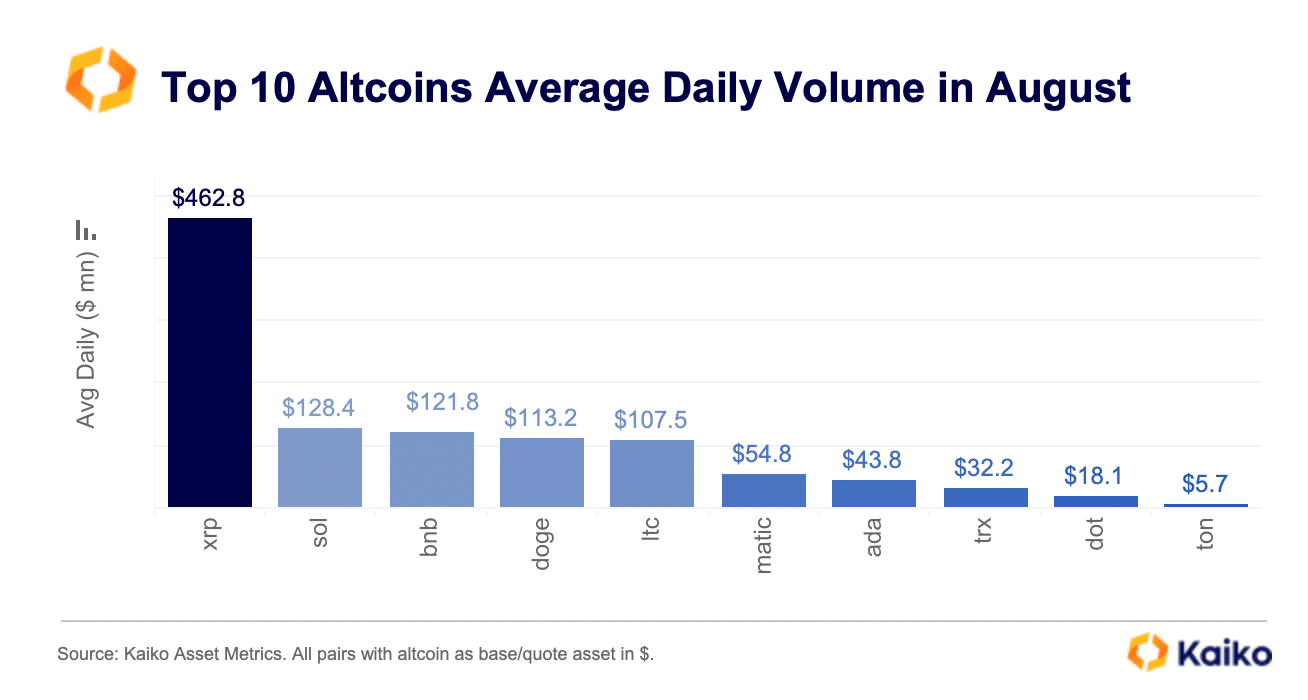 However, it is essential to note that XRP traded on U.S. markets remains lower than exchanges outside the U.S. As a result, the buying pressure on Coinbase was outweighed by the selling pressure on exchanges such as Upbit and Binance.
In the U.S., XRP occupies the sixth position among the most traded altcoins, while it dominates the list on exchanges outside the U.S. XRP is currently up 0.20% over the past 24 hours, with a 3.29% decline in the last week.
Follow Us on Twitter and Facebook.
Disclaimer: This content is informational and should not be considered financial advice. The views expressed in this article may include the author's personal opinions and do not reflect The Crypto Basic's opinion. Readers are encouraged to do thorough research before making any investment decisions. The Crypto Basic is not responsible for any financial losses.
-Advertisement-