SBI Remit to Start XRP-Based Remittance Service in Philippines, Vietnam, and Indonesia This Month.
SBI Remit, a subsidiary of SBI VC Trade, the crypto-focused arm of SBI Japan, has revealed its strategic move towards revolutionizing international remittance services.
In particular, SBI Remit is partnering with Ripple and SBI Ripple Asia to launch international remittance services using XRP. SBI Holdings chairman and CEO Yoshitaka Kitao took to X to share the development.
XRPを活用するRippleの送金ソリューションを用いた国際送金サービスを、フィリピン・ベトナム・インドネシア向けに順次拡大[SBIレミット, SBI VCトレード, SBI Ripple Asia] https://t.co/OQ0tJCLYEv

— 北尾吉孝 (@yoshitaka_kitao) September 6, 2023
SBI XRP Remittance Service
According to the official announcement, the remittance service is starting this month. The report noted that the services will initially target bank accounts in the Philippines, Vietnam, and Indonesia.
Furthermore, SBI Remit stated that the move into these Asian continents is part of its long-standing business of utilizing XRP for cross-border payments. Now, the prominent financial firm is expanding its scope.
Additionally, SBI Remit pointed out that the Philippines, Vietnam, and Indonesia have a substantial share of remittances directed to bank accounts. This situation made the countries prime targets for XRP adoption.
Moreover, SBI Remit anticipates that unveiling the XRP-based remittance service will accelerate crypto adoption in the countries. 
In the newly unveiled scheme, SBI Remit designed a streamlined process for international remittances. According to the report, when a customer initiates a remittance request, SBI VC Trade responds by sending the equivalent in XRP. The XRP is then converted to the recipient's currency.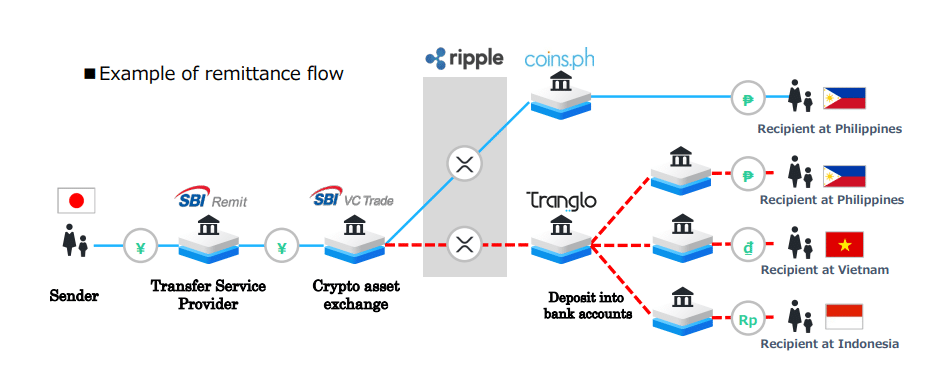 SBI, in their English version of report, writes:
"By leveraging XRP as a bridge currency, SBI Remit is able to diminish the cost of pre-funding destination accounts. In addition, this has excellent scalability as money can be easily transferred to Ripple's partners around the world. We believe that this will lead to strengthening our competitiveness in the international money transfer business."
The report noted that this dynamic approach would be possible through the alliance with Ripple partner Tranglo. In particular, the alliance with Tranglo enables users to receive inflows in their local currencies.
Future Trajectory 
While SBI Remit's current scheme caters to three Asian countries at the initial state, the firm expressed commitment to expanding to other jurisdictions. SBI Remit noted it will increase the number of countries. 
Also, SBI Remit mentioned that the future trajectory includes broadening its service portfolio to encompass corporate and inbound transactions. It added that the expansions will come to fruition via partnerships with Ripple and other payment firms. 
SBI Collab with Ripple
Notably, SBI Remit underscored its six-year standing collaboration with Ripple to use Ripple Payments for cross-border remittance. 
The firm highlighted that it became the pioneering business in 2021 to use XRP as a bridge asset for international remittance services in Japan. At the time, the service targeted crypto wallets for the Filipinos. 
Follow Us on Twitter and Facebook.
Disclaimer: This content is informational and should not be considered financial advice. The views expressed in this article may include the author's personal opinions and do not reflect The Crypto Basic's opinion. Readers are encouraged to do thorough research before making any investment decisions. The Crypto Basic is not responsible for any financial losses.
-Advertisement-