The tokens of the Shiba Inu ecosystem suffer losses, but the SHIB team assures the community that bearish days are almost over.
Shiba Inu ecosystem tokens, including SHIB, Bone, and Doge Killer (LEASH), are bearing significant losses following the overall crypto market trend. According to CoinMarketCap data, Shiba Inu is down over 6.85% in its cumulative seven-day performance.
Similarly, LEASH is wallowing in double-digit losses in its one-week performance, while BONE took the most significant crash yet at over 22%.
Amid the bearish performances of the SHIB ecosystem tokens, a Shiba Inu team member took to X to urge enthusiasts to remain resilient as the bearish days are almost over.
In particular, Shiba Inu content specialist Lucie acknowledged to the community that bearing losses is tough. To cushion the effect of the investment challenges, Lucie mentioned that the Shiba Inu team is working round the clock to add more utility to the ecosystem.
Lucie remarked:
"We're all feeling exhausted, and we're all experiencing losses—it's tough. But we're putting in our best effort to add value to our ecosystem." 
Fair Building Chance on Shibarium
Moreover, Lucie highlighted Shibarium's decentralized makeup, noting it will be a major driver for growth. 
She assured the community that the Shiba Inu team has a patient approach to project launches within the ecosystem. The representative noted that the team would not overwhelm the community with their own Shiba Inu-themed decentralized applications. Instead, they are committed to giving other projects a fair chance to launch on Shibarium.
"NOW is the time for EVERYONE else to shine on Shibarium!" Lucie proclaimed.
DCA and Prepare for the Bull Run
Meanwhile, Lucie shifted focus to the trading community. She noted that while some may choose to give up, others would persevere and ultimately reap significant profits by practicing Dollar-Cost Averaging (DCA).
"Some will give up and some will win and take huge profits because now they DCA."
Additionally, her tweet included a chart illustrating Bitcoin's green and red days. The chart depicted that the bearish days are concluding based on the historical pattern Bitcoin exhibited.
It is worth noting that Lucie brought the SHIB community's attention to Bitcoin, as Bitcoin is believed to be the principal market driver. Moreover, the well-known crypto analytic portal CoinCodex stated Shiba Inu correlates positively with Bitcoin.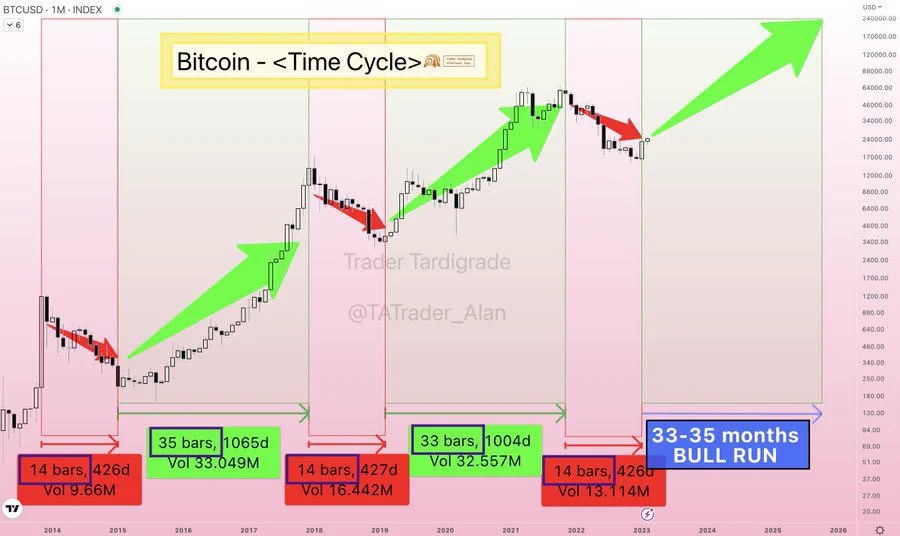 Ultimately, Lucie's chart urges the Shiba Inu community to prepare for the incoming 33 to 35 months of bull season, after 14 months of bear market in each cycle since 2014.
Follow Us on Twitter and Facebook.
Disclaimer: This content is informational and should not be considered financial advice. The views expressed in this article may include the author's personal opinions and do not reflect The Crypto Basic's opinion. Readers are encouraged to do thorough research before making any investment decisions. The Crypto Basic is not responsible for any financial losses.
-Advertisement-