Dogecoin is witnessing up to 42% of its holders in profit amid the recent market turbulence, while Shiba Inu and PEPE are respectively seeing 11% and 21% of holders in profit.
This is according to recent data by blockchain analytical platform IntoTheBlock in a recent report on X (formerly Twitter). IntoTheBlock aimed to compare the current profitability of various meme assets amid the recent market bloodbath.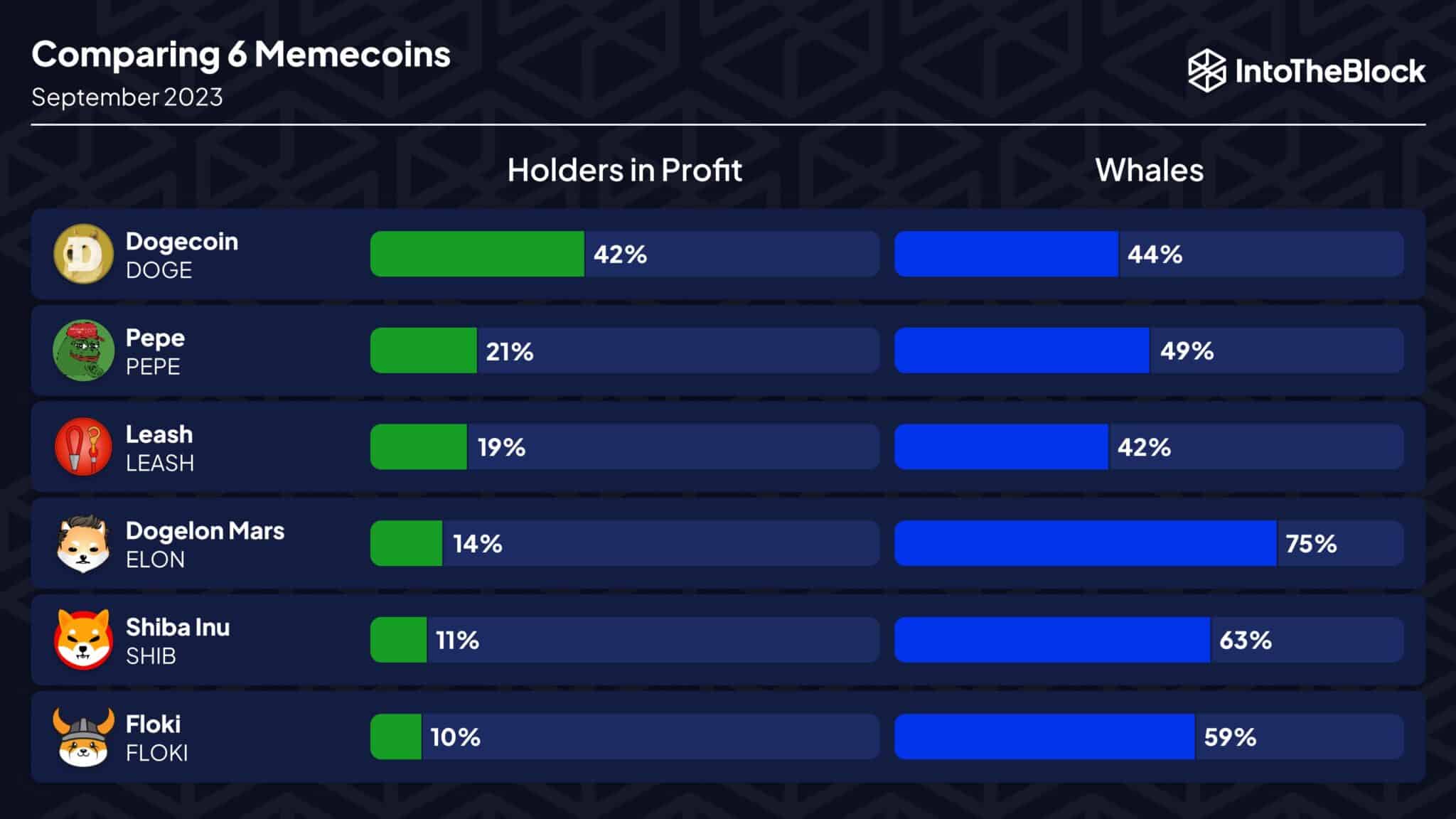 Dogecoin
Data from the accompanying infographics shows that Dogecoin (DOGE), the premier meme coin, boasts the highest number of holders in profit among meme coins. Notably, 42% of the asset's holders are seeing a profit on their investments.
It is important to note that DOGE is currently 91.66% down from its all-time high of $0.7376 in May 2021. Since collapsing from the ATH, DOGE has failed to register substantial price surges.
As a result, recent investors have procured the asset at considerably lower prices, contributing to the high rate of holders in profit. For instance, over 514K addresses purchased 3.05 billion DOGE at an average price of $0.00258.

Shiba Inu & LEASH
Despite the sustained development within the Shiba Inu ecosystem, SHIB records one of the lowest rates of investors in loss. IntoTheBlock data reveals that only 11% of Shiba Inu investors are witnessing a profit on their holdings.
This data suggests that most addresses holding SHIB purchased the asset at a higher price than it is trading. This trend is due to SHIB's recent volatility, as the asset continues to record substantial highs and shocking lows. 
Shiba Inu ecosystem token Doge Killer (LEASH) is witnessing a more impressive rate of profitability, with 19% of holders in profit. LEASH is behind Dogecoin and PEPE but boasts the third position on this metric among meme coins.
PEPE
While newcomer PEPE performs better than SHIB in this category, it trails behind Dogecoin. According to IntoTheBlock, up to 21% of PEPE investors are in profit. 
The number of PEPE holders witnessing a profit in their investments has drastically declined over the past few months despite PEPE recently entering the scene. The asset is 84% down from its ATH just four months ago due to the drop in social hype.
Whale Concentration
IntoTheBlock also shared data regarding whale concentration for the assessed tokens. Based on this metric, the lesser-known meme coin DogelonMars (ELON) secures the top spot, with 75% of its supply held by whales.
Shiba Inu is seeing a whale concentration of 63%, with whale addresses amounting to only 11. These addresses hold 613.77 trillion SHIB, data shows. Note that ITB also regards the burn address as a whale wallet. Meanwhile, LEASH has a whale concentration of 42%.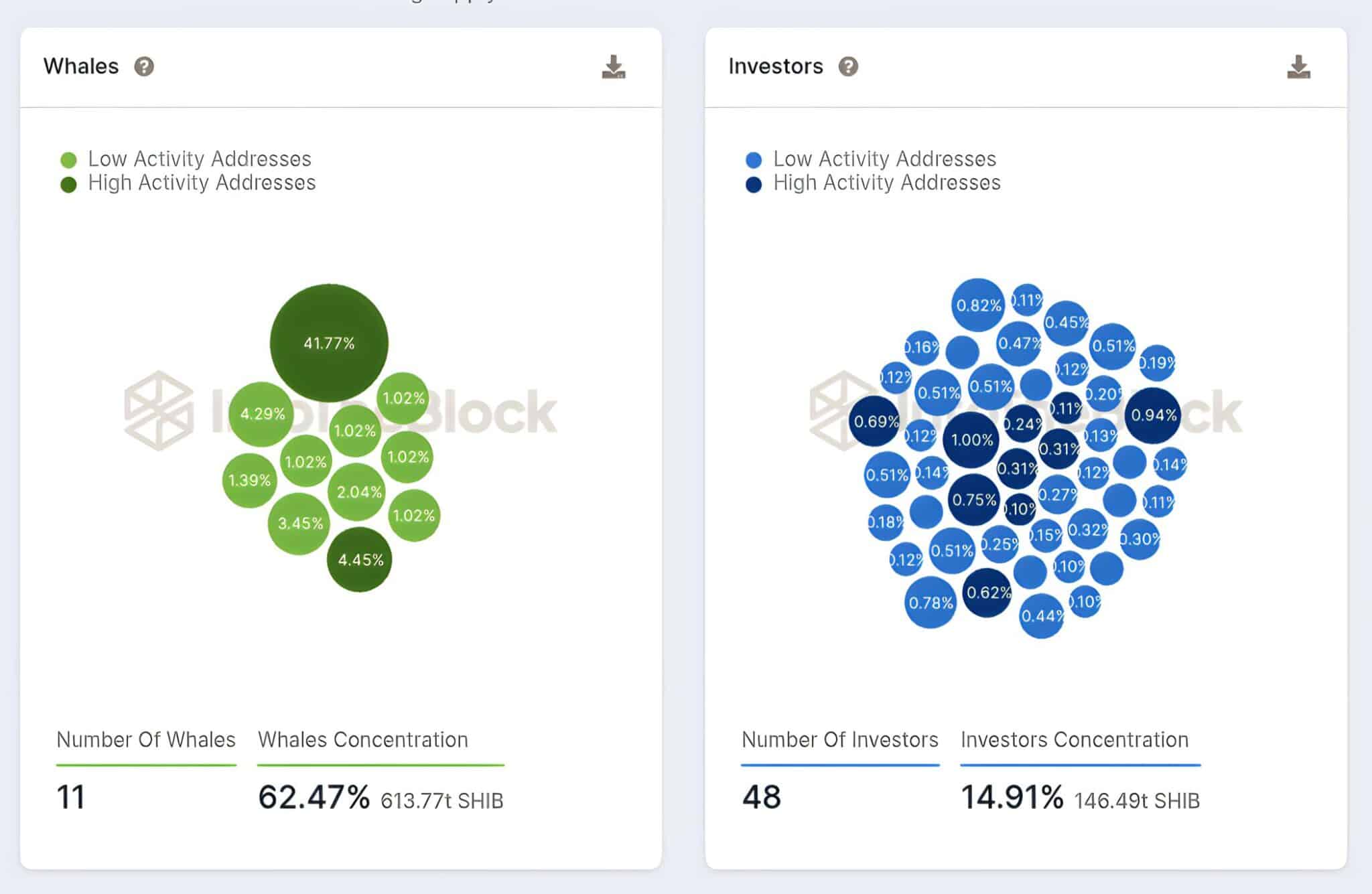 IntoTheBlock regards addresses holding over 1% of supply as whales. Notably, only 44% of Dogecoin's supply is held by whales, while up to 49% of PEPE's supply is accounted for by whale addresses.
Follow Us on Twitter and Facebook.
Disclaimer: This content is informational and should not be considered financial advice. The views expressed in this article may include the author's personal opinions and do not reflect The Crypto Basic's opinion. Readers are encouraged to do thorough research before making any investment decisions. The Crypto Basic is not responsible for any financial losses.
-Advertisement-