A comparison of Apple's recent smartphone releases shows how iPhone devices have reduced in value against BTC over the years.
On September 12, popular multinational technology company Apple unveiled its iPhone 15 series to much fanfare. However, a comparison of iPhone prices through the years demonstrates how Bitcoin's value has soared over the years.
The earliest tracking of Bitcoin's price against the iPhone in 2011 followed the release of the iPhone 4S. According to CoinGecko data, the device had a retail price of around $649, the equivalent of around 162 BTC at the time, with BTC trading for an average of $4. 
Interestingly, the widespread adoption of BTC as an asset class throughout the past decade means the recently released iPhone 15 device costs just 0.03 BTC (approximately $799), with BTC trading at $26,300.
The iPhone 15 Pro, which starts at $999, is worth 0.038 BTC, while the iPhone 15 Pro Max goes on sale for $1199, the equivalent of 0.046 BTC.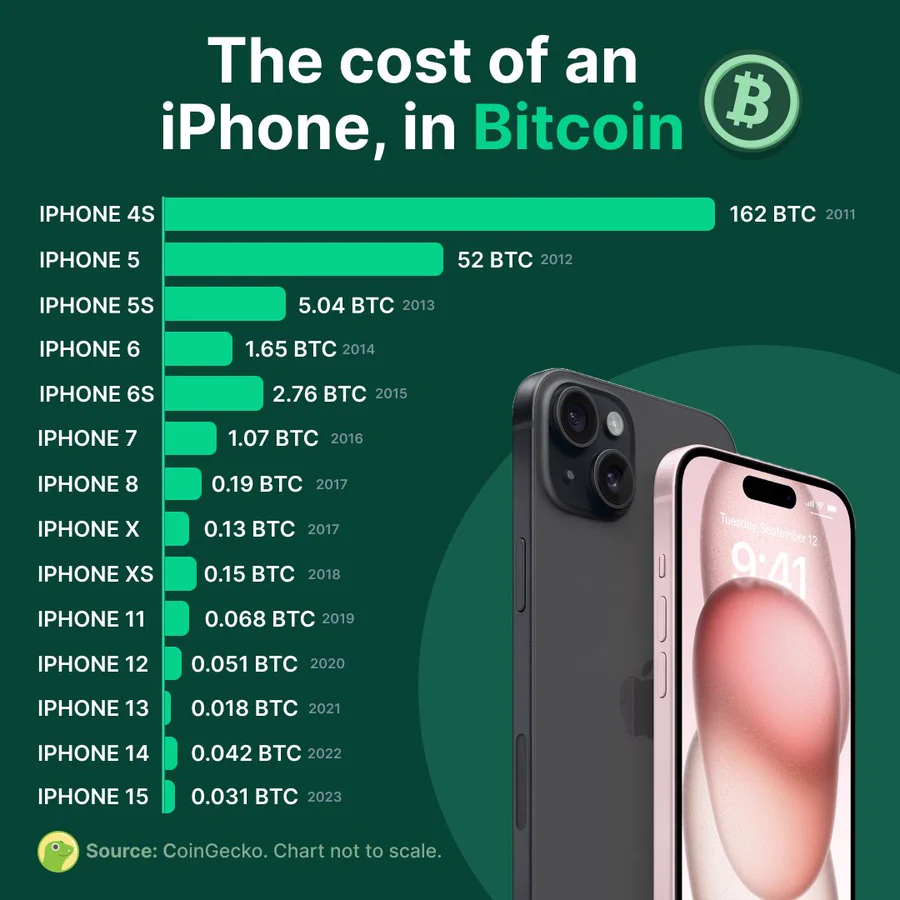 Notably, the iPhone 13 device, released en route to Bitcoin's peak in 2021, cost just 0.018 BTC, the lowest price against BTC since statistics began to be collected. 
Bitcoin's historical performance also suggests the digital asset will continue to grow in value against iPhone devices in the years ahead.
Anyone who bought 1 BTC for $4 in 2011 and held it until now would be able to buy 33 iPhone 15 devices, given Bitcoin's current market price of $26,300.
Bitcoin Continues Recovery Since December Lows
The price of Bitcoin has made a strong recovery since its December lows linked to the infamous collapse of the FTX exchange. The leading cryptocurrency has posted a year-to-date (YTD) return of 58%, outperforming most major assets and indexes, including Gold, Nasdaq 100, and the S&P 500.
Bitcoin's resurgence has been largely buoyed by improved macroeconomics, such as slowing interest rate hikes by central banks. The asset has also garnered increased institutional interest from big players such as BlackRock and Fidelity, vying to launch the first U.S. Bitcoin ETF.
Former SEC Chairman Jay Clayton and JP Morgan analysts all foresee the approval of a Bitcoin ETF, a factor that could further propel BTC's positive recovery.
Follow Us on Twitter and Facebook.
Disclaimer: This content is informational and should not be considered financial advice. The views expressed in this article may include the author's personal opinions and do not reflect The Crypto Basic's opinion. Readers are encouraged to do thorough research before making any investment decisions. The Crypto Basic is not responsible for any financial losses.
-Advertisement-