Circle has launched its USDC stablecoin on the Near Protocol, making it the 13th blockchain the stablecoin domiciles in.
Stablecoin issuer Circle has launched the USDC stablecoin on layer-1 blockchain Near Protocol. The latest development means Circle customers can now access Near-native USDC on their accounts and through APIs.
The launch of native USDC on Near protocol effectively brings Circle's goodwill and provides a more reliable solution for developers integrating USDC on the layer-1 network. Before now, users could only access USDC via Bridged USDC (USDC.e), a version of USDC bridged from the Ethereum network. 
Following today's announcement, Circle revealed some Near-based decentralized finance (DeFi) applications now support native USDC. 
These platforms include Burrow Cash (a lending protocol), Ref Finance (a decentralized exchange), and Orderly Network (an on-chain trading infrastructure provider).
Like most layer-1 networks, Near offers a blockchain platform for building decentralized applications (dApps). However, the network prides itself on providing cheap transactions that settle within seconds.
Near DeFi Ecosystem Gets USDC Boost
The arrival of native USDC on Near brings a new flavor to the layer-1 blockchain as it struggles to recover from the broader decline of assets flowing into the DeFi ecosystem. 
Near's DeFi ecosystem has around $34 million in total value locked, more than 95% down from the $480 million recorded during the bull market.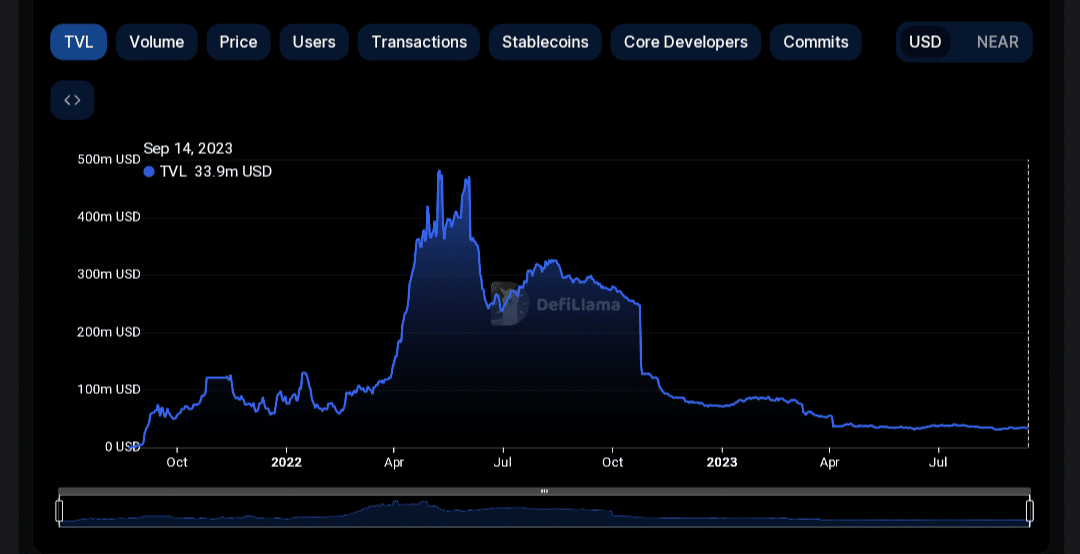 The Near blockchain is currently valued at over $1 billion and was worth as much as $8 billion during the previous bull market. Having access to native USDC on the network opens an opportunity for users to access the second most widely used stablecoin on Near in a secure fashion. 
Meanwhile, Near Protocol joins a prestigious club, being the 13th different blockchain with access to native USDC. The stablecoin boasts a market capitalization of $26 billion and is already available on Ethereum, Solana, Polygon, Base, Optimism, and Cosmos, among others.
Follow Us on Twitter and Facebook.
Disclaimer: This content is informational and should not be considered financial advice. The views expressed in this article may include the author's personal opinions and do not reflect The Crypto Basic's opinion. Readers are encouraged to do thorough research before making any investment decisions. The Crypto Basic is not responsible for any financial losses.
-Advertisement-