The Descending Trend Line has acted as a strong resistance level for XRP since its SEC-induced rally. Will the XRP price continue to decline or start a rally?
Since the Ripple lawsuit win in July, when the price of XRP increased by more than 90%, the altcoin has declined. EGRAG, a popular crypto chartist on X, has highlighted that the XRP price has been trading under a descending trendline.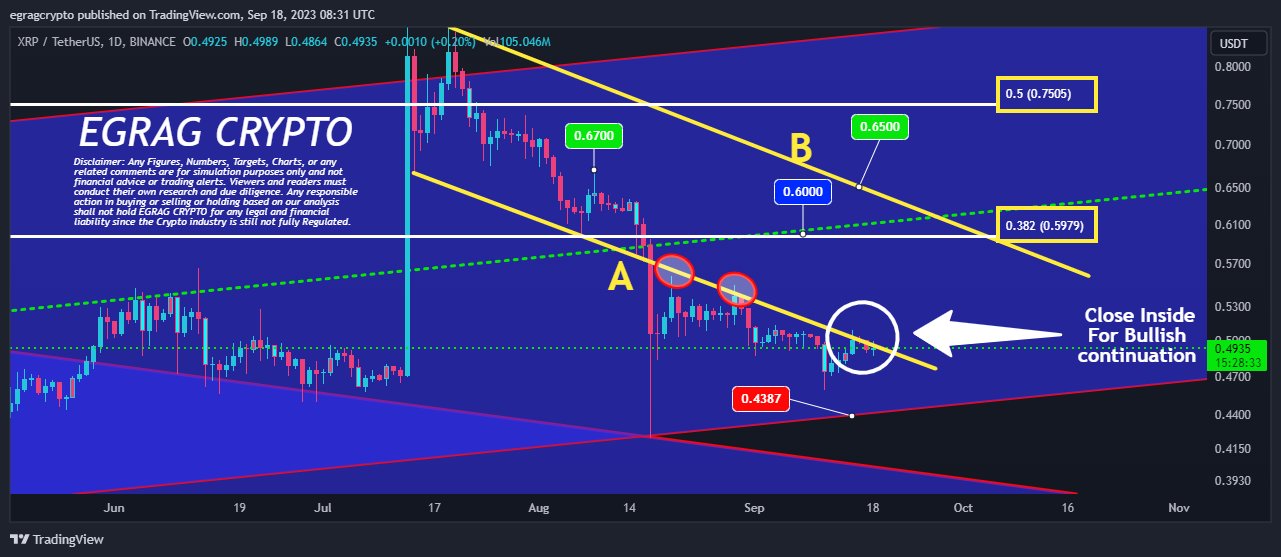 In the chart shared, the XRP price fell under the Descending Trend Line 'A' (DTL 'A') on August 17. Since then, XRP has made three attempts to break above, but DLT A has strongly resisted the altcoin.
Each rejection at the DLT A has been met with significant corrections to lower levels. However, XRP is now at a critical level, trading on the trendline (at a price of $0.4946). 
Where Will the Price of XRP Go in the Short Term?
EGRAG has shared two possible scenarios for XRP in the short term. Firstly, another downtrend should be expected if XRP gets rejected at this resistance once again. If this happens, a price drop towards the $0.430 level should be expected.
If the XRP bulls succeed in pushing the price of the coin above the DTL 'A' resistance, a rally will ensue. According to the chart, a short-term bull market for XRP will see its price increase to the DLT B or the 0.382 Fibonacci level at a price of $0.590.
What Does the Market Say About XRP?
At the time of this writing, XRP trades at $0.4946, dropping by 0.41% over the last 24 hours. This is significant as the global crypto market is marginally bullish today, increasing by 0.45%, according to CoinMarketCap.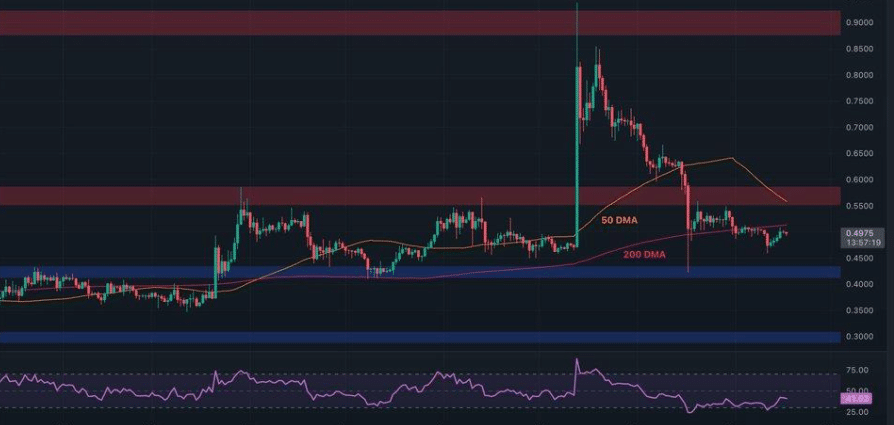 The 200-day moving average (MA) also confirms significant bearish pressure for XRP. The XRP price has failed multiple times to break above the 200-day MA and 50-day MA, solidifying this resistance level.
In addition, the relative strength index (RSI) of XRP also favors the bears, as it remains under 50. If the price of XRP fails to break above the $0.5000 resistance, then a drop to $0.4300 is the more probable scenario.
While the short-term outlook of XRP looks bearish, EGRAG remains bullish about the long-term potential of XRP. According to the crypto chartist, XRP will outperform other crypto assets in the upcoming bull market. 
Follow Us on Twitter and Facebook.
Disclaimer: This content is informational and should not be considered financial advice. The views expressed in this article may include the author's personal opinions and do not reflect The Crypto Basic's opinion. Readers are encouraged to do thorough research before making any investment decisions. The Crypto Basic is not responsible for any financial losses.
-Advertisement-