The U.S. SEC took a loss after a court denied its request to inspect Binance US. Trading volume on the platform has decreased significantly since the lawsuit began.
The United States Securities and Exchange Commission (SEC) suffered a setback in its lawsuit against Binance. On Monday, a federal magistrate judge denied a request that would have granted the SEC immediate access to Binance US' software as part of an investigation. 
The US securities regulator had filed the request on September 18, alleging that Binance US was not cooperating with investigations or providing as much information as it wanted.
As The Crypto Basic reported on September 15, the SEC alleged that Binance US until now has only produced 220 documents largely comprising "unintelligible screenshots and documents without dates or signatures."
The SEC's move on Monday was expected to grant the regulator immediate access to the Binance US technology stack and also compel the exchange to produce more documents and witnesses for the investigation.
However, Federal Magistrate Judge Zia Faruqui turned down the request, saying, as per a Bloomberg report, "[I'm not] inclined to allow the inspection at this time."
Instead, the magistrate judge urged the SEC to send more concise discovery requests to Binance US and contact more witnesses. Per the SEC, Binance has restricted the regulator to only four witnesses, arguing that additional personnel requested by the SEC did not have sufficient knowledge on the subject matter. 
The SEC, as part of its most recent allegations against Binance US, also claimed that the company had been misleading the court about its relationship with Ceffu (formerly known as Binance Custody). The SEC argues that Ceffu is a Binance-related entity, in contrast to what the exchange had claimed in earlier court documents.
Binance US Volume Drops From Billions to Millions
Amid the ongoing legal tussle, Binance US' business has struggled. Key executives have departed the company in recent weeks, while trading volume has dropped significantly.
According to data from Kaiko Research, weekly trading volume on the exchange has dropped from nearly $5 billion earlier this year to a mere $40 million.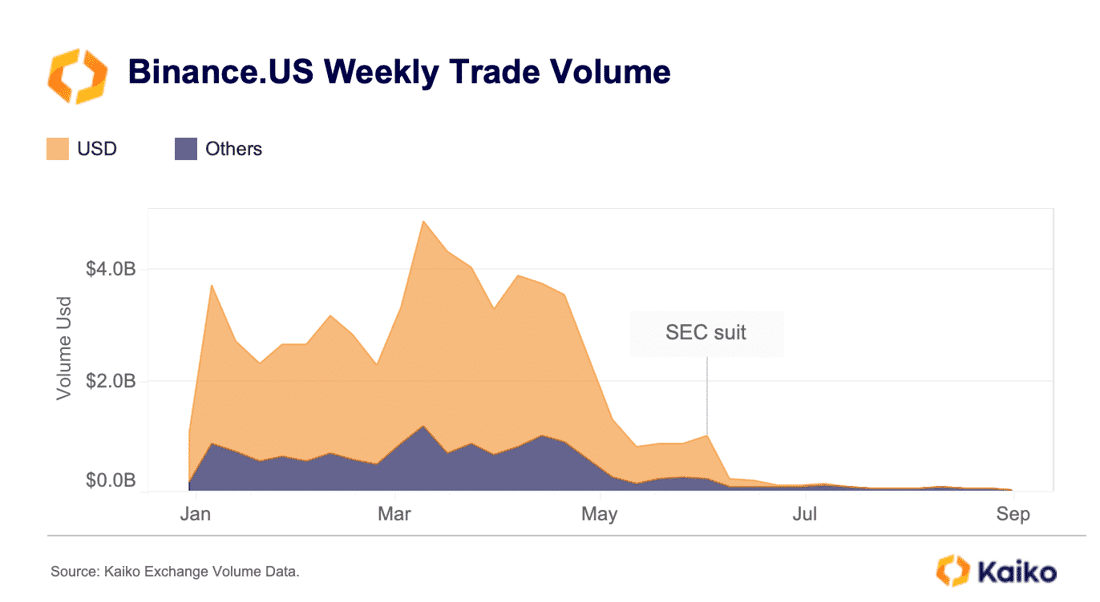 Meanwhile, the next Binance vs. SEC hearing is scheduled for October 12. Until then, both parties are expected to work on the latest court guidance.
Follow Us on Twitter and Facebook.
Disclaimer: This content is informational and should not be considered financial advice. The views expressed in this article may include the author's personal opinions and do not reflect The Crypto Basic's opinion. Readers are encouraged to do thorough research before making any investment decisions. The Crypto Basic is not responsible for any financial losses.
-Advertisement-