Crypto analyst EGRAG recently noted that XRP has been in an accumulation zone for 68 months, forecasting an imminent 27x rally from its ATH to a lofty price of $90.
EGRAG's recent analysis considers XRP's historical accumulation trends and subsequent breakouts. It revolves around the concept that the longer an asset consolidates, the stronger the potential for a significant breakout.
EGRAG began by scrutinizing XRP's price behavior on a monthly timeline, focusing on the time spent accumulating within specific zones.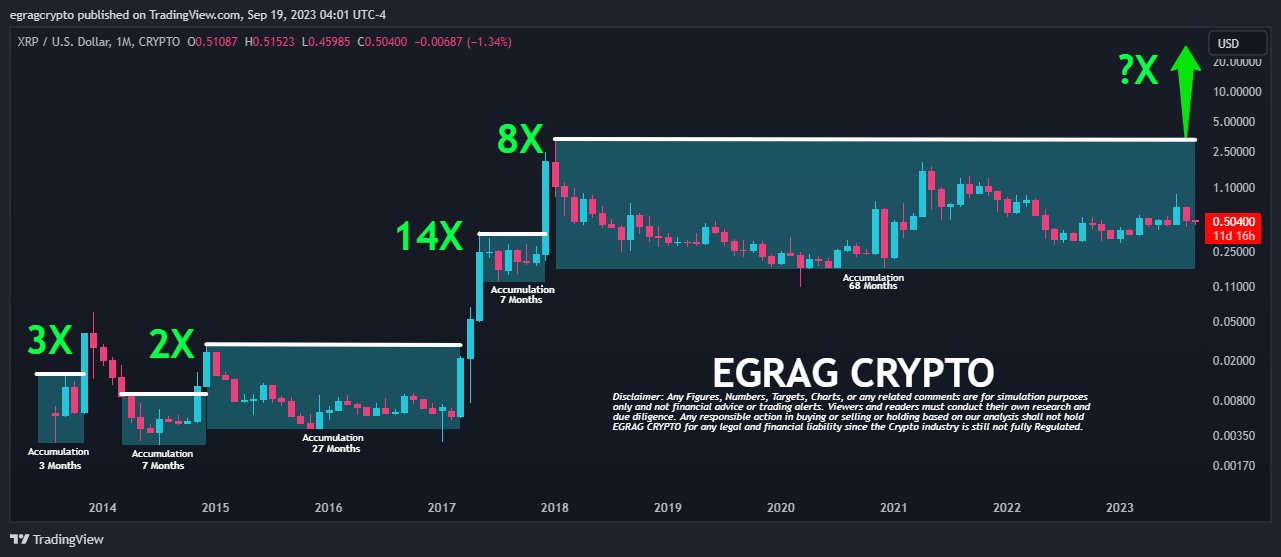 Past Accumulation Phases
The analyst identified five accumulation zones, each with its unique duration and multiplier. The first accumulation trend lasted three months, from September to October 2013. This accumulation gave rise to a 3x increase.
The second accumulation spanned seven months, from May to November 2014, leading to a 2x surge. The third accumulation phase lasted for 27 months, from December 2014 to March 2017. XRP surged 14x after this accumulation.
The fourth accumulation lasted seven months, between May and December 2017, leading to an 8x rally for XRP. EGRAG's data revealed a total accumulation period of 44 months across four phases, averaging 11 months. In total, these periods amount to a 27x multiplier.
XRP In a 68-Month Accumulation
EGRAG pointed out that XRP is now in another accumulation zone. With a current span of 68 months, this is the most extended accumulation phase the asset has traded in.
The analyst suggests that XRP's price has been quietly building momentum during this period, setting the stage for a potentially explosive rally. He highlighted several potential scenarios, each tied to a specific multiplier assumption based on XRP's ATH of $3.3.
The first assumption is the most ambitious, forecasting A 27x surge from ATH. This surge would put XRP at nearly $90, precisely $89.1. This scenario reflects the potential for prolonged consolidation.
In the second assumption, a more conservative 6.75x increase from ATH would still push XRP to approximately $22.
For the third assumption, EGRAG projects a 2x multiplier from ATH, which would land at $6.6.
The fourth assumption sets a 14x target, leading to $46.
In response to EGRAG's projections, a community member suggested a more practical approach, advocating for a 27x increase from the current XRP price, not from its ATH.
XRP is currently trading for $0.5084. A 27x increase from this price point would amount to $13.7. EGRAG expressed openness to this perspective, acknowledging it is feasible. XRP is up 7.51% over the past week, looking to reclaim lost values.
Follow Us on Twitter and Facebook.
Disclaimer: This content is informational and should not be considered financial advice. The views expressed in this article may include the author's personal opinions and do not reflect The Crypto Basic's opinion. Readers are encouraged to do thorough research before making any investment decisions. The Crypto Basic is not responsible for any financial losses.
-Advertisement-