Data has shown that the vast majority of crypto derivative traders in XRP on the renowned exchange Bitrue are highly optimistic about the price of XRP.
In a recent tweet, Bitrue disclosed that 91% of its XRP futures traders placed their wager on the view that the price of XRP is still going forward from the current $0.6821.
Long Makes 91% of XRP Futures on Bitrue
Specifically, the exchange noted that 91% of XRP futures trading participants on its platform opened a long position for XRP. This percentage implies that out of the $355,000,000 in the XRP futures contract on Bitrue, only $32,450,000 is for short positions or traders that believe the price of XRP would crash.
📈 #Bitrue Futures traders are holding over 355 m USDT of $XRP with 91% Long $XRP/USDT currently overall!

👉 Trade on #Bitrue Futures with up to 50x leverage now https://t.co/7gfa8J23tL pic.twitter.com/Ng5jX4bVaU

— Bitrue (@BitrueOfficial) November 7, 2023
Notably, the prevailing pattern on the Bitrue platform shows a consistent inclination among XRP futures traders to bet on the upward movement of XRP.
This trend has endured for several weeks. The chart shared in Bitrue's tweet indicates a consistent bullish sentiment among XRP traders on their platform, with long positions outstripping short positions for an extended period.
Nearly Balanced Split Observed Globally
Meanwhile, the trend seen with XRP futures on Bitrue, where traders are predominantly bullish, contrasts with the patterns on other prominent trading platforms. According to data from the leader market tracker Coinglass, traders who believe XRP would crash are slightly above the other group.
For example, on the largest crypto trading platform, Binance, 48.15% of traders opened long positions for XRP with $661.6 million. In contrast, 51.85% placed short XRP orders with $714.69 million.
A similar 48% to 52% ratio of long to short XRP orders is observable among exchanges OKX, BingX, Bitget, Bybit, and Huobi. Collectively, XRP long contracts on eight centralized exchanges amount to $1.3 billion, while $1.4 billion is allocated to short positions.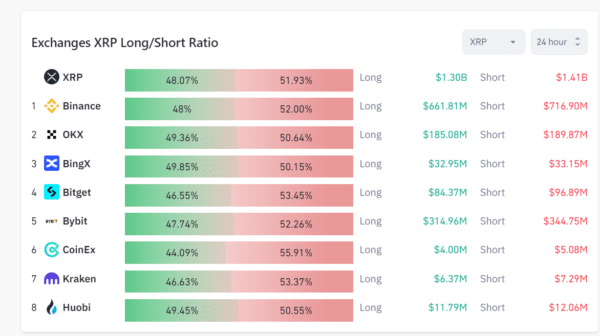 In other words, a nearly balanced split between bullish and bearish XRP positions is mirrored on a global scale, unlike the trend observed for the Bitrue exchange.
XRP Price
Meanwhile, XRP trades around $0.68, one of its highest points within the past 100 days. Moreover, crypto market participants have exchanged over $2.2 billion worth of XRP in the last 24 hours.
Follow Us on Twitter and Facebook.
Disclaimer: This content is informational and should not be considered financial advice. The views expressed in this article may include the author's personal opinions and do not reflect The Crypto Basic's opinion. Readers are encouraged to do thorough research before making any investment decisions. The Crypto Basic is not responsible for any financial losses.
-Advertisement-