How to withdraw from Binance to Coinbase or any other exchange is an effortless task. 
Follow our steps to withdraw from Binance to any exchange.
It can be performed in minutes by pro traders, but new to cryptocurrencies should be very cautious when withdrawing funds from one exchange to another.
Binance, without reservation, a top crypto exchange at this time of writing. Numerous transactions are going on at each second on Binance, and you don't up to waste your money by commanding an unfair trade.
If you transfer your funds on the wrong address, Binance or no other exchange will be capable of retrieving it for you.
You will lose your funds permanently.
Therefore new users need to exercise the utmost caution when withdrawing funds from Binance to Coinbase.
How To Withdraw From Binance To Coinbase
Coming right to the point, In our example, we will transfer BTC from Binance to Coinbase.
Login to your Coinbase account.

As you are withdrawing from Binance exchange and depositing in Coinbase, Go to Coinbase deposits.

On the Coinbase deposit page, select the coin that you want to deposit. Suppose BTC, ETH, etc

Copy the address of your currency.
Remember, you can only deposit those coins on Coinbase that are listed and supported by Coinbase. Assume if you want to deposit Binance coin (BNB) on Coinbase, it will not occur as Coinbase does not support BNB.
After getting the deposit address of your coin from Coinbase:
Log on to the Binance exchange.

Go straight to the Binance Spot wallet.

From your spot wallet, go to the Withdrawl Section.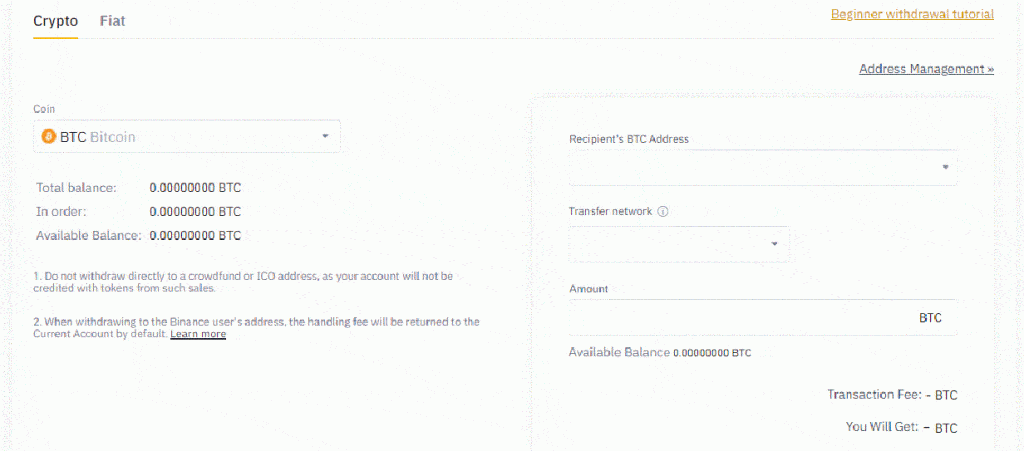 A window, as shown above, will open.

First of all, select the coin that you want to withdraw from Binance to Coinbase. The coin should be the same that you are depositing on Coinbase.
Again the point to remember is that the coin should be present on both exchanges for successful withdrawal from Binance to Coinbase.
On the "Recipient's BTC Adress" section, enter the BTC address you get from your Coinbase deposit page.

In the "Amount" section, enter the BTC (or any coin you are withdrawing).
That Recipient's Adress lead Binance and miners to transfer your desired amount to that address.
After you enter the amount, the system will let you know the transaction fee and what BTC you will get after deducting the fees.

Now click on "Submit."

Your withdrawal request is not completed by simply clicking on the Submit button.

Binance will ask you to enter your 2FA code.

If you haven't enabled 2FA security on Binance, you must do before putting any withdrawal request.

After entering all 2FA security codes successfully, you may be asked to verify your withdrawal request from your email linked with your Binance account.

By verifying your withdrawal request from your email, your withdrawal will start showing in "Recent Withdrawal History" and will be concluded in some time.
2FA codes and email verification appear a lot but are incredibly crucial for protecting users' funds.
The submission of a withdrawal request takes no more than five minutes.
Very Important Points In Withdrawing Funds From Binance To Coinbase
When withdrawing funds, you need to concentrate on some details.
Suppose you pick BTC to transfer from Binance. You must select BTC as a depositing currency on Coinbase (or any Other exchange you are sending funds) if you choose ETH from Coinbase and send BTC from Binance, yo forever. BTC and ETH have different blockchains. Sending BTC to ETH address or ETH to BTC address will result in loss of funds, and no one will be able to recover those funds for you.
In simple words, never send any coin to another coin address.
When you copy the coin address from Coinbase and enter it in Binance Recipient address, always double-check your address. You must thoroughly match each character of your speech, but if you see it hard, you need to check the first four and the last four characters of your coin address to guarantee that you have successfully copied the precise address.
Please don't be too hasty. It is the matter of your funds.
Some coins are present on multiple exchanges like Tether (USDT). Tether is already on seven blockchains Ethereum, Tron Algorand, EOS, Liquid Network, Omni, and OMG Network.
When a coin is available on such multiple blockchains, you must be highly accurate when transferring Tether from Binance to Coinbase.
When you insert the recipient address, usually the Binance system automatically matches the network for you. But you should be sure by yourself that you are entering the correct network.
In simple words, if Coinbase support Tether on ETH and TRON blockchain, then to withdraw Tether from Binance, Binance must also be supporting Tether on any one of those blockchains.
KYC on Binance And Coinbase
When withdrawing or depositing funds from Binance to Coinbase, there are some obligations.
In Coinbase, Know Your Customer (KYC) is an obligation, and you cannot move on with any operation on Coinbase without verifying yourself.
Binance permits you to trade, deposit, and withdraw within limits without verification.
Your daily withdrawal limit is 2 BTC every day if you are a nonverified member of Binance.
Transfer XLM From Binance to Coinbase
It is easy to transfer Xlm from Binance to Coinbase.
Go to your Coinbase deposit page and pick XLM.
Copy the Adress of XLM.
Go to Binance exchange, Go to your spot wallet, and then to the Binance withdrawal page.
Choose XLM from the coin list.
Enter the XLM address in the Binance "Recipient XLM Adress" that you copied from Coinbase.
Enter the amount of XLM you want to transfer.
Click on "submit."
Enter your 2FA codes and verify your transaction from your email.
Wait for the completion of the withdrawal request.
After some time, XLM coin will start showing in your Coinbase wallet.
Transfer Chainlink From Binance to Coinbase
Merely go to the Coinbase deposit page and select Chainlink. Copy the address of Chainlink and follow the above steps to transfer Chainlink from Binance to Coinbase successfully.
How to transfer TRX from Binance to Coinbase
At the time of writing, you cannot transfer TRX from Binance to Coinbase.
https://www.coinbase.com/price/tron
The reason is that Coinbase does not support TRX. You cannot trade or deposit TRX on Coinbase as it is not listed on Coinbase yet.
In the future, Coinbase may add support for TRX. You will be able to transfer TRX from Binance to Coinbase by copying the above steps.
[maxbutton id="1″ ]
How long It Takes To Transfer From Binance to Coinbase
That is a pretty general question. A precise timeline cannot be given in fund transferring.
The general idea is that it ordinarily takes 15 minutes to 2 hours.
In standard cases, whenever Binance receives a withdrawal request, they approve it instantly.
Once they pass it, the real transferring of funds from Binance to Coinbase (or any other exchange) is done by miners.
If a blockchain network is loaded with many fund movements on that blockchain, transferring funds will take a lot longer.
A particularly blatant example these days is Ethereum Blockchain. Because of the Defi coins craze (As most Defi tokens based on Ethereum), the ETH network is bustling. The gas fees are pretty high.
So any users who transfer Ethereum from Binance to Coinbase will pay more fees and ought to wait longer for their withdrawal to complete because of the busy ETH network.