Bitcoin has performed a strong correction from its high of around $ 19,500. The leading cryptocurrency is currently trading at USD 16700 to 17200 range, although it has recently dropped to $ 16,200.
This means that Bitcoin fell by more than $ 3,000 from its local highs.
This correction was not well received by many as a few days ago, majority expected Bitcoin to move to new all-time highs. The market was extremely bullish so some analyst expected a drop.
This downward rally has formed a bullish pattern. BTC actually bounced back at an extremely important macro level.
Bitcoin Forms Bullish Candle Despite Falling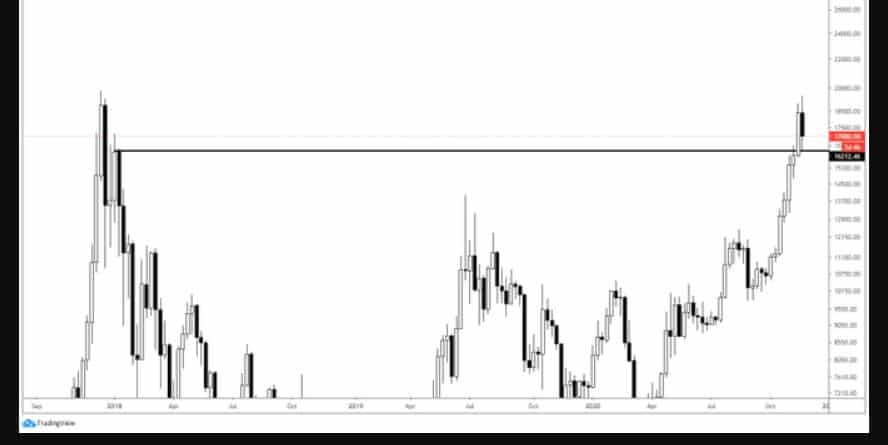 Bitcoin Weekly Chart
Bitcoin's strong $ 3,000 correction found a strong support on very important level of $ 16,200.
Many traders shared the chart and have a common view that Bitcoin's weekly candle bounced at an extremely important level.
The importance of this level extends to the 2017/2018 highs. The chart shows that Bitcoin actually touched $ 16,200 and then corrected 40% before achieving all time high in 2017. This resistance of 16200 USD in 2017 is now becoming a support in 2020, and is extremely important and if BTC is able to remain on the top of this support, there are solid chances that new all time highs will be achieved.
Bitcoin, finding support here on this weekly chart, could confirm that the uptrend remains intact.
It is important that BTC actually trades above $ 16,200 over the next two days in order to confirm this level as technical support.
However, Bitcoin could face another leg lower. Key Young Joo, CEO of crypto data analytics firm CryptoQuant, recently noted that whales have deposited more BTC than usual on exchanges.
"BTC whales make deposits on exchanges. I expect dumping in the short term. On all exchanges, the average inflow was more than normal. To me we are still in a danger zone. The price may go sideways or even go more down when the whales are active on the exchanges. Investors can sell their coins, which could lead to further sell-off".