The second-best performance chip for mining Nvidia CMP 40HX demonstrated a high hashrate during internal testing, Reported by VideoCardz.
According to the screenshot the CMP 40HX graphics card from ASUS will offer up to 43.77 MH/s, up from 36 MH/s officially announced by NVIDIA.
A farm of eight video cards produced by Nvidia's AIB partner ASUSTeK Computer. The maximum hashrate of a single device when mining Ethereum was 43.77 MH/s instead of the 36 MH/s claimed by the manufacturer.
The CMP 40HX is based on a stripped-down Nvidia TU106-100 GPU. The device is equipped with 8 GB of GDDR6 memory with a 256-bit bus. The rated TDP level is 185 watts.
For higher performance, the tester optimized the power consumption of the graphics cards and adjusted the memory clock frequency.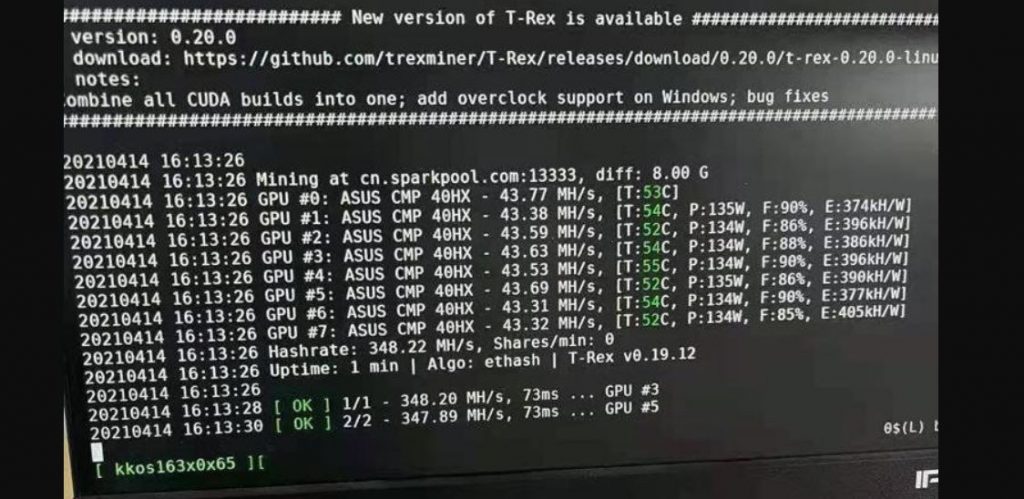 According to the source, the Nvidia CMP 40HX chip will cost miners $699. Delivery of the device was originally planned for March, but it is still at the testing stage.

Recall that Nvidia has released a line of CMP (Cryptocurrency Mining Processor) chips to meet the demand for GPUs from miners.
The first photos of the younger model from the Gigabyte CMP 30HX series were published in March. Its hashrate for mining Ethereum was 26 MH/s.