Ethereum, the world's second-largest cryptocurrency, reached a market capitalization of $320 billion on Thursday after ETH hit a record high of nearly $2,750.
Ethereum is now more valuable than the payment giant PayPal.

According to the latest data by Coinmarketcap, Ethereum is up more than 12% in the last 7 days. The cryptocurrency has jumped about 3.1% in the last 24 hours. The latest surge in ETH prices came after a increase in retail and institutional demand for the Ethereum.
The total market capitalization of PayPal Holdings is currently around $318 billion, meaning that Ethereum has surpassed PayPal's total market capitalization.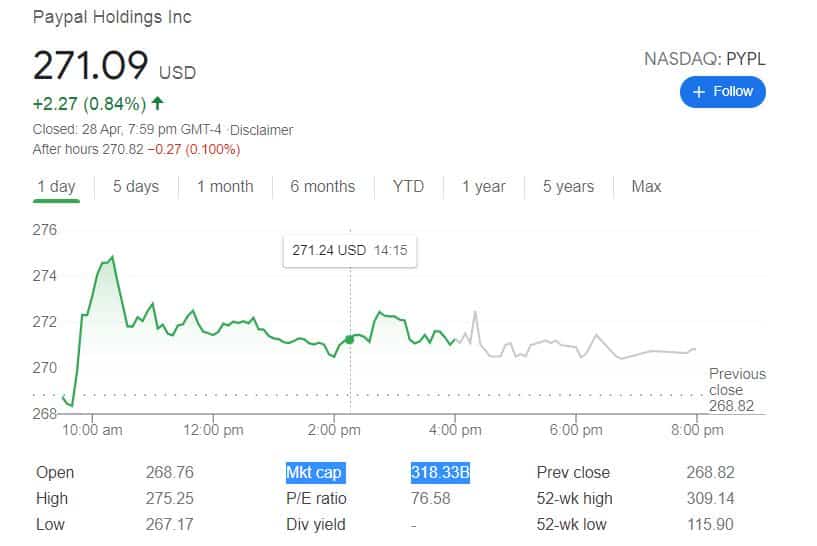 Binance Coin (BNB) and ETH rose significantly during the latest $200 billion crypto market recovery.
Cryptoanalytic company Santiment said on Twitter.
"The dormant ETHEREUM tokens are rapidly moving to justify another historical high, exceeding $2,750 today. With many new ETH addresses being created and inactive tokens cycling rapidly, this is the youngest average investment we've seen since July 2018″
🥳🔁 #Ethereum's dormant tokens are moving rapidly to justify yet another #AllTimeHigh above $2,740 today. With many new $ETH addresses being made and dormant tokens cycling rapidly, this is the youngest average investment we've seen since July, 2018. https://t.co/GLM00EmhXW pic.twitter.com/tKAByivsmp

— Santiment (@santimentfeed) April 28, 2021
Last week, the Ethereum 2.0 deposit contract reached $9.1 billion in ETH. According to the latest data released by Etherscan, the ETH network upgrade deposit contract currently has more than 4.2 million ETH worth about $11.2 billion.
CoinShares, one of the leading digital asset managers, recently released its weekly digital asset fund inflows report and highlighted the significant growth in institutional inflows associated with ETH.
Last week, Ethereum investment products raised $34.5 million, as total inflows into ETH investment products reached $793 million since the beginning of this year.
The world's second-most valuable digital currency is becoming popular with institutional investors, and several organizations around the world have started adding Ethereum to their balance sheets.