CryptoTreasuries data shows that 32 companies own nearly $12 billion in BTC, that is more than 325,032 BTC, while 11 companies own approximately $470 million in ETH.
According to CryptoTreasuries, 32 companies hold together about 325,013 bitcoins. This amount is approximately $11.7 billion. As for Ethereum, 11 companies own 169,279 ETH, worth approximately $470 million. These figures give an idea of ​​how much weight is given to assets.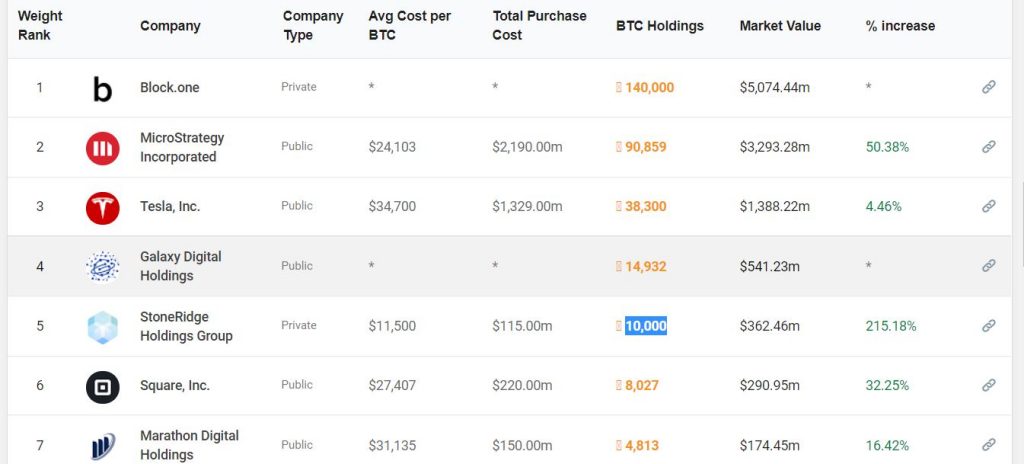 Source: https://cryptotreasuries.org/
Block. One has the largest Bitcoin holdings with 140,000 BTC. Micro strategy and Tesla follow. Block.one has been on Bitcoin for a particularly long time, and this can be seen from his possession of 140,000 BTC. MicroStrategy has increased its Bitcoin investment by about 50%.
MicroStrategy CEO Michael Sailor has been a big proponent of Bitcoin over the past few months, and the company has been gathering its BTC stock periodically. The company holds 90,859 BTC.
Tesla, meanwhile, has acquired 38,300 BTC, which is much smaller  as compared to top two.
Galaxy Digital Holdings and StoneRidge Holdings Group round out the top 5. Galaxy Digital owns 14,932 BTC, and StoneRidge Holdings Group hold 10,000 Bitcoin.
Square, which is also a significant bitcoin supporter, holds 8,027 BTC.
Coinbase Global holds 4502 BTC.
Galaxy Digital seems to be much more focused on Ethereum, being the company with the largest assets at 98,892 ETH, worth approximately $275 million.  Coinbase Global and Meitu follow them with 31 787 and 15 00 ETH, respectively.
Overall, there are many other companies owning these assets and other cryptocurrencies. The website also notes that this does not include ETFs and other assets under management, which, if included, would add significantly to the numbers.