ADA price is making a ascending channel. 25 moving average (Shown in Purple) on ADA 4-hour chart is providing a nice support.
Read: Cardano Foundation Recent Future Plans: Onboard Fortune 500 Companies And 1 Billion Users
Cardano (ADA) has been a very strong coin overall as it is currently still up nearly 4,000% from last year lows. $1.00 appears to be the base for the ADA. As long as $1 can act as a support, this is a great opportunity to raise ADA prices soon.
Read: Grayscale Adds Cardano To Their Product Family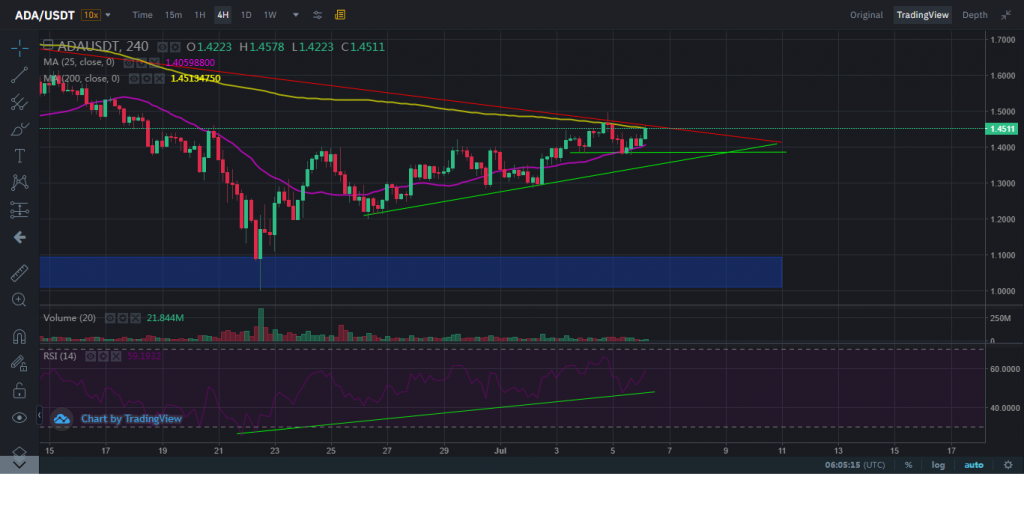 Looking at the chart, we can see that a clear upward channel has been holding the price for the past several weeks. As long as the ADA is able to stay in this range, the price rally can continue May highs of $2.35.
ADA price is rejected from key resistance at $1.43. But if support of $1.35 holds which is a strong support we can clearly see a nice push upwards, where ADA will meet its first resistance of $1.80.
ADA price is facing resistance in two forms, First a resistance line (Shown In Red) that ADA has to cross, and then 200 4H moving average (Shown In Yellow). The ascending trend line and 200 4H moving average are providing a strong resistance at $1.46 to $1.48 price range. Bulls need to push the price to overcome these resistance. A nice 4H candle closing above 200 4H moving average would confirm bullish scenario.
Read: What July 2021 Hold For Cardano (ADA)?
Once there is breakout we can see a sharp price increase, that could lead ADA price to $ 1.80 that would be a 25% move upwards.
The Relative Strength Index (RSI) is also pose a very bullish looks, moving higher for nearly a week and a half, making a nice upward trend.


If ADA price is unable to cross $1.43 to $1.48 resistance and 200 4H moving average, we could come down to find support at $1.36, if $1.36 is broken then we will find support at $1.02 to $1.10 that is acting as a strong support since 19 May, 2021.
Read: Cardano Gets On The Top Of Stakeable Assets List With More Than 70% Of Total ADA Supply Is Now In Staking
Levels To Watch 
Trend: Bullish
Immediate Support: $1.36
Lower Support: $1.02 to $1.10
Immediate Resistance: $1.43 to $1.48